Commentary
Best fits for Carlos Beltran
The outfielder showed that there is still plenty of thunder in his bat
Updated:
November 29, 2011, 11:00 AM ET
By
Dan Szymborski
| Baseball Think Factory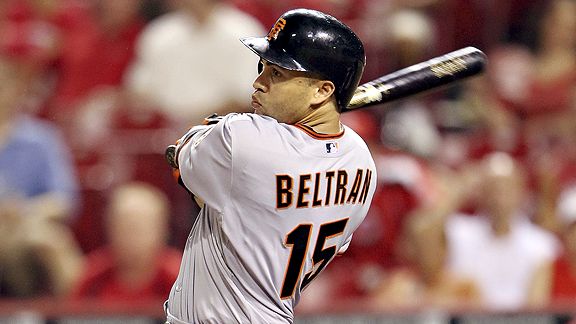 Andy Lyons/Getty ImagesBeltran will cost much less than Albert Pujols and Prince Fielder while providing premium production.
Once one of the game's premier center fielders, Carlos Beltran nearly fell off the radar after losing parts of 2009 and 2010 due to knee problems. While Beltran's bum knee means that his days as a Gold Glove center fielder are over, he showed in 2011 that he still was an offensive force, even in a corner outfield spot.
The dominance of Beltran's .300/.385/.525 isn't clear until you consider the pitcher-friendly parks he played at in New York and San Francisco and the level of league offense. Baseball-Reference's OPS+ statistic, which takes park factors and league scoring into consideration, rates 2011 as the best-hitting year of Beltran's career (156 OPS+).
Beltran turns 35 in April, so this is likely to be the final big money contract he will sign. While Beltran is a serious Hall of Fame candidate on merit (he's 10th all-time among center fielders in wins above replacement), there's little question that he's on the downside of his career. His age might be a red flag, but to a contending team, it represents an opportunity to bring in an excellent hitter without the commitment in time and money that it takes to land Albert Pujols or Prince Fielder.
In a neutral park and league, the ZiPS projection system sees Beltran hitting .281/.366/.478 in 2012, worth 3.0 WAR. ZiPS projects a steady decline after that, in both offense and playing time, with Beltran being worth 4.5 WAR over the following two seasons. Assuming $4.7 million per win in 2012 and three percent salary growth, that performance level typically costs around $27 million on the open market for two years and $36 million over three years. While he's unlikely to sign for exactly those figures, it provides an initial framework as to what it would take to bring him in.
Given that, there are three teams with the means, motive and money that would be good fits for Beltran.
For a look at the best fits for Carlos Beltran, become an ESPN Insider.
Insider
Creator of ZiPS projection system
Founder of Baseball Think Factory
Offseason Buyer's Guide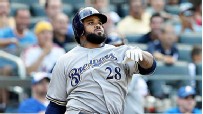 Prince Fielder headlines the 2011 free agent class, but who are the other players who could be changing teams this winter?
Rankings
Nov. 3:
Law: Top 50 free agents
|
Tracker
Nov. 4:
Bowden: Projected value rankings
Reaction
Jan. 25:
Bowden: How Detroit landed Prince
Jan. 24:
Law: Fielder helps now, not later
Jan. 14:
Bowden: Grading Yankees-M's deal
Jan. 13:
Law: Pineda-Montero deal a win-win
Jan. 11:
Law: Madson a steal for Reds
Jan. 6:
Law: Cubs win Cashner-Rizzo deal
Dec. 31:
Law: Quentin a mediocre fit in S.D
Buyer's Guide
Nov. 12:
Buyers Guide: Catchers
Nov. 11:
Buyers Guide: Relief Pitchers
Nov. 10:
Buyers Guide: Starting Pitchers
Nov. 9:
Buyers Guide: Third basemen
Nov. 8:
Buyers Guide: Outfielders
Nov. 7:
Buyers Guide: Middle infielders
Nov. 4:
Buyers Guide: First basemen/DH
Features
Feb. 9:
Perry: A case for the Nats
Feb. 7:
Szymborski: Ellsbury to fall off
Feb. 6:
Cameron: The cost of moving to third
Feb. 3:
Meyers: Poor drafts doom Cubs, Mets
Feb. 2:
Bowden: How to rebuild the Orioles
Feb. 1:
Goldstein: How good is Cespedes?
Jan. 30:
Szymborski: Projecting Angels, Tigers
History
•
Law: 2010 top 50 rankings
•
Law: 2009 top 50 rankings
•
Law: 2008 top 50 rankings
•
Law: 2007 top 50 rankings
•
Law: 2006 top 40 rankings

MOST SENT STORIES ON ESPN.COM