Commentary
Edwin Jackson will be a bargain
Despite mediocre reputation, his performance is comparable to that of Hamels, Danks
Updated:
November 23, 2011, 11:58 AM ET
By
Dave Cameron
| FanGraphs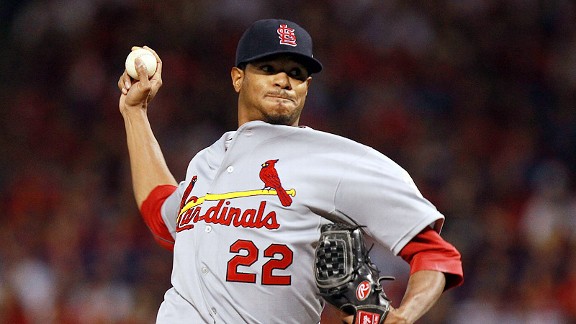 Ronald Martinez/Getty ImagesEdwin Jackson isn't getting much free-agent hype but is a lot better than most people realize.
When bargain hunting in the free-agent market, players represented by Scott Boras are probably not the first place a major league team should look. The super-agent is legendary for his epic brochures extolling his client's virtues -- he once produced a book comparing Oliver Perez to Sandy Koufax -- and for his success in getting teams to pay above and beyond what his players are expected to sign for. However, this year, Boras represents a player who has performed better than his overall reputation suggests, and who could turn out to provide terrific value for the team that ends up signing him.
That player is Edwin Jackson, the well-traveled 28-year-old starter who has already pitched for six teams in his career without finding a permanent home. Because Jackson reached the majors at age 19 and then struggled to live up to the billing of a top prospect, he's widely seen as an inconsistent underachiever who has never figured out how to harness his physical abilities.
Three years ago, that reputation was well deserved. From 2003 through 2008, Jackson threw 465 innings of pretty terrible baseball. He walked 11.1 percent of the batters he faced and posted a FIP that was 15 percent below average, putting him in the company of pitchers such as Casey Fossum and Eric Milton. After the 2008 season, the Tampa Bay Rays decided not to wait for his performance to match his stuff any longer and shipped him to the Detroit Tigers.
Since then, Jackson has been a different pitcher. He's dramatically cut his walk rate while simultaneously striking out batters with more frequency, and has produced results far beyond what he achieved earlier in his career.
To see how Edwin Jackson compares favorably to Cole Hamels and Tim Lincecum, become an ESPN Insider.
Insider
Managing editor of FanGraphs
Founder of U.S.S. Mariner
Also contributes to Wall Street Journal
Offseason Buyer's Guide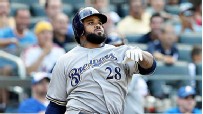 Prince Fielder headlines the 2011 free agent class, but who are the other players who could be changing teams this winter?
Rankings
Nov. 3:
Law: Top 50 free agents
|
Tracker
Nov. 4:
Bowden: Projected value rankings
Reaction
Jan. 25:
Bowden: How Detroit landed Prince
Jan. 24:
Law: Fielder helps now, not later
Jan. 14:
Bowden: Grading Yankees-M's deal
Jan. 13:
Law: Pineda-Montero deal a win-win
Jan. 11:
Law: Madson a steal for Reds
Jan. 6:
Law: Cubs win Cashner-Rizzo deal
Dec. 31:
Law: Quentin a mediocre fit in S.D
Buyer's Guide
Nov. 12:
Buyers Guide: Catchers
Nov. 11:
Buyers Guide: Relief Pitchers
Nov. 10:
Buyers Guide: Starting Pitchers
Nov. 9:
Buyers Guide: Third basemen
Nov. 8:
Buyers Guide: Outfielders
Nov. 7:
Buyers Guide: Middle infielders
Nov. 4:
Buyers Guide: First basemen/DH
Features
Feb. 9:
Perry: A case for the Nats
Feb. 7:
Szymborski: Ellsbury to fall off
Feb. 6:
Cameron: The cost of moving to third
Feb. 3:
Meyers: Poor drafts doom Cubs, Mets
Feb. 2:
Bowden: How to rebuild the Orioles
Feb. 1:
Goldstein: How good is Cespedes?
Jan. 30:
Szymborski: Projecting Angels, Tigers
History
•
Law: 2010 top 50 rankings
•
Law: 2009 top 50 rankings
•
Law: 2008 top 50 rankings
•
Law: 2007 top 50 rankings
•
Law: 2006 top 40 rankings

MOST SENT STORIES ON ESPN.COM