Commentary
Awards voters embracing numbers
Don't believe in the statistical revolution? The proof is in MVP and Cy Young votes
Updated:
November 22, 2011, 3:13 PM ET
By
Dan Szymborski
| Baseball Think Factory
Jonathan Daniel/Getty ImagesThe selection of Ryan Braun as NL MVP is evidence of an increasingly sophisticated electorate.
At this point, there can be little doubt about the influence of sabermetrics in modern front offices. Pretty much every team has a stathead somewhere in the organization, although the actual impact of sabermetrics in on-the-field decisions varies widely. When Branch Rickey hired statistician Allan Roth in 1947, it was a novel concept. In a post-"Moneyball" world, it's the norm.
How sabermetrics has changed the way the media in general look at the game is a trickier question. Although a lot more statheads are writing about baseball today than 20 years ago, measuring exactly the extent of changed perceptions is a thornier task.
Now that the 2011 awards have all been announced, let's take a look at just how much impact sabermetrics has had on awards voting over the years. And when we look at history, it becomes clear that the voters are relying more and more on sabermetrics than they are on intangible factors such as "heart," "grit" and "leadership."
To continue reading this article you must be an Insider
Insider
Creator of ZiPS projection system
Founder of Baseball Think Factory
Offseason Buyer's Guide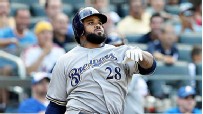 Prince Fielder headlines the 2011 free agent class, but who are the other players who could be changing teams this winter?
Rankings
Nov. 3:
Law: Top 50 free agents
|
Tracker
Nov. 4:
Bowden: Projected value rankings
Reaction
Jan. 25:
Bowden: How Detroit landed Prince
Jan. 24:
Law: Fielder helps now, not later
Jan. 14:
Bowden: Grading Yankees-M's deal
Jan. 13:
Law: Pineda-Montero deal a win-win
Jan. 11:
Law: Madson a steal for Reds
Jan. 6:
Law: Cubs win Cashner-Rizzo deal
Dec. 31:
Law: Quentin a mediocre fit in S.D
Buyer's Guide
Nov. 12:
Buyers Guide: Catchers
Nov. 11:
Buyers Guide: Relief Pitchers
Nov. 10:
Buyers Guide: Starting Pitchers
Nov. 9:
Buyers Guide: Third basemen
Nov. 8:
Buyers Guide: Outfielders
Nov. 7:
Buyers Guide: Middle infielders
Nov. 4:
Buyers Guide: First basemen/DH
Features
Feb. 9:
Perry: A case for the Nats
Feb. 7:
Szymborski: Ellsbury to fall off
Feb. 6:
Cameron: The cost of moving to third
Feb. 3:
Meyers: Poor drafts doom Cubs, Mets
Feb. 2:
Bowden: How to rebuild the Orioles
Feb. 1:
Goldstein: How good is Cespedes?
Jan. 30:
Szymborski: Projecting Angels, Tigers
History
•
Law: 2010 top 50 rankings
•
Law: 2009 top 50 rankings
•
Law: 2008 top 50 rankings
•
Law: 2007 top 50 rankings
•
Law: 2006 top 40 rankings

MOST SENT STORIES ON ESPN.COM