Commentary
Consequences of Astros move
For starters, interleague play is about to get a lot tougher for NL squads
Updated:
November 18, 2011, 10:25 AM ET
By
Dan Szymborski
| Baseball Think Factory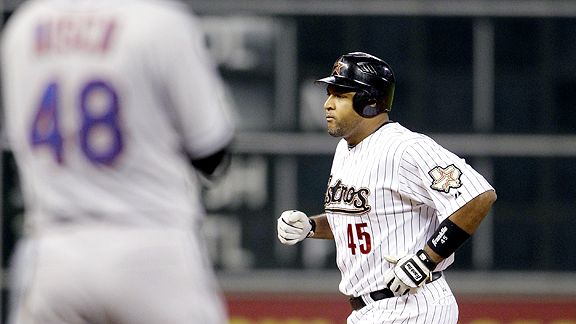 AP Photo/David J. PhillipCarlos Lee was one of the few Astros who held his own in 2011, and he'll be gone by 2013.
With the reports that the Houston Astros are moving to the American League in 2013, now's probably a good time to take a look at the consequences of the move. A reconfiguration of a division results in more than the Astros simply playing different teams and more frequent interleague play.
In the short-term, a rebuilding Houston moving to the American League actually makes the leagues more comparable in terms of quality. The AL has a .533 winning percentage in interleague play the last three years. Remove the Astros and their 13-32 record against the AL over that period from the equation, and it moves the needle a third of the way to even, leaving the AL at .522 against the National League.
As the rebuilding has gone full-bore, that possible effect increases. If you assume that Houston's .354 winning percentage against the NL would have held up in interleague play against the NL, the AL with Houston would have been down to 127-125 against the NL. That's the closest the two leagues have been since the AL went 127-125 in interleague play in 2004.
To see why the Cardinals owe their World Series rings to the Astros, become an ESPN Insider.
Insider
Creator of ZiPS projection system
Founder of Baseball Think Factory
Offseason Buyer's Guide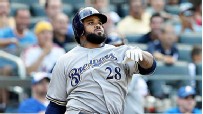 Prince Fielder headlines the 2011 free agent class, but who are the other players who could be changing teams this winter?
Rankings
Nov. 3:
Law: Top 50 free agents
|
Tracker
Nov. 4:
Bowden: Projected value rankings
Reaction
Jan. 25:
Bowden: How Detroit landed Prince
Jan. 24:
Law: Fielder helps now, not later
Jan. 14:
Bowden: Grading Yankees-M's deal
Jan. 13:
Law: Pineda-Montero deal a win-win
Jan. 11:
Law: Madson a steal for Reds
Jan. 6:
Law: Cubs win Cashner-Rizzo deal
Dec. 31:
Law: Quentin a mediocre fit in S.D
Buyer's Guide
Nov. 12:
Buyers Guide: Catchers
Nov. 11:
Buyers Guide: Relief Pitchers
Nov. 10:
Buyers Guide: Starting Pitchers
Nov. 9:
Buyers Guide: Third basemen
Nov. 8:
Buyers Guide: Outfielders
Nov. 7:
Buyers Guide: Middle infielders
Nov. 4:
Buyers Guide: First basemen/DH
Features
Feb. 9:
Perry: A case for the Nats
Feb. 7:
Szymborski: Ellsbury to fall off
Feb. 6:
Cameron: The cost of moving to third
Feb. 3:
Meyers: Poor drafts doom Cubs, Mets
Feb. 2:
Bowden: How to rebuild the Orioles
Feb. 1:
Goldstein: How good is Cespedes?
Jan. 30:
Szymborski: Projecting Angels, Tigers
History
•
Law: 2010 top 50 rankings
•
Law: 2009 top 50 rankings
•
Law: 2008 top 50 rankings
•
Law: 2007 top 50 rankings
•
Law: 2006 top 40 rankings

MOST SENT STORIES ON ESPN.COM