Commentary
Trading for Cole Hamels
These teams have the prospects (and possible desire) to acquire the star southpaw
Updated:
November 16, 2011, 1:15 PM ET
By
Kevin Goldstein
| Baseball Prospectus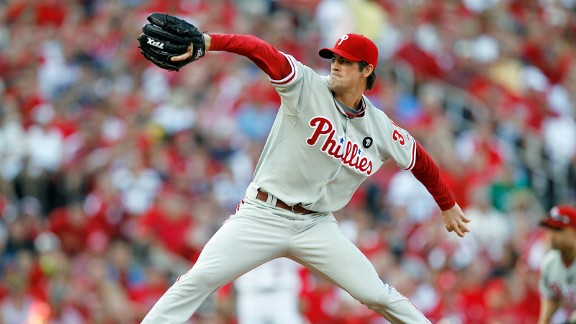 AP Photo/Jeff RobersonThe Phillies have a lot of money committed beyond 2012 and could look to move Hamels.
"Let's trade Cole Hamels."
As Buster Olney wrote on Monday, it's certainly not a scenario the Philadelphia Phillies' front office wants to face, but it could be one that's at least discussed this winter.
Hamels turns 28 next month and will be a free agent after the 2012 season, and executives throughout baseball are skeptical about the Phillies' ability to keep the ace-level left-hander, considering the rest of their long-term salary commitments. Hamels is most definitely an ace. He's coming off his best season statistically and is in his prime. The Phillies should keep him, since aces don't exactly grow on trees, despite what it might seem like considering their rotation. Aces are also expensive, and if the Phillies decide to trade Hamels prior to the 2012 season, they will certainly find their phones burning up with prospective suitors.
If the Phillies put Hamels on the market, here's what they should be looking for:
1. A replacement in the rotation: Trading Hamels right now is not the best timing, as Roy Oswalt is leaving via free agency, which gives the Phillies two aces in Cliff Lee and Roy Halladay, and then some mortality in Vance Worley and Joe Blanton, with Kyle Kendrick the most likely candidate from within to fill the No. 5 slot. Ignore Kendrick's 2011 ERA (3.22), since pitchers who don't miss bats (4.6 K/9) cannot sustain such numbers. And while teams are highly reticent to trade pitching prospects, they become willing when a pitcher like Cole Hamels is on the table.
2. Bullpen help: Jon Papelbon is simply a Ryan Madson replacement/upgrade, Jose Contreras is old as Methuselah, and most inside the game expect a regression from Antonio Bastardo. Relievers are the most unpredictable commodity in the game, and depth there is always a good thing.
3. Middle infield insurance: Jimmy Rollins is a free agent and Chase Utley is coming off the two worst seasons since his 2004 rookie campaign while missing a combined 106 games during that time. Enough said.
4. Athletes with upside Because when it comes to your players, that's what the Phillies always look for. That's their draft mantra, and likely will be their mantra for trades as well.
So while advising against the idea of it, let's play along and trade Cole Hamels to some likely interested parties, with the help of a big league executive who quipped, "Hey, I love trading other people's players!"
---

New York Yankees: Manny Banuelos, LHP; Hector Noesi, RHP; Austin Romine, C; Mason Williams, OF.
To continue reading this article you must be an Insider
Insider
Offseason Buyer's Guide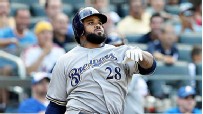 Prince Fielder headlines the 2011 free agent class, but who are the other players who could be changing teams this winter?
Rankings
Nov. 3:
Law: Top 50 free agents
|
Tracker
Nov. 4:
Bowden: Projected value rankings
Reaction
Jan. 25:
Bowden: How Detroit landed Prince
Jan. 24:
Law: Fielder helps now, not later
Jan. 14:
Bowden: Grading Yankees-M's deal
Jan. 13:
Law: Pineda-Montero deal a win-win
Jan. 11:
Law: Madson a steal for Reds
Jan. 6:
Law: Cubs win Cashner-Rizzo deal
Dec. 31:
Law: Quentin a mediocre fit in S.D
Buyer's Guide
Nov. 12:
Buyers Guide: Catchers
Nov. 11:
Buyers Guide: Relief Pitchers
Nov. 10:
Buyers Guide: Starting Pitchers
Nov. 9:
Buyers Guide: Third basemen
Nov. 8:
Buyers Guide: Outfielders
Nov. 7:
Buyers Guide: Middle infielders
Nov. 4:
Buyers Guide: First basemen/DH
Features
Feb. 9:
Perry: A case for the Nats
Feb. 7:
Szymborski: Ellsbury to fall off
Feb. 6:
Cameron: The cost of moving to third
Feb. 3:
Meyers: Poor drafts doom Cubs, Mets
Feb. 2:
Bowden: How to rebuild the Orioles
Feb. 1:
Goldstein: How good is Cespedes?
Jan. 30:
Szymborski: Projecting Angels, Tigers
History
•
Law: 2010 top 50 rankings
•
Law: 2009 top 50 rankings
•
Law: 2008 top 50 rankings
•
Law: 2007 top 50 rankings
•
Law: 2006 top 40 rankings

MOST SENT STORIES ON ESPN.COM