Commentary
Buyer's guide: Catchers
The lack of good catching across the league is evident in this year's free-agent class
Originally Published:
November 11, 2011
By
Keith Law
| ESPN Insider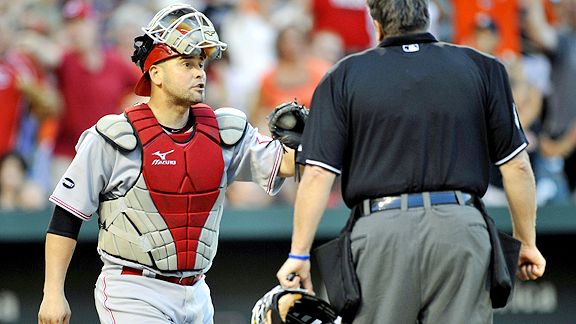 Joy R. Absalon/US PresswireIf you need a catcher on the free-agent market there is Ramon Hernandez and not much else.
Keith Law has already ranked his top 50 free agents, but now he takes you on a more detailed, position-by-position look through the available players. Today, the series concludes with a look at catchers.
Players in demand
1. Ramon Hernandez: This is the best free agency has to offer. He's caught a total of 228 games over the past three seasons, and after a strong first half in 2011 (that was out of line with his career anyway), he wilted in just 38 games after the break, posting a .220/.287/.305 line before he was relegated to part-time duty in favor of heir apparent Devin Mesoraco. He's an above-average throwing catcher and fringy receiver who lives off mistakes and fastballs left over the plate. The state of catching across MLB is bad enough that he's still worth a one-year deal, even at the advanced age of 35.
For Keith's full breakdown, plus a list of some intriguing trade targets, become an ESPN Insider.
Insider
Offseason Buyer's Guide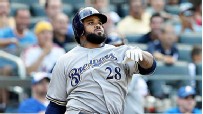 Prince Fielder headlines the 2011 free agent class, but who are the other players who could be changing teams this winter?
Rankings
Nov. 3:
Law: Top 50 free agents
|
Tracker
Nov. 4:
Bowden: Projected value rankings
Reaction
Jan. 25:
Bowden: How Detroit landed Prince
Jan. 24:
Law: Fielder helps now, not later
Jan. 14:
Bowden: Grading Yankees-M's deal
Jan. 13:
Law: Pineda-Montero deal a win-win
Jan. 11:
Law: Madson a steal for Reds
Jan. 6:
Law: Cubs win Cashner-Rizzo deal
Dec. 31:
Law: Quentin a mediocre fit in S.D
Buyer's Guide
Nov. 12:
Buyers Guide: Catchers
Nov. 11:
Buyers Guide: Relief Pitchers
Nov. 10:
Buyers Guide: Starting Pitchers
Nov. 9:
Buyers Guide: Third basemen
Nov. 8:
Buyers Guide: Outfielders
Nov. 7:
Buyers Guide: Middle infielders
Nov. 4:
Buyers Guide: First basemen/DH
Features
Feb. 9:
Perry: A case for the Nats
Feb. 7:
Szymborski: Ellsbury to fall off
Feb. 6:
Cameron: The cost of moving to third
Feb. 3:
Meyers: Poor drafts doom Cubs, Mets
Feb. 2:
Bowden: How to rebuild the Orioles
Feb. 1:
Goldstein: How good is Cespedes?
Jan. 30:
Szymborski: Projecting Angels, Tigers
History
•
Law: 2010 top 50 rankings
•
Law: 2009 top 50 rankings
•
Law: 2008 top 50 rankings
•
Law: 2007 top 50 rankings
•
Law: 2006 top 40 rankings

MOST SENT STORIES ON ESPN.COM