Commentary
Reyes, Marlins a match
With financial flexibility and talent in place, Jose Reyes could make Marlins a contender
Updated:
November 10, 2011, 1:56 PM ET
By
Matt Meyers
| ESPN Insider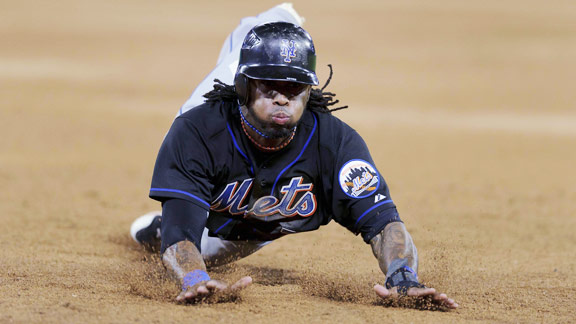 Steve Mitchell/US PresswireJose Reyes's speed would be a good fit for the top of the Marlins' lineup.
There were almost certainly some eyebrows raised earlier this week when the Miami Herald reported that the soon-to-be renamed Florida Marlins were actively pursuing Jose Reyes. The Marlins aren't usually big spenders on the free-agent market, and their acquisitions are typically of the bargain bin variety.
However, the Fish are moving into a new stadium next season, and with that should come a boost in revenue. And when you examine the rest of their portfolio, it becomes clear that the eventual Miami Marlins should stop at nothing to sign Reyes.
Here are a four reasons:
They severely underperformed
It would be easy to look at Florida's 72-90 record last season and conclude that the Marlins aren't close enough to contending to make signing Reyes worth it. But a closer inspection reveals that the Marlins were much better than their record indicated.
To read the full story about why Jose Reyes is a perfect fit for the Florida Marlins, sign up for ESPN Insider.
Insider
Offseason Buyer's Guide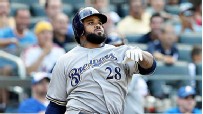 Prince Fielder headlines the 2011 free agent class, but who are the other players who could be changing teams this winter?
Rankings
Nov. 3:
Law: Top 50 free agents
|
Tracker
Nov. 4:
Bowden: Projected value rankings
Reaction
Jan. 25:
Bowden: How Detroit landed Prince
Jan. 24:
Law: Fielder helps now, not later
Jan. 14:
Bowden: Grading Yankees-M's deal
Jan. 13:
Law: Pineda-Montero deal a win-win
Jan. 11:
Law: Madson a steal for Reds
Jan. 6:
Law: Cubs win Cashner-Rizzo deal
Dec. 31:
Law: Quentin a mediocre fit in S.D
Buyer's Guide
Nov. 12:
Buyers Guide: Catchers
Nov. 11:
Buyers Guide: Relief Pitchers
Nov. 10:
Buyers Guide: Starting Pitchers
Nov. 9:
Buyers Guide: Third basemen
Nov. 8:
Buyers Guide: Outfielders
Nov. 7:
Buyers Guide: Middle infielders
Nov. 4:
Buyers Guide: First basemen/DH
Features
Feb. 9:
Perry: A case for the Nats
Feb. 7:
Szymborski: Ellsbury to fall off
Feb. 6:
Cameron: The cost of moving to third
Feb. 3:
Meyers: Poor drafts doom Cubs, Mets
Feb. 2:
Bowden: How to rebuild the Orioles
Feb. 1:
Goldstein: How good is Cespedes?
Jan. 30:
Szymborski: Projecting Angels, Tigers
History
•
Law: 2010 top 50 rankings
•
Law: 2009 top 50 rankings
•
Law: 2008 top 50 rankings
•
Law: 2007 top 50 rankings
•
Law: 2006 top 40 rankings

MOST SENT STORIES ON ESPN.COM