Commentary
Winter league prospects to watch
These 10 players are in Latin America and aiming for Opening Day
Updated:
November 2, 2011, 1:58 PM ET
By
Kevin Goldstein
| Baseball Prospectus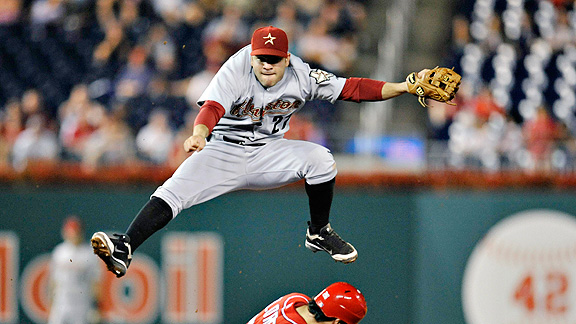 Joy R. Absalon/US PresswireJose Altuve is hoping to make the leap from prospect to big league starter.
With the offseason upon us, attention for prospect hounds goes to the winter leagues, and primarily the Arizona Fall League. That's for good reason, as it is the best collection of prospects in an environment that major league clubs prefer, as they control the rosters and playing time.
That said, leagues are playing throughout Latin America as well, with the Dominican, Mexican and Venezuelan leagues being the most prominent. With no official affiliation to the majors and gigantic, fluid rosters (one Dominican team used 24 pitchers in its first 13 games), playing time has to be earned, and winning is Priority 1 for some rabid fan bases. Therefore, these leagues are not always well-suited for development.
Still, that environment can be of value.
"We have some players, who because of where they are from or their developmental path, are better suited for those leagues," one American League front-office official said. "Plus, I love the environment, as they get big, loud crowds, while Arizona has more of an instructional feel."
In addition, the style of play can be of developmental value.
"We've sent players to Mexico in the past because they struggle against breaking balls," a National League counterpart said. "With the altitude and the style of play there from the Mexican League veterans, that's all they will see there."
Here are 10 players in those lesser-watched leagues who are worth paying attention to.
---

Jose Altuve, 2B, Houston Astros
Altuve had an impressive 2010 campaign but still wasn't held in high regard, mostly on account of his diminutive 5-foot-7, 170-pound frame. After flirting with .400 in the minors and impressing in the Futures Game, he was rushed to the big leagues, where his overly aggressive approach was exposed. Altuve's outstanding bat control works against him when facing top-level pitching, as he can hit bad pitches, but that often leads to bad contact. He's in Venezuela to get more exposure to advanced arms and work on his plate discipline -- and while it's not surprising to see him hitting .333/.382/.458 for Magallanes, he has already drawn four walks in his 12 games after taking just five in 57 contests for the Astros. He remains the favorite for the second-base job in Houston next season, but it's not guaranteed.
For scouting reports on eight more top prospects and one big league all-star, become an ESPN Insider.
Insider
Offseason Buyer's Guide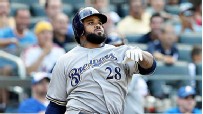 Prince Fielder headlines the 2011 free agent class, but who are the other players who could be changing teams this winter?
Rankings
Nov. 3:
Law: Top 50 free agents
|
Tracker
Nov. 4:
Bowden: Projected value rankings
Reaction
Jan. 25:
Bowden: How Detroit landed Prince
Jan. 24:
Law: Fielder helps now, not later
Jan. 14:
Bowden: Grading Yankees-M's deal
Jan. 13:
Law: Pineda-Montero deal a win-win
Jan. 11:
Law: Madson a steal for Reds
Jan. 6:
Law: Cubs win Cashner-Rizzo deal
Dec. 31:
Law: Quentin a mediocre fit in S.D
Buyer's Guide
Nov. 12:
Buyers Guide: Catchers
Nov. 11:
Buyers Guide: Relief Pitchers
Nov. 10:
Buyers Guide: Starting Pitchers
Nov. 9:
Buyers Guide: Third basemen
Nov. 8:
Buyers Guide: Outfielders
Nov. 7:
Buyers Guide: Middle infielders
Nov. 4:
Buyers Guide: First basemen/DH
Features
Feb. 9:
Perry: A case for the Nats
Feb. 7:
Szymborski: Ellsbury to fall off
Feb. 6:
Cameron: The cost of moving to third
Feb. 3:
Meyers: Poor drafts doom Cubs, Mets
Feb. 2:
Bowden: How to rebuild the Orioles
Feb. 1:
Goldstein: How good is Cespedes?
Jan. 30:
Szymborski: Projecting Angels, Tigers
History
•
Law: 2010 top 50 rankings
•
Law: 2009 top 50 rankings
•
Law: 2008 top 50 rankings
•
Law: 2007 top 50 rankings
•
Law: 2006 top 40 rankings

MOST SENT STORIES ON ESPN.COM