Commentary
Keith Law's top 50 free agents
Prince Fielder and Albert Pujols head a top-heavy free-agent class
Originally Published:
November 3, 2011
By
Keith Law
| ESPN Insider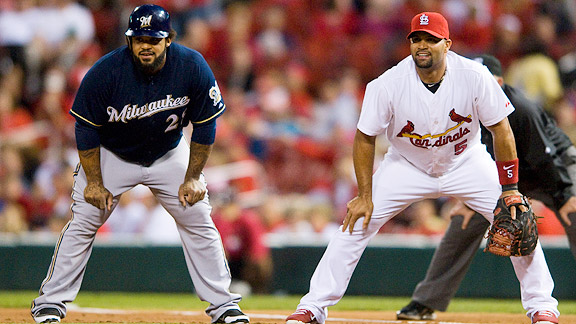 Jeff Curry/Getty ImagesPrince Fielder, left, and Albert Pujols create runs, but Pujols saves them, too.
For the sixth straight year, Keith Law breaks down the top 50 free agents, this time for the class of 2011-12. Law's reports are based on firsthand observation. He has been the senior baseball analyst for Scouts Inc. since 2006. Before joining ESPN, Law served as special assistant to the general manager of the Toronto Blue Jays and was a writer for Baseball Prospectus.
This free-agent class is one of the thinnest I've ever seen, made thinner by the signing during the closed period of CC Sabathia (originally No. 3 on this list). There are only a few clear high-impact players and a handful of high-risk/high-reward guys, but there's depth in potential average starters in the outfield, in back-end starting pitchers and in the bullpen.
As always, the free-agent class is skewed toward players who are in or soon to enter their decline phase, because the current system keeps them under team control until they've amassed six full years of major league service time (which might be spread out across more than six years). I've mixed in some younger players who hit free agency with question marks unrelated to age (e.g., Grady Sizemore and his multiple surgeries) along with those higher-probability players who project only as fringe starters or bench guys going forward.
Law's complete top 50: 1-10

| 11-30

| 31-50

For the full list, with player evaluations, you need to be an ESPN Insider.
Insider
Offseason Buyer's Guide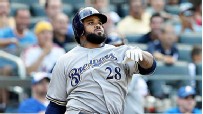 Prince Fielder headlines the 2011 free agent class, but who are the other players who could be changing teams this winter?
Rankings
Nov. 3:
Law: Top 50 free agents
|
Tracker
Nov. 4:
Bowden: Projected value rankings
Reaction
Jan. 25:
Bowden: How Detroit landed Prince
Jan. 24:
Law: Fielder helps now, not later
Jan. 14:
Bowden: Grading Yankees-M's deal
Jan. 13:
Law: Pineda-Montero deal a win-win
Jan. 11:
Law: Madson a steal for Reds
Jan. 6:
Law: Cubs win Cashner-Rizzo deal
Dec. 31:
Law: Quentin a mediocre fit in S.D
Buyer's Guide
Nov. 12:
Buyers Guide: Catchers
Nov. 11:
Buyers Guide: Relief Pitchers
Nov. 10:
Buyers Guide: Starting Pitchers
Nov. 9:
Buyers Guide: Third basemen
Nov. 8:
Buyers Guide: Outfielders
Nov. 7:
Buyers Guide: Middle infielders
Nov. 4:
Buyers Guide: First basemen/DH
Features
Feb. 9:
Perry: A case for the Nats
Feb. 7:
Szymborski: Ellsbury to fall off
Feb. 6:
Cameron: The cost of moving to third
Feb. 3:
Meyers: Poor drafts doom Cubs, Mets
Feb. 2:
Bowden: How to rebuild the Orioles
Feb. 1:
Goldstein: How good is Cespedes?
Jan. 30:
Szymborski: Projecting Angels, Tigers
History
•
Law: 2010 top 50 rankings
•
Law: 2009 top 50 rankings
•
Law: 2008 top 50 rankings
•
Law: 2007 top 50 rankings
•
Law: 2006 top 40 rankings

MOST SENT STORIES ON ESPN.COM