Commentary
Mike Pelfrey has become the rock
The Mets right-hander might not even realize it, but he's as consistent as they come
Originally Published:
February 18, 2011
By
Howard Megdal
| Special to ESPN Insider
A search on Google for "Mike Pelfrey inconsistent" turns up about 53,100 results. By contrast, "Oliver Perez inconsistent" clocks in at just 8,380. Included in the results are headlines like "Mike Pelfrey Has Become Consistently Inconsistent," complaints from Keith Hernandez over Pelfrey's inconsistency, and a story that asserts "Pelfrey's inconsistency has more to do with his head than his arm."
As spring training hits its stride, Pelfrey's inconsistency is again a hot topic. There's only one problem with this analysis: Over the three full seasons that Pelfrey has been a starting pitcher, he's been the most consistent pitcher in baseball.
Oh sure, by ERA, he's jumped wildly, from a 3.72 mark in 2008 to a 5.03 in 2009 and back to a 3.66 in 2010. His ERA in April 2010 was 0.69; in July 2010, that skyrocketed to 10.02.
And Pelfrey himself has copped to the charge, telling NJ.com's Brian Costa in 2009, "It's been frustrating, especially the way the season has gone. I've been inconsistent, and I think that drives me crazy, it drives the pitching coach crazy and it drives the manager crazy, not knowing what you're going to get out of me."
Case closed, right? Not exactly. A closer look at the statistical record shows this to be a false confession.
For the full explanation of the most consistent pitcher in baseball, you need to be an ESPN Insider.
ESPN The Magazine subscribers

Need more information?
SPONSORED HEADLINES
MORE MLB HEADLINES
MOST SENT STORIES ON ESPN.COM
Insider MLB Content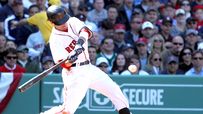 WEEK OF OCT. 30
Nov. 5:
Bowden: Grading the Jim Thome deal
Nov. 5:
Law: Thome, Phillies aren't a great fit
Nov. 4:
Bowden: Pricing the free agents
Nov. 3:
Law: Ranking top 50 MLB free agents
Nov. 2:
Jedlovec: Worst Gold Glove selections
Nov. 1:
Meyers: Buyer beware of C.J. Wilson
Oct. 31:
Cameron: Papi a fit in the Bronx
Oct. 30:
Perry: Finding free agency solutions
Oct. 30:
Szymborski: St. Louis without Pujols
WEEK OF OCT. 16
Oct. 28:
Law: Chapman still needs work
Oct. 26:
BP: Batter-pitcher data is overrated
Oct. 24:
FanGraphs: A blueprint for C.J. Wilson
Oct. 21:
Cameron: Cards should bench Berkman
Oct. 20:
BP: Why did Washington walk Punto?
Oct. 19:
Szymborski: Sims favor the Rangers
Oct. 18:
Bowden: Ranking all 50 WS players
Oct. 18:
Jedlovec: Previewing WS defenses
Oct. 17:
Perry: World Series hinges on relief
Oct. 16:
Szymborski: Milwaukee without Fielder
Oct. 16:
FanGraphs: Brewers' NLCS miscues
KISS 'EM GOODBYE
Oct. 30:
St. Louis Cardinals
Oct. 29:
Texas Rangers
Oct. 18:
Milwaukee Brewers
Oct. 17:
Detroit Tigers
Oct. 8:
Arizona Diamondbacks
Oct. 8:
Philadelphia Phillies
Oct. 7:
New York Yankees
Oct. 5:
Tampa Bay Rays
Sept. 29:
Atlanta Braves
Sept. 29:
Boston Red Sox
Sept. 27:
Los Angeles Angels
Sept. 26:
San Francisco Giants
Sept. 25:
Cleveland Indians
Sept. 24:
Chicago White Sox
Sept. 23:
Oakland A's
Sept. 22:
Los Angeles Dodgers
Sept. 21:
Colorado Rockies
Sept. 20:
Toronto Blue Jays
Sept. 19:
Cincinnati Reds
Sept. 18:
San Diego Padres
Sept. 17:
Pittsburgh Pirates
Sept. 16:
Kansas City Royals
Sept. 15:
Minnesota Twins
Sept. 14:
New York Mets
Sept. 13:
Washington Nationals
Sept. 12:
Seattle Mariners
Sept. 11:
Chicago Cubs
Sept. 10:
Baltimore Orioles
Sept. 9:
Florida Marlins
Sept. 8:
Houston Astros
ESSENTIAL LINKS