Commentary
Miguel Olivo could help out a contender
Rockies' catcher might come cheap, and has some upside
Originally Published:
November 10, 2010
By
Dan Szymborski
| Special to ESPN Insider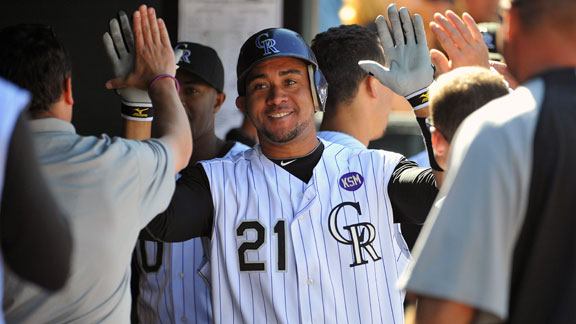 Getty ImagesMiguel Olivo could have some value for a team looking for a less expensive C.
Historically, finding a big-name catcher in the free agent market has been a difficult task. With catchers generally getting full-time jobs at older ages -- and aging worse than players at other positions -- snagging a star backstop in his prime is a difficult task. When a team has one of the best catchers in the league, they've generally placed a priority on keeping their catcher. Johnny Bench was never a free agent, Mike Piazza and Gary Carter weren't up for bidding until well after their primes, and even Ivan Rodriguez and Carlton Fisk, two of the most prominent free agent catchers of the last 35 years, were available only for top dollar at risky ages. Given Minnesota's miserly ways, teams salivated for years at the prospect of getting the opportunity to land a 27-year-old Joe Mauer, but even the Twins saw what they had and gave their former No. 1 pick one of the richest contracts in history.
I've ranked the best catchers in the FA market by their three-year wins above replacement (WAR) in a neutral park as projected by ZiPS.
For the full breakdown here, you need to be an ESPN Insider.
Insider
Creator of ZiPS projection system
Founder of Baseball Think Factory
Offseason Buyer's Guide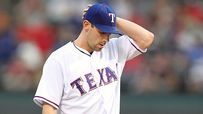 Cliff Lee headlines the 2010 free agent class, but who are the other players who could be changing teams this winter?
Buyer's Guide
Nov. 7:
Keith Law's top 50 free agent rankings
Nov. 8:
Buyers Guide: Starting Pitchers
•
Projecting the Starters
Nov. 9:
Buyers Guide: Relief Pitchers
•
Projecting the Relievers
Nov. 10:
Buyers Guide: Catchers
•
Projecting the Catchers
Nov. 11:
Buyers Guide: First basemen/DH
•
Projecting the first basemen
Nov. 12:
Buyers Guide: Middle infielders
•
Projecting middle infielders
Nov. 15:
Buyers Guide: Third basemen
•
Projecting the third basemen
Nov. 16:
Buyers Guide: Outfielders
•
Projecting the outfielders
Features
Nov. 5:
BP: Five biggest holes
Nov. 5:
Olney: Quieting the rumor mill
Nov. 5:
BIS: The next defensive makeover
Nov. 6:
BP: Five top moves
Nov. 10:
Olney: Top teams chasing Carl Crawford
Nov. 11:
Keating: Teams that shouldn't make a move
Nov. 13: BIS:
Finding hidden value free agents
Nov. 15: BP:
Shopping in the $0.99 bin
History
•
Law: 2009 top 50 rankings
•
Law: 2008 top 50 rankings
•
Law: 2007 top 50 rankings
•
Law: 2006 top 40 rankings

MOST SENT STORIES ON ESPN.COM