Commentary
Michael Young: vital for Texas Rangers
In a word, 'versatility' is key, so the Rangers should pursue a 2008 Cubs idea
Originally Published:
February 9, 2011
By
Matt Meyers
| ESPN Insider
Michael Young apparently wants out of the Texas Rangers' organization; quite frankly, it's hard to blame the guy. He was primarily a second baseman during the first few years of his career before being moved to shortstop in 2004. In 2009, he was moved to third base to make room for Elvis Andrus. This winter the Rangers signed Adrian Beltre to play third, and told Young he would be a first base/DH/utility type. Then Texas went and traded for Mike Napoli, another first baseman/DH, seemingly marginalizing Young's role even further. Accustomed to being an everyday player, Young has made it clear he'd like to be traded.
Young has long been deemed "overrated" by the sabermetric crowd -- he's basically viewed as a singles hitter who has benefited from playing in one of the best hitter's parks in baseball and is a mediocre defender. That's all true, but "overrated" doesn't mean useless. (His career OPS+ of 105 proves that he is an above-average hitter.) And based on the Rangers' current roster construction they should think long and hard about dealing the six-time All-Star. They're really going to need him.
Don't believe it? Check out these three numbers:
111
118
124
Those are the average number of games played over the last two seasons by Josh Hamilton, Nelson Cruz and Ian Kinsler, respectively. Those are the Rangers' three best offensive players, and they get hurt with a great deal of frequency. At this point, Young's greatest asset is his versatility, which is a by-product of being moved around by the Rangers so often. And with a team filled with as many injury-prone players as the Rangers, he could be a huge asset.
For the full take here, you must be an Insider.
ESPN The Magazine subscribers

Need more information?
SPONSORED HEADLINES
MORE MLB HEADLINES
MOST SENT STORIES ON ESPN.COM
Insider MLB Content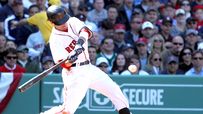 WEEK OF OCT. 30
Nov. 5:
Bowden: Grading the Jim Thome deal
Nov. 5:
Law: Thome, Phillies aren't a great fit
Nov. 4:
Bowden: Pricing the free agents
Nov. 3:
Law: Ranking top 50 MLB free agents
Nov. 2:
Jedlovec: Worst Gold Glove selections
Nov. 1:
Meyers: Buyer beware of C.J. Wilson
Oct. 31:
Cameron: Papi a fit in the Bronx
Oct. 30:
Perry: Finding free agency solutions
Oct. 30:
Szymborski: St. Louis without Pujols
WEEK OF OCT. 16
Oct. 28:
Law: Chapman still needs work
Oct. 26:
BP: Batter-pitcher data is overrated
Oct. 24:
FanGraphs: A blueprint for C.J. Wilson
Oct. 21:
Cameron: Cards should bench Berkman
Oct. 20:
BP: Why did Washington walk Punto?
Oct. 19:
Szymborski: Sims favor the Rangers
Oct. 18:
Bowden: Ranking all 50 WS players
Oct. 18:
Jedlovec: Previewing WS defenses
Oct. 17:
Perry: World Series hinges on relief
Oct. 16:
Szymborski: Milwaukee without Fielder
Oct. 16:
FanGraphs: Brewers' NLCS miscues
KISS 'EM GOODBYE
Oct. 30:
St. Louis Cardinals
Oct. 29:
Texas Rangers
Oct. 18:
Milwaukee Brewers
Oct. 17:
Detroit Tigers
Oct. 8:
Arizona Diamondbacks
Oct. 8:
Philadelphia Phillies
Oct. 7:
New York Yankees
Oct. 5:
Tampa Bay Rays
Sept. 29:
Atlanta Braves
Sept. 29:
Boston Red Sox
Sept. 27:
Los Angeles Angels
Sept. 26:
San Francisco Giants
Sept. 25:
Cleveland Indians
Sept. 24:
Chicago White Sox
Sept. 23:
Oakland A's
Sept. 22:
Los Angeles Dodgers
Sept. 21:
Colorado Rockies
Sept. 20:
Toronto Blue Jays
Sept. 19:
Cincinnati Reds
Sept. 18:
San Diego Padres
Sept. 17:
Pittsburgh Pirates
Sept. 16:
Kansas City Royals
Sept. 15:
Minnesota Twins
Sept. 14:
New York Mets
Sept. 13:
Washington Nationals
Sept. 12:
Seattle Mariners
Sept. 11:
Chicago Cubs
Sept. 10:
Baltimore Orioles
Sept. 9:
Florida Marlins
Sept. 8:
Houston Astros
ESSENTIAL LINKS