Commentary
Keith Law's top free agents, No. 31-50
The bargain bin could pay off with Derrek Lee, Jhonny Peralta and Jesse Crain
Originally Published:
November 7, 2010
By
Keith Law
| ESPN Insider
Welcome, again, to MLB free agency. It's a good class, although the 2009 group -- with Jason Bay, Matt Holliday, John Lackey et al -- might have been better. The full list of 2010 MLB free agents is here.
The third tier of the top 50 is where teams will look to both fill out a bullpen and try to catch lightning in a bottle with a cheap veteran bat.
Living in the first category, we look at a group that includes former Rangers closer Frank Francisco, former Diamondbacks closer Jon Rauch and hard throwers Jesse Crain and Grant Balfour.
Representing the veteran bats are longtime stalwarts such as Braves 1B Derrek Lee and longtime Astros leader Lance Berkman, both of whom saw their value dip precipitously in 2010.
Law's complete top 50: 1-10

| 11-30

| 31-50

To read Law's take on free agents 31-50, you must be an ESPN Insider.
Insider
Offseason Buyer's Guide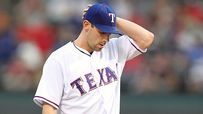 Cliff Lee headlines the 2010 free agent class, but who are the other players who could be changing teams this winter?
Buyer's Guide
Nov. 7:
Keith Law's top 50 free agent rankings
Nov. 8:
Buyers Guide: Starting Pitchers
•
Projecting the Starters
Nov. 9:
Buyers Guide: Relief Pitchers
•
Projecting the Relievers
Nov. 10:
Buyers Guide: Catchers
•
Projecting the Catchers
Nov. 11:
Buyers Guide: First basemen/DH
•
Projecting the first basemen
Nov. 12:
Buyers Guide: Middle infielders
•
Projecting middle infielders
Nov. 15:
Buyers Guide: Third basemen
•
Projecting the third basemen
Nov. 16:
Buyers Guide: Outfielders
•
Projecting the outfielders
Features
Nov. 5:
BP: Five biggest holes
Nov. 5:
Olney: Quieting the rumor mill
Nov. 5:
BIS: The next defensive makeover
Nov. 6:
BP: Five top moves
Nov. 10:
Olney: Top teams chasing Carl Crawford
Nov. 11:
Keating: Teams that shouldn't make a move
Nov. 13: BIS:
Finding hidden value free agents
Nov. 15: BP:
Shopping in the $0.99 bin
History
•
Law: 2009 top 50 rankings
•
Law: 2008 top 50 rankings
•
Law: 2007 top 50 rankings
•
Law: 2006 top 40 rankings

MOST SENT STORIES ON ESPN.COM