Commentary
The most MLB-ready in 2010
Mike Leake skipped the minors this year. Can anyone in the 2010 draft come close?
Updated:
May 27, 2010, 1:14 PM ET
By
Keith Law
| ESPN Insider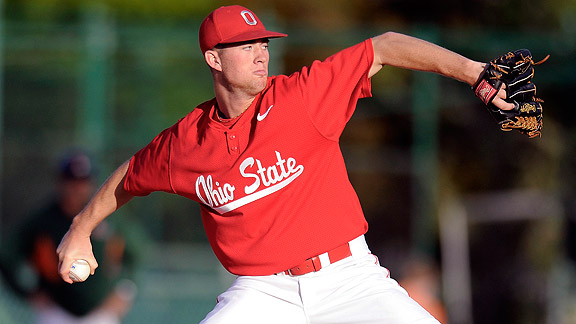 Richard C. Lewis/Icon SMIOhio State's Alex Wimmers could arrive in the majors before anyone else from his class.
Over the past few years we've seen teams get more and more aggressive in promoting college players taken high in the draft through their farm systems, a pattern no longer limited just to college relievers. (It's also probably worth pointing out that taking college relievers high with the goal of rushing to the majors was a decidedly mixed bag, as every Chad Cordero was matched with a Ryan Wagner and a Bill Bray.)
With that one criterion in mind, here's a ranking of the 20 prospects closest to the majors from my top 100 ranking, without regard to ceiling or signability.
1. Alex Wimmers, RHP, Ohio State:
Not the best starter in the class, but arguably the one needing the least development time. He's kind of a poor man's Mike Leake, getting hitters out with off-speed stuff, but without Leake's ability to get ground balls.
2. Chris Sale, LHP, Florida Gulf Coast:
I think he could pitch in the majors inside of a year as a reliever, maybe even this fall, but that's a fantasy, as he's going to be drafted so high that he'll be used as a starter.
We gave you the first two here. For the next 18 guys, join Insider. The draft is a week from Monday -- if this is an area of interest for you, this is a good place to be.
Insider
2010 MLB Draft Content

The Washington Nationals selected Bryce Harper from the College of Southern Nevada with the No. 1 overall pick in the 2010 First-Year Player Draft. Check out all the draft content from Keith Law and Jason A. Churchill.
Recaps
MLB Draft: Basic Info
Columns/Features
Scouting Reports
Videos

MOST SENT STORIES ON ESPN.COM