Commentary
A tale of two Sox
Red Sox's draft was loaded, if expensive; White Sox didn't get much
Originally Published:
June 9, 2010
By
Keith Law
| ESPN Insider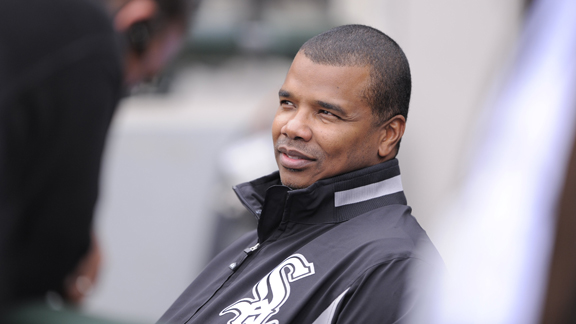 Getty ImagesSome think Ken Williams will fire-sale the White Sox this summer; Keith Law thinks his draft wasn't too great, either.
The second day of the 2010 MLB draft went down Tuesday, and as is typical, most teams' selections were a mix of quality, steals -- and completely unsignable players. What follows is a look at the AL squads on the second day. For a look back at the first day, go here.
Baltimore Orioles:
The O's didn't have a second-round pick due to the signing of Mike Gonzalez, but did grab a strong reliever in the third round with UCLA's Dan Klein, a right-hander with the repertoire to start but who has only pitched in relief in college due to a prior shoulder injury. I had sixth-rounder Dixon Anderson in my top 100 because of his ability to sink his fastball and the fact that he was in the mid-90s as a reliever last summer, while seventh-rounder Matt Bywater could be a fifth starter due to his above-average change.
Boston Red Sox:
The Red Sox could shatter records for total signing bonuses in one draft if they sign all their picks, although they'll probably make some exploding offers and see who accepts first. They grabbed first-round talent Brandon Workman in the second round and potential first-round talent Garin Cecchini, who blew out his ACL and missed most of the spring, in the fourth. Third-rounder Sean Coyle has a great, simple swing and gets that "ballplayer" tag that short (5-foot-7) middle infielders always seem to get, although word before the draft was that he wanted nearly $2 million to forgo UNC. Kendrick Perkins is a big, athletic, very raw center fielder committed to Texas. Adam Duke was up to 95 mid-year with an above-average curveball but his velo tailed off at the end of the spring; he's committed to Oregon State. I could go on -- it's a class full of expensive, high-upside high school guys with a few safer college players mixed in.
For the full AL rundown -- there are sleeper guys all over -- you must be an ESPN Insider.
Insider
2010 MLB Draft Content

The Washington Nationals selected Bryce Harper from the College of Southern Nevada with the No. 1 overall pick in the 2010 First-Year Player Draft. Check out all the draft content from Keith Law and Jason A. Churchill.
Recaps
MLB Draft: Basic Info
Columns/Features
Scouting Reports
Videos

MOST SENT STORIES ON ESPN.COM