Final top 100 MLB draft prospects
Byron Buxton heads the 2012 class of prospects for the MLB draft
Originally Published:
June 4, 2012
By
Keith Law
| ESPN Insider
Barring any last-minute injuries, this is the final version of my ranking of the top 100 prospects in this year's Rule 4 draft. I consider only ability, not potential bonus demands or strength of commitment to college. You can read scouting reports on these players written by myself, Kiley McDaniel or Jason Churchill by clicking on the players' names.
I'm often asked where the breaks are between tiers of players; this year, there's a small drop-off after the top eight names, with no clear No. 1 overall prospect (although I would likely have had Lucas Giolito first overall had he stayed healthy all spring). Gausman vs. Appel is a matter of taste and I could very easily argue for flipping those two players. The next gap would be after No. 25, Lance McCullers Jr., somewhat controversial prospect who has remade himself since last summer.
2012 MLB Draft Coverage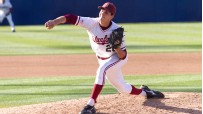 Keith Law, Jason Churchill and Kiley McDaniel tell you all you need to know about the 2012 MLB draft.
Draft Blog
6/7:
Law: Where top picks fit in systems
6/7:
Goldstein: Fantasy leaders from 2012 Draft
6/6:
Churchill: Fast track prospects
6/6:
American League draft evaluations
6/5:
National League draft evaluations
6/5:
Day 2 highlights
6/5:
Day 1 winners and questions
6/4:
Analyzing the compensation picks
6/4:
Live Day 1 pick-by-pick analysis
Rankings And Mocks
6/4:
Final top 100 draft prospects
6/4:
Final mock draft
6/1:
Mock draft 3.0
5/29:
Mock draft 2.0
5/15:
Appel No. 1 in first mock
5/8:
Top 100 has new names at No. 2 and No. 3
4/10:
Future 50 v. 2.0: Zunino rises
2/23:
Future 50: Buxton No. 1
MLB Draft History

MOST SENT STORIES ON ESPN.COM