Mock draft 3.0
Astros still narrowing down candidates for the No. 1 overall pick
Updated:
June 1, 2012, 2:19 PM ET
By
Keith Law
| ESPN Insider
This is my third of four mock drafts, and nothing is settled in the top five, including the first pick. The next (and final) projected first round will be Monday morning, updated later that day if anything more emerges before the first pick shortly after 6 p.m. ET.


The decision appears to be down to Appel, Byron Buxton, Lucas Giolito, Carlos Correa and Kevin Gausman. The Astros insist they'll take the best player available, but I'm sure that if they can get that player to sign for less than the $7.2 million recommended bonus for this pick, they won't complain.
To see the rest of Keith Law's mock draft, become an ESPN Insider today.
Insider
2012 MLB Draft Coverage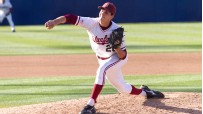 Keith Law, Jason Churchill and Kiley McDaniel tell you all you need to know about the 2012 MLB draft.
Draft Blog
6/7:
Law: Where top picks fit in systems
6/7:
Goldstein: Fantasy leaders from 2012 Draft
6/6:
Churchill: Fast track prospects
6/6:
American League draft evaluations
6/5:
National League draft evaluations
6/5:
Day 2 highlights
6/5:
Day 1 winners and questions
6/4:
Analyzing the compensation picks
6/4:
Live Day 1 pick-by-pick analysis
Rankings And Mocks
6/4:
Final top 100 draft prospects
6/4:
Final mock draft
6/1:
Mock draft 3.0
5/29:
Mock draft 2.0
5/15:
Appel No. 1 in first mock
5/8:
Top 100 has new names at No. 2 and No. 3
4/10:
Future 50 v. 2.0: Zunino rises
2/23:
Future 50: Buxton No. 1
MLB Draft History

MOST SENT STORIES ON ESPN.COM