Trading for Clemens won't come cheap
Originally Published:
May 3, 2005
By
Jayson Stark
| ESPN.com
Roger Rumblings
Roger Clemens
hasn't phoned his moving company yet. But it sure is funny how the open speculation is already beginning on where Clemens will wind up in July:
Yankees? Red Sox? Braves?
Uh, not so fast, folks.
There happens to be a little clause in Clemens' contract that adds $3 million to his $18-million salary if he gets traded. So just that clause alone, says Houston GM Tim Purpura, makes it "highly unlikely that's going to happen."
One thing that clause means is that Clemens is totally unaffordable for Atlanta. And even the Red Sox would be unlikely to want to add a guy at the deadline who had another $9 to $12 million coming.
So that would leave – guess who? – the Yankees. But even they would have to think long and hard about whether the Rocket is worth the price.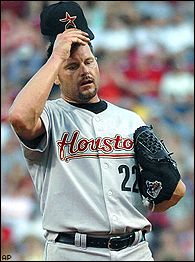 The more the Astros struggle behind Roger Clemens, the more speculation will rise.
Obviously, they're the one team out there that has the cash in Boss Steinbrenner's checking account to afford him. But how much would it really be worth to them to add one pitcher – even one as dominating as this man?
Say the Yankees traded for Clemens in early July – about halfway through the season. He would have $9 million left in salary, plus that $3-million incentive clause – plus another $5 million or so in luxury tax. That's $17 million for a three-month rental.
True, the Astros could pay some of that money. But why would they?
Considering the potential public-relations nightmare they would be risking in trading Houston's No. 1 icon, they would need to be blown away to consider moving Clemens and paying him to pitch somewhere else. But the Yankees don't have enough attractive young players to blow anyone away.
Oh, it's true the Rocket could engineer this whole scenario if he pushed hard enough. But you should also remember that Clemens hasn't forgotten that he had to cajole the Yankees just a little too hard to bring him back for the 2003 season.
So if the Yankees suddenly find themselves desperate for one final reunion, he would no doubt enjoy watching the Yankees squirm and drop that $3-million relocation fee in his wallet.
We'll no doubt start hearing the rumors in June if the Astros are still scoring 1.29 runs per game for Clemens. But if the Rocket is going to finish the year as a hired gun, just bear one thing in mind:
He'll be the most expensive hired gun in history.
Steroid Rumblings
There sure has been lots of praise heaped on Bud Selig for his new three-strikes-and-you're-out steroids plan – a plan, we might add, that stands for all the right things. And the good news for Selig is that the union will have almost no choice but to go along with most of it, based on public and congressional pressure alone.
But was this really the master publicity stroke by the commish that it has been made out to be in some corners?
In the short term, maybe it will be, because it probably will get Selig most of what he wants on this issue.
But what will be the long-term cost, with negotiations on a new labor agreement looming just a year away?
The politically correct way to handle this would have been to negotiate a new steroid deal first and publicize the details later. So while Selig no doubt was discouraged by the union's methodical pace, he also knows the risk of reigniting the distrust between these two sides that has made so many previous labor talks so much fun.
And make no mistake about it. He has pretty much guaranteed that a year from now, when many other issues are on the table, the players won't be anywhere near as inclined to trust him as they might be if this had been handled differently. And given how many players were in Selig's corner on the steroid issue, it could have been handled differently.
TESTING UPDATE – No exact figures are available on how many players have been tested already this season, but it's believed to be in the neighborhood of about 25 percent of all players on 40-man rosters. According to sources, one in eight players (or 250 total) had been tested by the end of spring training.
The most common denominators among players who have tested positive so far is that four of the five were of Hispanic descent, and all are claiming they had taken either an over-the-counter supplement or a prescription drug.

The union did furnish all players with a list of drug ingredients that would cause them to test positive. But one thing it apparently didn't provide was a specific list of product names. So any player who didn't check the ingredient list was in danger of an "inadvertent' suspension.

The union is now believed to be looking into circulating a more specific product list. But you can bet that if players were facing a 50-game suspension for a first offense instead of a 10-day suspension, they would be poring over those ingredients a whole lot closer.

CONGRESS STRIKES AGAIN – We're glad our friends in Congress are so thrilled with the NFL's work in fighting steroids. But...

We just wonder what the reaction would have been had four members of a recent World Series team been investigated for obtaining steroids fraudulently as the playoffs were beginning that year, as happened with the 2003 Carolina Panthers.

And we wonder why all those baseball players were subpoenaed by Congress – but not one football player was asked to stop by.

And we wonder what was so vastly superior about an NFL plan that essentially banned and tested for the same steroids as the MLB plan.

And we wonder why there was no outrage that the NFL steroid policy doesn't even require the league to release the names of players who test positive.

But hey. That's just us. We wonder a lot.

D.C. Rumblings
Bud Selig continues to tell owners that MLB expects to be able to sell the Nationals for close to $400 million. But we wish him luck – now that baseball has handed near-total control of the team's TV rights to Peter Angelos.

It's hard to think of any franchise that has its games televised by a network controlled by another team. But maybe that's because there aren't any.

The Nationals are being asked to pay $75 million of the start-up costs of the new network. But MLB gave Angelos and the Orioles a 90-percent equity stake in that network, which requires the Orioles to chip in nothing except their annual rights fee.

True, the Orioles' stake will be reduced to just a two-thirds share by 2033. And the Nationals' rights fee will rise to $29 million a year from the new network by 2010.

But sources who have been in contact with some of the prospective owners suggest that the $75-million up-front payment (in two installments) will depress the purchase price by – what a coincidence – as much as $75 million.

And in the meantime, the new deal is being challenged by Comcast, which is allowed, by its current deal with the Orioles, to match all offers by other networks. So those potential D.C. ownership groups are being told once again to be patient until it becomes clear how serious a complication that lawsuit is.

At this rate, the Nationals ought to have a new owner by Livan Hernandez's 50th birthday.

Really Rumbling And Grumbling
• It hasn't been announced yet, but MLB and the players have reached a tentative agreement that will extend the experiment that allows the All-Star Game to determine home-field advantage in the World Series – but only for one more year.

• Despite denials on both sides, one team that has been in touch with the Phillies says the Phillies and Cubs got worked up briefly about a deal that would have sent Placido Polanco to the Cubs following Nomar Garciaparra's injury. But the Phillies decided to hang onto Polanco until after June 15, when he can't veto any deals and when he could be packaged with first-base prospect Ryan Howard in a possible blockbuster.

• So with that trade on hold for now, the Cubs are "actively looking" to upgrade their middle infield and bullpen, according to an executive of one team that has spoken with them. They've also talked to the Indians about one of their veteran infielders (Ronnie Belliard, Alex Cora, Jose Hernandez). They've inquired about Arizona's Alex Cintron. And they've explored numerous bullpen options since the loss of Chad Fox.

But they've had so many injuries in so many places, other clubs report they're now expected to sit back for a while, try to figure out who's coming back fast and who isn't, and then resume the hunt for someone who can give their team "a shot in the arm."

• Another team that's now in no hurry to make a deal is the Astros. With Lance Berkman expected back by the end of the week, and with Willy Taveras and Jason Lane running 1-2 on the club in runs and stolen bases, Houston will hold tight for a while.

• The Indians have had opportunities to trade their excess middle infielders and setup men. But GM Mark Shapiro continues to say, "We're not looking to make a trade right now. No matter what the [historical] numbers say [about rough Aprils], it's still a little too early."

• Two scouts who have followed the Yankees recently are giving virtually the same review: "That team is in trouble."

"They have to repair that bullpen quick," said one AL scout. "[Mike] Stanton is looking old. [Paul] Quantrill is looking old. And [Tom] Gordon can't locate anything right now. When Tanyon Sturtze is your best [setup] guy, that's a bad sign."

But another scout says: "They have legitimate worries – but they've got a lot of funds to fix them. There's no depth in their system. But they've got 20 other clubs to prune for what they need."

• Since 1900, only four players have ever led their league in stolen bases and OPS (On-Base Plus Slugging) in the same season – Honus Wagner, Ty Cobb, Willie Mays and Rickey Henderson. But that's what Orioles dynamo Brian Roberts did for the month of April. And what you're seeing is a star being born.

One scout who has followed the Orioles says Roberts' home-run explosion has a simple explanation – that "all those balls he hit for 50 doubles last year, he's now finding ways to get out of the park."

The same scout also gives Roberts high grades as a big-time basestealer "who has a really unique style, in the way that he constantly varies his leads. Sometimes he'll take a big lead. Sometimes he stays close to the bag, then kind of walks into his lead like Roberto Alomar used to do."

But the scout also predicts that Roberts' numbers will head back toward sea level when the league begins adjusting to him better.

"These pitchers keep feeding him fastballs on the first pitch, and he's making good contact," the scout said. "They don't want to walk him, because they know he'll be running. So it's unbelievable how many first-pitch fastballs he gets. I saw him six games, and he swung at the first pitch at least four or five times. These pitchers need to wake up and approach him a little different."

• Phillies closer Billy Wagner allowed zero runs in April, even though his fastball has averaged in the mid-90s instead of the upper 90s, the way it used to. The big reason, according to one NL executive: "He's got a much-improved breaking ball. He's throwing it more. He's throwing it for strikes. And he's got better bite on it. He's turned it into a real weapon."

Phillies GM Ed Wade told the Philadelphia Inquirer's Jim Salisbury last week not to read anything into the fact that the Phillies haven't talked about an extension for Wagner, who can be a free agent after this season. But one friend of Wagner says it's unlikely he'll be back in Philadelphia unless the Phillies win.

Wagner's first two choices, the friend says, are the Nationals and Braves, because of their closeness to his home in Virginia.

• Wagner has been the best left-handed closer in the National League for years. But the best left-handed closer in the American League is a guy who just got the job – Baltimore's B.J. Ryan.

One scout who has followed the Orioles says: "The hitters can't see the ball – and then, when he throws it, it's a Wiffle Ball. The velocity on his fastball isn't exceptional. But the hitters don't see it. And not only is it deceptive, it's got better life than any left-hander in the league."

• Ichiro Suzuki has hit .409 since last year's All-Star break, the highest average of any hitter in baseball. But we bet you can't guess who's No. 2, among hitters with at least 250 plate appearances since then.

It's Giants first baseman J.T. Snow, believe it or not. He was hitting an amazing .378, according to the fabulous new day-by-day database at baseballmusings.com.

"J.T. has reinvented himself," said Giants assistant GM Ned Colletti. "He's become an on-base guy, a singles-doubles guy with a little gap power, a guy who just knows how to play and knows how to hit. He's done a lot of work with [Giants hitting coaches] Joe Lefebvre and Willie Upshaw, and he's made adjustments. Early in his career, he wasn't making those adjustments. But he's making them now. I just think he got tired of being written off."

• That Tim Hudson-Mark Mulder duel last weekend was a good excuse to look back at Oakland's two mega-deals last winter and ask: How did the A's do?

Well, there might have been some doubt at the time which was better, but not anymore. We surveyed executives of four teams, and all four gave the A's significantly higher grades on the Mulder trade than the Hudson deal.

The A's are counting on left-hander Dan Meyer to salvage the Hudson trade, even though he had a shaky spring and wound up back in Triple-A. But even if that happens, all three members of the St. Louis package (Dan Haren, Kiko Calero and minor-leaguer Daric Barton) should be big contributors in Oakland. Which is more than you can say for Juan Cruz or Charles Thomas.

And even if Meyer does pan out, says one assistant GM, "Meyer vs. Haren is a wash for me." The same club has Barton rated as one of the top five prospects in baseball.

"We liked the St. Louis trade for Oakland better than the Atlanta one at the time they made it – and still do today," said another AL exec. "We don't like Charles Thomas that much, and we had some significant concerns about Juan Cruz not being able to perform up to his stuff. We do, however, think that Meyer has significant upside and the chance to pitch in the middle to front of the rotation. He's still only 23 and pitching in Triple-A after overmatching every level he's pitched at."

But an NL executive who saw Meyer several times this spring has this pithy assessment of the Braves' latest heist: "Atlanta," he chuckles, "has done it again."

Injury of the Week
Finally, here's one of the great baseball injuries of modern times:

Twins shortstop Jason Bartlett got hurt during the Twins' series in Detroit last week. But the bad news is, he did it on a day they got snowed out and without leaving the hotel.

Bartlett was trying to rotate the TV in his room so he could watch a basketball game, got a finger caught under the TV – and ripped off a fingernail.

The Twins have been telling this guy to channel his energy – but this wasn't quite what they had in mind.

Trivia Answer
Question: Miguel Tejada led the American League in RBIs last year (with 150) and was leading the league again heading into May. OK, so he won't maintain his current 200-RBI pace. But he could become the fifth active player to have back-to-back 140-RBI seasons. Can you name the other four?

Answer: Manny Ramirez (1998-99), Sammy Sosa (1998-99), Junior Griffey (1996-97-98) and Todd Helton (2000-01).

Jayson Stark is a senior writer for ESPN.com.

To continue reading this article you must be an Insider
Insider
Senior Writer, ESPN.com
Senior writer for ESPN.com
21 years at the Philadelphia Inquirer
Author of three baseball books
EDITORS' PICKS
Martin Prado was a big pickup for the Marlins.
Buster Olney

James Shields believes the Padres are contenders.
Watch

Will a high contact rate be a problem for Stephen Strasburg going forward?
Tony Belngino

MOST SENT STORIES ON ESPN.COM