No replacing Adam Wainwright
February, 24, 2011
02/24/11
1:11
PM ET
If there's a word that describes Adam Wainwright's impact on the Cardinals better than any other right now, it's this:
Irreplaceable.
There isn't a pitcher on the roster, a pitcher on the free-agent market or a pitcher the Cardinals could trade for who can replace, in just about any way, what one of the best starters alive would have given them had he not had to make a visit to his friendly neighborhood Tommy John surgeon.
That's no slight to Kyle McClellan, no knock on Kevin Millwood, no rip on Joe Blanton or Kenshin Kawakami. But they're not Adam Wainwright -- because just about no one is.
[+] Enlarge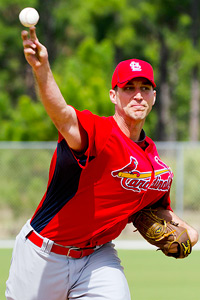 Scott Rovak/US PresswireAdam Wainwright, 29, felt stiffness in his right arm after Monday's throwing session.
If you were making a list of the best starting pitchers in baseball right this minute, Roy Halladay and Felix Hernandez might rank above Wainwright. But that might be it.
For some reason, Wainwright doesn't get the love from the masses that a pitcher this dominant ought to get. But sometimes, this can be a how-can-I-miss-you-if-you-won't-go-away kind of world. So here's what the Cardinals will be missing while their ace is gone:
• According to baseball-reference.com, Wainwright is one of only two pitchers in the sport who finished in the top seven in his league in Wins Above Replacement (among ALL players, not just pitchers) in each of the last two years. The other: Halladay.
• Wainwright is also one of only two pitchers who have finished in the top three in Cy Young balloting in each of the last two years. The other: Hernandez.
• Wainwright is one of just four pitchers who have worked at least 230 regular-season innings in each of the last two seasons. The others: Halladay, Felix and CC Sabathia.
• And over those last two spectacular seasons -- in which Wainwright has gone 39-19 with a 2.53 ERA -- he's tied for first in the big leagues (with Hernandez) in starts allowing two earned runs or fewer (48). He ranks second in ERA, wins and quality starts. And he's third in the sport (or tied for third) in Adjusted ERA-Plus, most starts allowing one earned run or none and best average Game Score.
But even those numbers don't quite capture what Adam Wainwright is, or what he means to his team.
"Losing him," said one NL scout Thursday, "that's a 10-game dropoff."
Now that isn't what the numbers would say. Not exactly. According to baseball-reference.com, Wainwright has been worth about six wins per season more than an average replacement pitcher in both 2009 (6.0) and 2010 (5.7.). Our friends at FanGraphs calculated 2009 at 5.7, 2010 at 6.1 and estimated his WAR for this season to be 6.4.
So the numbers would suggest he's worth about six wins, not 10. But that doesn't take in the whole picture, the same scout said.
"It's more than [six], because of what it means mentally," he said. "When you lose a guy like this, there's a psychological devastation. He's their No. 1. He's their rock. So when you lose him, it doesn't just affect one slot in the rotation. It's like losing a middle-of-the-order bat in your lineup. It forces other guys to slide up into different roles and gets them out of their comfort zones. And then those guys aren't the same.
"And it even affects other teams going in to play them. Instead of saying, 'Uh-oh, we've got to face Carpenter and Wainwright in this series,' now you're going to go get two out of three and feel pretty good about it. So the whole mindset of the Cardinals, and the league's mindset about the Cardinals, is altered now."
When I was in Jupiter, Fla., last week, I heard quite a few Cardinals make the case that people were underestimating their rotation. I even heard them argue that their group was just as good as any team's rotation -- including the Phillies' mega-hyped group.
"I don't know what would separate them from our guys," closer Ryan Franklin said of the Phillies. "Our guys have pitched big games. They've pitched in the World Series. And Carpenter and Wainwright are two guys I'd match up with any team's top two. I'll take our two against anybody."
Well, not anymore.
And this is an injury that affects more than just this team's rotation. This is a star-driven team, a franchise built around its great players (Wainwright, Carpenter, Albert Pujols, Matt Holliday and Yadier Molina) -- with a big dropoff to the rest of the roster.
"The Cardinals have very few of what I'd call 'B' players," the same scout said. "They have 'A' players -- and then they have 'guys.' Now Yadier Molina has to be the best catcher in the league. Pujols has to be the best first baseman in the league. They need big improvement from their center fielder (Colby Rasmus). Those are the things that have to happen. They have to be an offensive team now."
But the ripple effects keep coming. Carpenter turns 36 in two months, and this is the last guaranteed year on his contract. (The team holds a $15 million option for next year.) So this is an injury that could have a huge impact on his future.
Wainwright himself has two option years left on his deal beyond this season, at $9 million for 2011 and $12 million for 2012. The contract language requires the Cardinals to pick up both options at the same time following this season. But that language also gives them the right to void those options if Wainwright ends this season on the disabled list, which he now clearly will. So even though the success rate of Tommy John surgery is extremely high, the club has a fascinating decision to make there.
And then there's Albert. He, too, is on the last year of his deal. You might have heard that someplace. If Wainwright's absence causes this team to slide into the middle of the pack, who knows how, or if, that alters the year-long Pujols Watch?
Does it turn up the heat? Hurt attendance? Cut revenues? Increase the pressure to sign him? Decrease the pressure to sign him? Put the Cardinals in a position where they have to fend off the inevitable trade rumors -- even though Pujols has indicated he would veto any trade and the Cardinals have said they have no interest in trading him?
One sliding door leads them through so many more. And it's impossible to say with any certainty where all those doors will lead them.
But we can be certain of one thing: In a division in which the Brewers and Cubs appear to have closed the gap between the Cardinals and Reds over this offseason, this is a devastating, franchise-altering injury in all sorts of ways. And it reinforces, more than ever, exactly what Adam Wainwright has become:
Irreplaceable.