Jimmer-mania hits Rays camp
February, 23, 2011
02/23/11
5:14
PM ET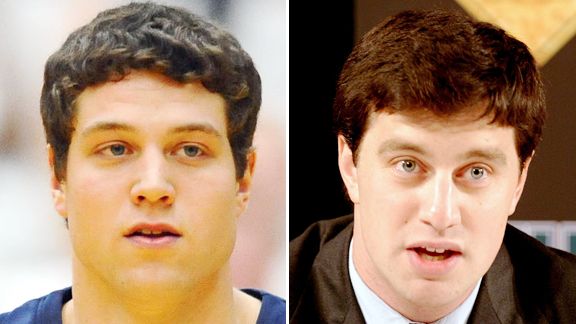 US Presswire/Getty ImagesLong-lost brothers? BYU's Jimmer Fredette and Rays exec Andrew Friedman sure look a lot alike.
PORT CHARLOTTE, Fla. -- When he's not busy running the show for the seventh-ranked college hoop team in America, is it possible that Jimmer Fredette moonlights by running the show for the defending AL East champions?
OK, maybe not. But I know I'm not the only one who has noticed that Jimmer could be a stunt double for Rays executive vice president of baseball operations Andrew Friedman.
Just so you don't think I'm nuts -- or at least no more nuts than usual -- take a look at the two photos above.
"I don't see it," Friedman said at one point Wednesday, when I presented him with photographic evidence.
"Aw, c'mon," he said at another point.
But just because he's in denial doesn't mean I'm wrong. So here, to testify in my defense, is Rays ace David Price.
"It's definitely there," Price said. "For sure. No doubt. They look very, very, very similar."
Asked what it was about the Brigham Young scoring machine that reminds him most of his general manager, Price replied: "Well, they're both very articulate when they talk. They're both good public speakers. That's something that I noticed.
"That," Price laughed, "and the hair. The hair is big."
But wait. Can it really just be their quasi-identical hair that makes us think these two guys might have been long-lost brothers? What about their athletic similarities? Didn't Price think Friedman could also knock down a big three-pointer if his team needed one?
"On an eight-foot goal possibly," Price deadpanned. "He might come up a little short on a 10-foot goal. But on an eight-foot goal, I think he could bank a 'three' in somewhere."
That, by the way, was a thinly veiled reference to the fact that Friedman isn't exactly Shaq-esque in the old stature department. The Rays don't list an official height for him, but it's safe to say that the 6-foot-2 Fredette has about half a foot on his unofficial twin.
So even though Friedman is 34 and Fredette is about to turn 22 this weekend, there's no question in Price's mind who the (ahem) big brother is in this family.
"Regarding Andrew's height disadvantage," Price said, as delicately as possible, "I'm going to say Jimmer's the big brother."
Actually, Friedman said, his basketball career was on a similar track to Fredette's -- until middle-school developments changed everything.
"In the sixth grade, I was probably the biggest guy on the court," Friedman said. "Then I stopped growing and everyone else I knew had a big growth spurt."
From there, Friedman's path to Jimmer-dom clearly went awry. And manager Joe Maddon was reach to vouch for the went-awry part after watching his boss play in a camp basketball game recently.
"I watched Andruw deke [Rays assistant minor league director] Chaim Bloom," Maddon reported. "He got Chaimer in the air. Went around him. Free layup. And missed everything. No rim. No nothing. Air ball. Over everything. That's what I saw. I don't think it was too windy, either. Calm winds. Great fake. Clear path. No iron."
So looks aside, Maddon remains skeptical that Friedman and Jimmer could possibly have any connection whatsoever on their mutual family trees.
"Maybe mentally," the manager suggested. "Check out Jimmer's fantasy football or baseball teams. Might have some similarities there."
Nope. Not buying it. I know a couple of look-alikes when I see them. And this one is too powerful to ignore. So I pressed onward, by emailing Friedman more photos just to prove my point. He still wasn't impressed.
"My arms," he quipped, "are definitely bigger."