December, 4, 2013
Dec 4
4:58
PM ET
By my calculations, the Braves, Brewers, Nationals, Pirates, Cubs, Diamondbacks and Astros have spent zero dollars in the big league free-agent market this winter.
And then there are the Yankees.
Who have already spent more money this winter than the Pentagon.
Or something like that.
[+] Enlarge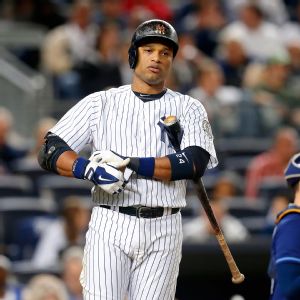 Jim McIsaac/Getty ImagesRobinson Cano has played an average of 160 games per season over the past seven years.
Assuming their $153 million deal with Jacoby Ellsbury gets finalized, that would make $238 million they've committed just to Ellsbury and their new catcher (Brian McCann).
With a $12 million deal for Derek Jeter, a $5 million deal for Brendan Ryan and a pending deal for about $3 million to Kelly Johnson still to come.
That's north of a quarter of a billion dollars down -- and many more to go, judging by how aggressive the Yankees have been in this marketplace.
So the question is: Do they have enough money left to pay Robinson Cano -- assuming he volunteers at some point to let them pay him -- and still stay under the hallowed $189 million luxury-tax threshold?
Excellent question.
The Yankees have been telling people they do -- as long as Cano agrees to return at their price.
But not everyone is so sure, including a couple of payroll experts I consulted. And in the end, naturally, it could all depend on Alex Rodriguez.
Doesn't everything?
So let's try to do this math and see how much money the Yankees really have left to spend.
We should start with a running tally, kept by the New York Post's Joel Sherman. He calls it the Luxury Tax Meter. It computes how much money the Yankees have already committed to next year. You can find it here.
By his arithmetic, the Yankees have $116.38 million committed for 2014, not including the approximately $21.857 million AAV in Ellsbury's contract because it still isn't official.
That number does include A-Rod's $27.5 million AAV, because no verdict on his suspension hearing will be rendered for another month or so. Can you stand the suspense?
So if we went by that figure, the Yankees would have $73.66 million left between them and another luxury-tax bill. But …
An official of one club says his team's estimates say the Yankees actually have around $10 million more than that to play with, because some contract values are calculated differently than others. So let's say there's a chance they could have as much as $83 million worth of wiggle room. But …
Now let's add in Ellsbury's deal, which shrinks that number by close to $22 million. Kelly Johnson's addition will mean we're deducting a total of $25 million.
So that leaves the Yankees between $48 million and $58 million. But …
We need to calculate in some other stuff. Such as …
• Benefits payments: They come to between $10 million and $11 million, and count against the luxury-tax figure.
• Arbitration-eligible players: The Yankees currently have five of them (Brett Gardner, David Robertson, Ivan Nova, Shawn Kelley and Francisco Cervelli). Those five would eat up another $16 million or so, according to estimates by baseball-reference.com.
• Rest of the roster: If the Yankees filled out the roster with a bunch of young guys (which isn't going to happen, obviously), that would come to another $5.5 million. But let's ignore that for now, since the Yankees have, um, bigger plans.
So benefits and arbitration would chew up another $26-27 million. Which would seem to leave them between $21 million and $31 million to spend on Cano, Hiroki Kuroda, a bullpen arm and another starter -- ideally, Masahiro Tanaka.
Is that doable? It's hard to see how.
Kuroda made $15 million in 2013. He's not going to take a pay cut.
Tanaka is going to be the highest-paid Japanese player ever, by all accounts. He'll certainly have an AAV north of Yu Darvish's $10 million a year.
The Yankees have already offered Cano a contract that would average out to between $24 million and $25 million a season, according to multiple reports.
So people on the outside say there's only one way the Yankees can afford Kuroda and Cano, let alone Tanaka, too. Guess what that might be.
Right you are, A-Rod fans. They'd need to have all or most of Rodriguez's 211-game suspension upheld, which would save them between $25 million and $27.5 million off the tax-threshold books next year.
Now that isn't how the Yankees see this. From what those of us on the outside gather, they believe they can afford Cano and Kuroda no matter what happens to A-Rod. And his verdict impacts only what grade of starting pitcher they can pursue.
But either their accountants must be doing excellent work, or they're more confident of seeing A-Rod's money disappear than they're letting on. Because the math doesn't add up, no matter how often I do it.
Then again, as my high school math teachers could tell you, it wouldn't be the first time.