Commentary
Giant Killers: East upset picks
Could the Dores go down early again?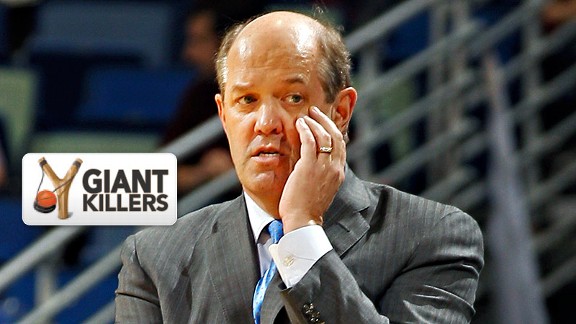 Chris Graythen/Getty ImagesKevin Stallings and Vandy have a lot to worry about from potential Giant Killers.
As we promised in the Giant Killers blog, on Monday we begin detailed breakdowns of all the first-round games with GK implications.
Now that we all have brackets in hand, it's time for a detailed look at how our Giant Killers statistical model sees NCAA tournament matchups. We'll go region by region, and, as we did in 2011, we will sort potential upsets into four categories: Best Bets, Worth a Long Look, Not Completely Crazy and Stay Away. These names should be pretty self-explanatory: Best Bets have a decent chance to win outright, and Stay Aways are likely to lose no matter what. But we can't tell you exactly how to fill out your brackets, because that depends on how heavily your particular pool rewards upsets. The more points you score when underdogs win, the more you should be willing to pick high-risk teams.
In case you've forgotten, a Giant Killer is a team that beats an opponent seeded at least five spots better and doesn't come from a BCS conference. Other teams -- Gonzaga, Butler, BYU, Temple and Xavier -- are excluded because of their historical success. (Check out our methodology for a full explanation.) Our model generates statistical ratings that compare potential Giant Killers to past Davids, as well as all Giants to the Goliaths that were slain. Those ratings enable us to predict the chances of an upset in each matchup.
We continue with the East Region, where a traditional Giant Killers victim may have lucked out with its draw.
Upset picks in the South | East | West | Midwest
EAST REGION
To see the most friend upset picks in the East region and get access to all of Insider's NCAA tournament tips and tools, sign up today.
Insider
Peter Keating is a senior writer at ESPN The Magazine, where he covers investigative and statistical subjects. He started writing "The Biz," a column looking at sports business from the fan's point of view, in 1999. He also coordinates the Magazine's annual "Ultimate Standings" project, which ranks all pro franchises according to how much they give back to fans. His work on concussions in football has earned awards from the Deadline Club, the New York Press Club and the Center for the Study of Sport in Society.
ESPN The Magazine contributing writer
Brenner writes for ESPN The Magazine and ESPN Insider. He covers the NBA and college basketball.
2012 NCAA Tournament on Insider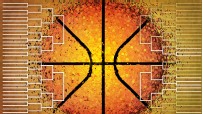 Title game preview
Gasaway: Why Kentucky will win the title
Fraschilla: How to beat Kansas
Gottlieb: How to beat Kentucky
Gasaway: UK's Davis ranks among greats
Bracket Predictor: Final Four, title picks
BPI: National title predictions
Expert Analysis
Lunardi Tourney Tips
Profiles on all 68 teams
The Experts Blog
Doug Gottlieb, Fran Fraschilla, Joe Lunardi and Jay Williams offer their opinions.
The Bilas Blog
Insights from the mind of the College Gameday analyst.
Draft Watch
Chad Ford breaks down top NBA prospects.
Mock Draft 2.0: Davis is No. 1
MORE MEN'S COLLEGE BASKETBALL HEADLINES


MOST SENT STORIES ON ESPN.COM