Bilas Index: Top 68 rankings
What could go right or wrong for each of nation's top 68 teams in NCAAs
Updated:
March 11, 2013, 6:01 PM ET
By
Jay Bilas
| ESPN Insider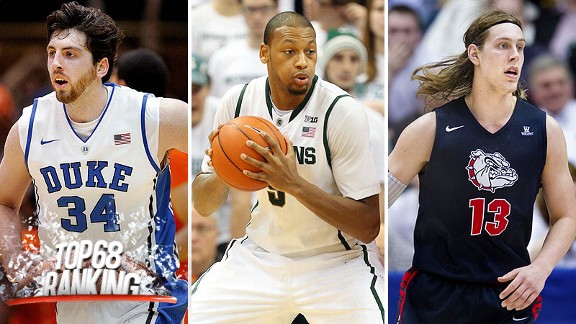 USA TODAY SportsBig men are helping fuel success for Duke, Michigan State and Gonzaga this season.
This college basketball season is not as wide open or as bizarre as the little brains might suggest. Yes, the selection committee is likely to make public statements this year saying things are "wide open" and that it's an "incredibly competitive field" and "the job has never been more challenging" and "a lot of teams look the same."
But here's the thing: They say these things every year. In fact, it would be a wonderful exercise for someone (ESPN perhaps? Hint, hint ...) to go back and piece together some of the public statements of the selection committee chairpersons to prove that most say the same things over and over.
The reality is, if all of the teams actually looked the same, then the exercise should be quite easy. The teams that have won the most games against quality competition should simply be ranked in order. Of course, not all of these teams are the same. Saying such a thing is nothing but a rationalization to insulate one from criticism.
The Bilas Index, on the other hand, cuts through all of the selection committee doublespeak and gets right to the heart of the matter: Which teams are the most accomplished and the best?
The current chair of the selection committee should just admit publicly that the one authoritative and ultimate statement on basketball value, worth and achievement is The Bilas Index. All other declarations, whether by committee or individual, are just noise that is best filtered with Beats by Dre, bumping the urban philosopher Young Jeezy while poppin' bottles in the club. Because, that's what winners (aka The Bilastrator and his peeps) do. You and the selection committee will be freed up to join The Bilastrator at said club (although my security detail will not allow you into the VIP area) with all of the time you will save by making The Bilas Index your definitive word on the subject of basketball merit.
In formulating The Bilas Index, The Bilastrator himself studies the very best and most reliable metrics, numbers and analytics available, including ESPN's Basketball Power Index (BPI), the Sagarin ratings, KenPom.com, Basketball Prospectus and the work of John Gasaway and his minions, the UPS Team Performance Index (TPI) and Synergy Sports Technology, in order to create a register of teams, ranked in order, that have accomplished the most, are the best, and are best suited to win in big games.
The Bilas Index is so coveted that Duke coach Mike Krzyzewski storms the court just to get an early peek at it.
We've added a new wrinkle this week. Included in our write-ups are a look at what makes each team capable of winning games in the NCAA tournament (although sadly, not all 68 Bilas Index teams will make the field) and what could trip each team up, in addition to a look at their key wins and losses -- "H" represents a home game, "A" an away game and "N" a neutral court game).
As you and the selection committee are taken to areas of the game you could never fathom before The Bilas Index, just remember, you're quite welcome.
Moving out: Dayton, Northern Iowa
Coming in: Valparaiso, Harvard
1. Indiana Hoosiers (Previous ranking: 1)

Why IU can win: The Hoosiers are excellent on the offensive end, and have the top-rated offense in the nation, according to KenPom.com. Simply put, Indiana can score from every spot on the floor, which not all teams can do, and Tom Crean runs really good stuff, especially ball-screen action.
Why IU can lose: The Hoosiers have been beaten on the glass in losses, and have lost the physical battle in those games. If they allow an opponent to get into them and hit first, the Hoosiers can be had. That doesn't mean that IU cannot win a physical game, because they can. But if you don't get into IU physically, you can't beat the Hoosiers.
Wins: Georgetown (N), North Carolina (N), Minnesota (H), Michigan State (H, A), Michigan (H, A), Ohio State (A)
Losses: Butler (N), Wisconsin (H), Illinois (A), Minnesota (A), Ohio State (H)
2. Duke Blue Devils (Previous ranking: 4)

Why Duke can win: Duke is 18-0 with Ryan Kelly in the lineup. Kelly is an outstanding 3-point shooter, can drive the ball and is a smart passer. He helps stretch a defense and provides Mason Plumlee with room to operate without double-team coverage. Kelly is also Duke's best overall defender. Duke can score from every spot on the floor and has a stable point guard to run the show in Quinn Cook.
Why Duke can lose: The Blue Devils do not rebound well; they are so efficient on the offensive end that it hasn't been hurt too badly by any deficiencies on the glass. Duke also gets little from its bench, although that is only an issue with injuries and foul trouble in a particular game.
Wins: Kentucky (N), Florida Gulf Coast (H), Minnesota (N), VCU (N), Louisville (N), Ohio State (H), Temple (N), Davidson (N), Maryland (H), NC State (H), North Carolina (H, A)
Losses: NC State (A), Miami (A), Maryland (A), Virginia (A)
3. Louisville Cardinals (Previous ranking: 2)

Why Louisville can win: The Cards have the nation's best and most efficient defense, and always seem to play at their best during the month of March under Rick Pitino. Louisville has depth and is healthy going into postseason play.
Why Louisville can lose: Louisville is not a good shooting team, and ranks among the bottom third of Division I in 3-point shooting. Much of Louisville's offense is generated from its defense. So if you protect the ball, you can do a good defensive job on Louisville.
Wins: Missouri (N), Memphis (A), Kentucky (H), UConn (A), Pittsburgh (H), Marquette (H), Syracuse (A), Cincinnati (H), Notre Dame (H)
Losses: Duke (N), Syracuse (H), Villanova (A), Georgetown (A), Notre Dame (A)
4. Gonzaga Bulldogs (Previous ranking: 3)

To see the rest of Jay Bilas' ranking and analysis of the nation's top 68 teams, you must be an ESPN Insider.
Insider
Insider CBB content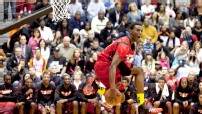 LATEST CONTENT

Freshman Impact
• Greenberg/Telep: Kansas Jayhawks
• Greenberg/Finkelstein: Marquette
• Gasaway/Rankin: Indiana Hoosiers
• Gasaway/Rankin: Michigan Wolverines
• Gasaway/Rankin: Ohio State Buckeyes
• Greenberg/Finkelstein: Memphis Tigers
• Gasaway/Rankin: Florida Gators
• Greenberg/Telep: Kentucky Wildcats
• Gasaway/Finkelstein: Louisville Cardinals
• Gasaway/Finkelstein: Syracuse Orange
• Greenberg/Biancardi: NC State Wolfpack
• Biancardi/Gasaway: Duke Blue Devils
• Biancardi/Gasaway: North Carolina Tar Heels
• Biancardi/Gasaway: Arizona Wildcats
• Greenberg/Telep: UCLA Bruins
Expert Takes
• Gasaway: Breakout second-year coaches
• Lunardi: Could Louisville repeat as champs?
• Greenberg: UVA tops list of surprise teams
• Fraschilla: How returning stars can improve
• Gasaway: Top title challengers to Kentucky
• Lunardi: Who will earn No. 1 seeds in 2014?

RecruitingNation
• Telep: Latest on No. 13 junior Theo Pinson
• Rankin: What Wiggins means for Kansas
• Biancardi: KU to prep Wiggins for NBA success
• Telep: Updated look at top recruits
• Roundtable: Most impressive on AAU circuit?

NBA draft
• Ford: NBA draft lottery preview
• Ford: Winners from the NBA draft combine
• Fraschilla: Burke the draft's top point guard?
• Ford: Measurements concern some GMs
• Ford: Why Wiggins would go No. 1 in 2013

ESSENTIAL LINKS

Jay Bilas Blog
Jay's take on latest from around the nation
Experts Blog
Analysis from Fraschilla, Greenberg and Lunardi
Rumor Central
Get news and rumblings before anyone
Hollinger's College PER
College basketball's top players
PickCenter
Get wagering advice for every game
MORE MEN'S COLLEGE BASKETBALL HEADLINES


MOST SENT STORIES ON ESPN.COM