Commentary
Bilas Index: Kansas back in top five
In the Border War encore, Kansas beats Missouri and returns to the Index's top five
Originally Published:
February 26, 2012
By
Jay Bilas
| ESPN Insider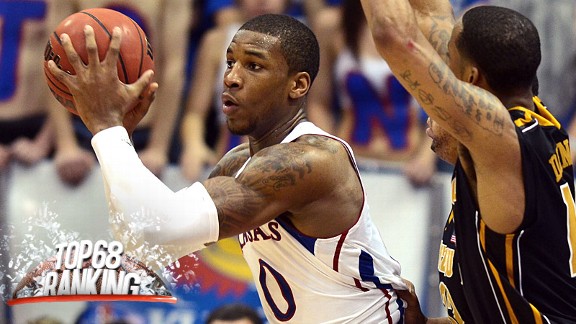 John Rieger/US PresswireThomas Robinson was instrumental in Kansas' win against Missouri.
Week 11 of the Bilas Index finds us inching ever closer to Championship Week and to our coveted national championship. College basketball has perhaps the most democratic and populist title chase in sports. In this game, you don't have to be of championship caliber to gain entry into the NCAA tournament. Heck, you don't even have to be very good. All you have to do is to secure an automatic bid to the tournament by having yourself a good weekend.
But that is the beauty of the event, some say. The "little guy" gains entry to the tournament because they deserve the opportunity to compete for the national championship, and their inclusion is just at the expense of … oh yeah, it is at the expense of other "little guys" that are accomplished and merit inclusion into the event. But our populist tournament pays no mind to the fact we are awarding spots to those we feel "deserve" a chance, while at the same time denying a chance to teams, players and coaches that are more accomplished and meritorious.
As a result, we have No. 15 and No. 16 seeds that have won a grand total of four games since the tournament expanded in 1985. In the age of "parity" (which is a figment of the wild imagination of those without need to ponder such trivialities as overall winning percentages and NCAA tournament results), the 15-seeds and 16-seeds have an overall record of 4-224 in the NCAA tournament.
The record of the so-called "little guy" would be much improved if we had the right little guy. You know, the one that wins games and accomplishes something during the regular season. If we were to use the Bilas Index (or the RPI, if you are nostalgic for something antiquated instead of something more modern and useful) to identify the 64 best teams in the country, we would have a far more competitive NCAA tournament, and we would not be giving the top two seed lines a bye, as we essentially do now.
As you peruse the Bilas Index, you will find it to be the finest and best measure of the strength and value of college basketball teams ever devised. The Bilas Index is the near perfect metric for valuing the merit of teams by using reliable analytics and metrics such as the Basketball Power Index, KenPom.com and the Sagarin Ratings. The Bilas Index eschews the RPI for obvious reasons. The RPI, while a trailblazing metric when first devised, is no longer useful relative to the better metrics available to us today. Little brains that continue to champion the RPI probably choose to use a sundial to time the 100 meters, when precision timing devices or stopwatches are available for use.
The selection committee uses the RPI as an "organizational tool," which they call a "blunt instrument and not a precision tool." One wonders why anyone would use a blunt instrument when precision tools are available. But one also wonders why people with hockey, baseball and wrestling backgrounds would be sitting on a basketball selection committee. Those are riddles of the cosmos that will never be answered.
We do know, however, that committee members are consulting the Bilas Index and await its weekly publication with great eagerness. As we enter Championship Week and bids are secured by traditional "one-bid leagues" with little or no chance to win, we will reflect their inclusion into the Bilas Index along with the team that should have been included (had those in the Ivory Towers of academia chosen to decide our national championship with the best teams).
Out: Nevada Wolf Pack, Marshall Thundering Herd
In: Southern Miss Golden Eagles, Massachusetts Minutemen
1. Kentucky Wildcats

Anthony Davis has blocked 139 shots and is averaging 4.8 blocks per game. Both figures lead the nation, and Davis has kept more than 100 of his blocks in play this season rather than swatting them out of bounds. Kentucky is talented and can score. Kentucky has answered every challenge, including two solid fights against Vanderbilt, one in which Kentucky had to face a second-half zone in a frenzied environment.
To see the rest of Jay Bilas' rankings and get access to all of ESPN Insider's college basketball coverage, sign up today.
Insider
Insider College Basketball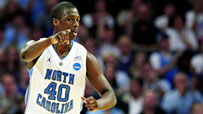 New on Insider
Lunardi: Pac-12 locked into 2 bids?
Player Rankings: Davis over Robinson for POY
Lunardi: Where UW, Northwestern fall
Hume: Bid thieves are few
Bilas: Sizing up the Big East
Gasaway: Pac-12 stronger than it seems
Hume: Best bets among bubble teams
Lunardi: VCU may be first bid thief
Ford: Time running out for 5 NBA prospects
Lunardi: How UConn, Texas, others earn bids
Lunardi: Latest look at the bubble
Fraschilla: Previewing Big 12 tournament
Bilas Index: UNC remains at No. 3
Pomeroy: Trends predict UNC-Duke clash
Lunardi: No No. 1 seed for Big Ten?
Player Rankings: Purdue's pivotal players
Ford: Will MKG, Cody Zeller stay in school?
Gasaway: Rebounding won't crush Orange
Telep: UCLA's top recruits remain committed
Bilas: How Michigan State can still improve
Bilas: Keys to the Hoyas' continued success
Lunardi: Watch out for NCAA bid thieves
Lunardi Rundown: Kentucky is No. 1 overall
Bilas Index: Kansas returns to the top five

Giant Killers
Make smart bracket picks by spotting Cinderella early.
And don't forget these Insider mainstays:
Doug Gottlieb, Fran Fraschilla, Joe Lunardi and Jay Williams offer their opinions.
Insights from the mind of the College Gameday analyst.
The national recruiting analyst weighs in on news and rumors surrounding the top high school prospects.
Stay on top of all the latest recruiting buzz.
Every D-1 player's efficiency rating.
MORE MEN'S COLLEGE BASKETBALL HEADLINES
Nike Men's Arizona Wildcats Blue Elite Basketball Performance Fleece Pants Shop »

MOST SENT STORIES ON ESPN.COM