Commentary
Bilas Index: Spartans climbing
Behind Draymond Green, the Michigan State Spartans have risen to No. 4
Originally Published:
February 19, 2012
By
Jay Bilas
| ESPN Insider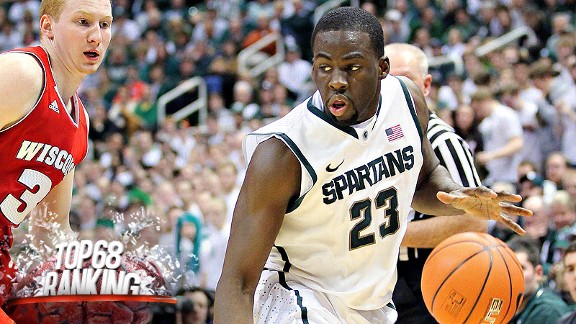 Mike Carter/US PresswireDraymond Green is averaging more than 15 points and 10 rebounds for the Spartans.
Week 10 of the Bilas Index reflects some teams in free fall (Illinois and Connecticut), one rising fast (New Mexico), and some that are buoyed by the numbers but my eyes tell me different (St. Louis and Wisconsin). As we head toward Championship Week, there will be some subtle movement, but the real Mendoza line is around the mid-50s, where the selection committee will be focusing, usually by putting on a blindfold and pointing or by throwing darts at the at-large nomination board.
The Bilas Index, the most reliable metric for determining the accomplishment and tournament-worthiness of college basketball teams ever imagined by man or beast, takes into account such another steadfast measure of athletic competence: ESPN's Basketball Power Index (BPI). ESPN's team of pocket-protected super brains were locked in a lab for months creating the BPI, and despite the protestations of Vegas bookmakers, the big-brained analytics team decided to share the BPI with the world. The Bilas Index also uses statistical analysis from KenPom.com and Sagarin, which is then interpreted by my own flawless, surefire basketball assessments.
The Bilas Index is published every Sunday and is required reading for every member of the selection committee. When committee members come down from their ivory towers and out of smoky back rooms to walk among the unwashed masses, they do so primarily to gain access to the Bilas Index, which is quickly making the RPI and the committee itself as obsolete as the buggy whip.
Out: Loyola (Md.) Greyhounds, Ohio Bobcats, Pittsburgh Panthers, Wyoming Cowboys, Southern Miss Golden Eagles
In: Miami Hurricanes, Nevada Wolf Pack, New Mexico State Aggies, Drexel Dragons, UCF Knights
1. Kentucky Wildcats

With any criticism of Kentucky, we are simply looking for a wart on a supermodel. This is the most talented team in the country and it plays hard and together. Can the Cats be beaten? Sure. But I simply don't see it happening before the Elite Eight or New Orleans. You have to remind yourself that Kentucky is just an improbable Christian Watford buzzer-beater from being undefeated. By the way, Kentucky has Anthony Davis, and you don't. That is why Kentucky is No. 1.
To see the rest of Jay Bilas' rankings and get access to all of ESPN Insider's college basketball coverage, sign up today.
Insider
Insider College Basketball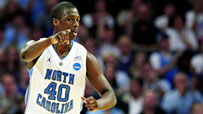 New on Insider
Lunardi: Pac-12 locked into 2 bids?
Player Rankings: Davis over Robinson for POY
Lunardi: Where UW, Northwestern fall
Hume: Bid thieves are few
Bilas: Sizing up the Big East
Gasaway: Pac-12 stronger than it seems
Hume: Best bets among bubble teams
Lunardi: VCU may be first bid thief
Ford: Time running out for 5 NBA prospects
Lunardi: How UConn, Texas, others earn bids
Lunardi: Latest look at the bubble
Fraschilla: Previewing Big 12 tournament
Bilas Index: UNC remains at No. 3
Pomeroy: Trends predict UNC-Duke clash
Lunardi: No No. 1 seed for Big Ten?
Player Rankings: Purdue's pivotal players
Ford: Will MKG, Cody Zeller stay in school?
Gasaway: Rebounding won't crush Orange
Telep: UCLA's top recruits remain committed
Bilas: How Michigan State can still improve
Bilas: Keys to the Hoyas' continued success
Lunardi: Watch out for NCAA bid thieves
Lunardi Rundown: Kentucky is No. 1 overall
Bilas Index: Kansas returns to the top five

Giant Killers
Make smart bracket picks by spotting Cinderella early.
And don't forget these Insider mainstays:
Doug Gottlieb, Fran Fraschilla, Joe Lunardi and Jay Williams offer their opinions.
Insights from the mind of the College Gameday analyst.
The national recruiting analyst weighs in on news and rumors surrounding the top high school prospects.
Stay on top of all the latest recruiting buzz.
Every D-1 player's efficiency rating.
MORE MEN'S COLLEGE BASKETBALL HEADLINES
Jansport Men's Arizona Wildcats Cardinal Tournament Basketball T-shirt Shop »

MOST SENT STORIES ON ESPN.COM