Commentary
Creighton still in good position
Bluejays have struggled of late, but are still fueled by potent offense
Originally Published:
February 14, 2012
By
Jordan Brenner
| ESPN Insider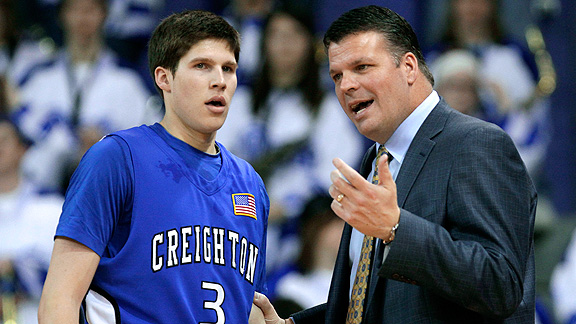 AP Photo/Charlie NeibergallCreighton has gone through a rough stretch during its past few games.
All season long, Insider will be keeping a close eye on teams from conferences that haven't usually produced multiple NCAA tournament bids to see which squads outside of the spotlight look the strongest come tournament time. To that end, we'll be ranking the top performers from all conferences outside of the A-10, ACC, Big East, Big Ten, Big 12, Mountain West, Pac-12 and SEC. One new caveat for this season: With the movement of BYU to the WCC, we will not be including the Cougars because of their established performance record. Likewise, Gonzaga and Memphis will not be considered in these rankings.
On Valentine's Day, it's only fitting that we apologize for not sharing the love. Due to a problem with the database, Memphis was causing other Conference USA teams to be ignored. That kept Southern Mississippi out of last week's top 10 by mistake. So welcome aboard, Golden Eagles. Somewhere, Clarence Weatherspoon is smiling.
Meanwhile, once again, Murray State doesn't even crack the top 10 in efficiency margin, and now the Racers finally have a loss on their ledger. We're not saying the Racers aren't one of the 10 best mid-majors, but the numbers have been warning that they might be a bit overrated for a while. Ken Pomeroy has an interesting take on that situation, but it bears repeating: These are efficiency rankings based on a spreadsheet, not some subjective attempt to judge value.
Also of note: Two other teams who generated a lot of controversy in our comments section lost in the past week, as well. Creighton fell to Wichita State (not to mention suffering two other losses) after consistently trailing the Shockers in efficiency margin, while Saint Mary's went down to Gonzaga in an upset that looked predictable based on stats.
With that said, both teams remain in the top five this week. But the No. 1 team stands on top once again by a wide margin.
To see the full Mid-Major Power Rankings, you must be an ESPN Insider.
Insider
ESPN The Magazine contributing writer
Brenner writes for ESPN The Magazine and ESPN Insider. He covers the NBA and college basketball.
Insider College Basketball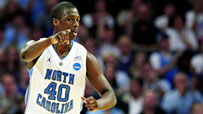 New on Insider
Lunardi: Pac-12 locked into 2 bids?
Player Rankings: Davis over Robinson for POY
Lunardi: Where UW, Northwestern fall
Hume: Bid thieves are few
Bilas: Sizing up the Big East
Gasaway: Pac-12 stronger than it seems
Hume: Best bets among bubble teams
Lunardi: VCU may be first bid thief
Ford: Time running out for 5 NBA prospects
Lunardi: How UConn, Texas, others earn bids
Lunardi: Latest look at the bubble
Fraschilla: Previewing Big 12 tournament
Bilas Index: UNC remains at No. 3
Pomeroy: Trends predict UNC-Duke clash
Lunardi: No No. 1 seed for Big Ten?
Player Rankings: Purdue's pivotal players
Ford: Will MKG, Cody Zeller stay in school?
Gasaway: Rebounding won't crush Orange
Telep: UCLA's top recruits remain committed
Bilas: How Michigan State can still improve
Bilas: Keys to the Hoyas' continued success
Lunardi: Watch out for NCAA bid thieves
Lunardi Rundown: Kentucky is No. 1 overall
Bilas Index: Kansas returns to the top five

Giant Killers
Make smart bracket picks by spotting Cinderella early.
And don't forget these Insider mainstays:
Doug Gottlieb, Fran Fraschilla, Joe Lunardi and Jay Williams offer their opinions.
Insights from the mind of the College Gameday analyst.
The national recruiting analyst weighs in on news and rumors surrounding the top high school prospects.
Stay on top of all the latest recruiting buzz.
Every D-1 player's efficiency rating.
MORE MEN'S COLLEGE BASKETBALL HEADLINES


MOST SENT STORIES ON ESPN.COM