Commentary
Living and dying by the 3
Vandy, Michigan among those that can't win without the long ball
Originally Published:
January 19, 2012
By
John Gasaway
| Special to ESPN Insider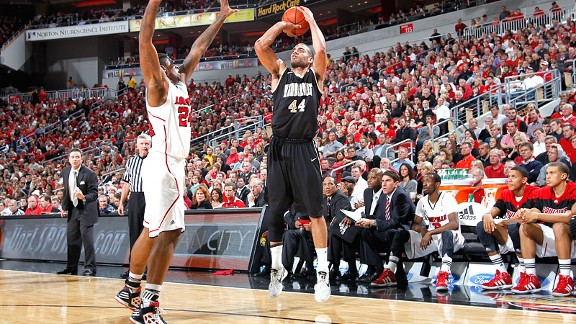 Joe Robbins/Getty ImagesThanks to sharpshooters like Jeffery Taylor (45 percent from deep) Vandy is thriving from behind the arc.
One of the things I've always loved about college basketball is the sport's manifest willingness to change its fundamentals. And the introduction of the 3-point shot before the 1986-87 season marked arguably the single most fundamental alteration of any college sport since the adoption of the forward pass in college football in the early 1900s.
Now, 25 years after the 3-pointer's debut in Division I, we find that a small but significant minority of major-conference teams rely heavily on shots outside the arc for the sum total of their offense -- so heavily that it's impossible to imagine these offenses operating without 3s. Which major-conference offenses exhibit the highest degrees of perimeter orientation? And how's that working out for them?
To assess teams' true stylistic preferences and not merely their nonconference scheduling philosophies, I'll be using numbers from conference play. Looking at how a team performs against its rivals at the time of year when "home" and "road" are systematically balanced can tell us quite a bit about a given coach's innermost wishes on offense. Let's see which teams are relying most on the long ball.
Meet the only major-conference team that's attempted more 3s than 2s thus far in conference play. The Commodores have launched no fewer than 51 percent of their SEC shot attempts from beyond the arc. More importantly for Kevin Stallings' team, they've been making all those perimeter shots, hitting a red-hot 47 percent of their shots from outside. That level of accuracy's likely to come down a bit, of course, starting with tonight's game at
Alabama
. Still, with shooters like
John Jenkins
and
Jeffery Taylor
on the floor, the drop-off probably won't be too drastic. Vanderbilt has started conference play scoring 1.19 points per possession, and there are things it does well besides hitting 3s, things like offensive rebounding and hitting 2s. Vanderbilt is highly perimeter-oriented, but it's not necessarily perimeter-reliant.
To see why Vanderbilt and four other teams are heaving up 3-pointers like there's no tomorrow, sign up for ESPN Insider.
Insider
ESPN Insider
ESPN Insider college basketball contributor
First began covering college hoops in 2004
Has written for Basketball Prospectus and the Wall Street Journal
Insider College Basketball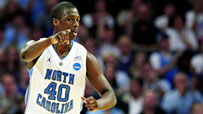 New on Insider
Lunardi: Pac-12 locked into 2 bids?
Player Rankings: Davis over Robinson for POY
Lunardi: Where UW, Northwestern fall
Hume: Bid thieves are few
Bilas: Sizing up the Big East
Gasaway: Pac-12 stronger than it seems
Hume: Best bets among bubble teams
Lunardi: VCU may be first bid thief
Ford: Time running out for 5 NBA prospects
Lunardi: How UConn, Texas, others earn bids
Lunardi: Latest look at the bubble
Fraschilla: Previewing Big 12 tournament
Bilas Index: UNC remains at No. 3
Pomeroy: Trends predict UNC-Duke clash
Lunardi: No No. 1 seed for Big Ten?
Player Rankings: Purdue's pivotal players
Ford: Will MKG, Cody Zeller stay in school?
Gasaway: Rebounding won't crush Orange
Telep: UCLA's top recruits remain committed
Bilas: How Michigan State can still improve
Bilas: Keys to the Hoyas' continued success
Lunardi: Watch out for NCAA bid thieves
Lunardi Rundown: Kentucky is No. 1 overall
Bilas Index: Kansas returns to the top five

Giant Killers
Make smart bracket picks by spotting Cinderella early.
And don't forget these Insider mainstays:
Doug Gottlieb, Fran Fraschilla, Joe Lunardi and Jay Williams offer their opinions.
Insights from the mind of the College Gameday analyst.
The national recruiting analyst weighs in on news and rumors surrounding the top high school prospects.
Stay on top of all the latest recruiting buzz.
Every D-1 player's efficiency rating.
MORE MEN'S COLLEGE BASKETBALL HEADLINES

MOST SENT STORIES ON ESPN.COM