Commentary
Bilas Index: UNC stays in top 5
Despite being blown out at Florida State, the Tar Heels are elite
Originally Published:
January 15, 2012
By
Jay Bilas
| ESPN Insider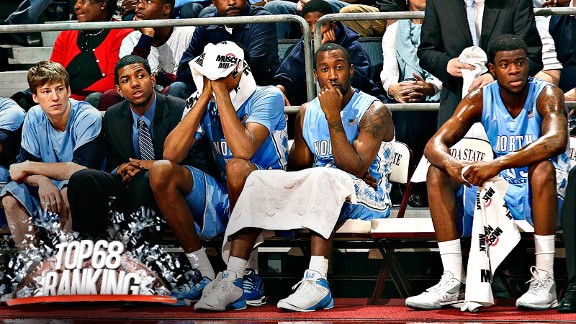 Phil Sears/US PresswireThe UNC Tar Heels remain an elite team despite a loss to Florida State.
Welcome to Week 5 of the Bilas Index, as the team ratings take better shape and we have more reliable data to plug into the big hunkin' brain inside my cranium. The acuity and sagacity of the Bilas Index may overwhelm you at first, but stick with it. You will soon learn the farsightedness and uncanny accuracy of the Bilas Index, and once you wrap your head around it, you will begin to trust its constancy just as much as you trust the sun setting in the West, death, taxes and Northwestern missing the NCAA tournament. Oh, wait. The Wildcats actually could make it this year.
For those of you questioning the Bilas Index and asking why Team A is ranked ahead of Team B when Team B beat Team A (I would love to direct those to a dictionary where the word "upset" is defined), this is not a collection of votes by those waiting in the line for a free meal in the media room that reflects only what happened last week. The Bilas Index is not a power ranking or poll voted upon at the whim of those constantly and incessantly tweeting during games (which seems an obvious indicator that one is not actually watching and processing what is going on in the game). The Bilas Index is my ranking of the best teams in college basketball, not simply the flavors of the week.
The Bilas Index uses actual data and not just some silly RPI that can be gamed and assumes that all performances are equal. I use the reliable metrics of Kenpom.com and Sagarin, and I use the most reliable tool for judging, evaluating and separating teams and players: the depths of my cerebrum, where true wisdom, vision and understanding reside.
And right now there's a team of pocket-protected geniuses working around the clock to finalize a metric that will knock your socks off and be the primary driver of the Bilas Index. When you see it, contemplate it and internalize it, you will find it to be the best metric in the game, and the selection committee will surrender peacefully to the Bilas Index and its power, accuracy and sheer brilliance.
The biggest riser this week in the Bilas Index is Seton Hall, a team that has risen in every conceivable metric in the game and has performed well in the only objective measure in sports: winning. The Pirates are in attack mode all the time and have three players in Jordan Theodore, Herb Pope and Fuquan Edwin who are All-Big East caliber performers to this point in the season. Pay special attention to teams around the 50s in the Bilas Index, because that will be the dreaded bubble, below which one-bid league champions will knock teams out, one by one, during Championship Week.
Disclaimer: As powerful and reliable as the Bilas Index is, it cannot keep the selection committee from doing something stupid. Nothing is that powerful.
Out: Pittsburgh Panthers, Washington Huskies and Miami Hurricanes
In: Iowa State Cyclones, Georgia State Panthers and Oklahoma Sooners
Syracuse has five wins against the Sagarin top 50. Only Baylor has more. And the Cuse is No. 1 in the nation in steals and blocked shot percentage. Maybe Syracuse gives up too many second shots, but that is about all that you can pick at. This is a worthy No. 1. Kris Joseph keeps improving, and this team has a healthy edge.
To see the rest of Jay Bilas' rankings and get access to all of ESPN Insider's college basketball coverage, sign up today.
Insider
Insider College Basketball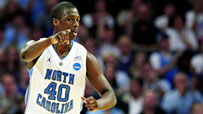 New on Insider
Lunardi: Pac-12 locked into 2 bids?
Player Rankings: Davis over Robinson for POY
Lunardi: Where UW, Northwestern fall
Hume: Bid thieves are few
Bilas: Sizing up the Big East
Gasaway: Pac-12 stronger than it seems
Hume: Best bets among bubble teams
Lunardi: VCU may be first bid thief
Ford: Time running out for 5 NBA prospects
Lunardi: How UConn, Texas, others earn bids
Lunardi: Latest look at the bubble
Fraschilla: Previewing Big 12 tournament
Bilas Index: UNC remains at No. 3
Pomeroy: Trends predict UNC-Duke clash
Lunardi: No No. 1 seed for Big Ten?
Player Rankings: Purdue's pivotal players
Ford: Will MKG, Cody Zeller stay in school?
Gasaway: Rebounding won't crush Orange
Telep: UCLA's top recruits remain committed
Bilas: How Michigan State can still improve
Bilas: Keys to the Hoyas' continued success
Lunardi: Watch out for NCAA bid thieves
Lunardi Rundown: Kentucky is No. 1 overall
Bilas Index: Kansas returns to the top five

Giant Killers
Make smart bracket picks by spotting Cinderella early.
And don't forget these Insider mainstays:
Doug Gottlieb, Fran Fraschilla, Joe Lunardi and Jay Williams offer their opinions.
Insights from the mind of the College Gameday analyst.
The national recruiting analyst weighs in on news and rumors surrounding the top high school prospects.
Stay on top of all the latest recruiting buzz.
Every D-1 player's efficiency rating.
MORE MEN'S COLLEGE BASKETBALL HEADLINES
Nike Youth Arizona Wildcats Navy Player Basketball T-shirt Shop »

MOST SENT STORIES ON ESPN.COM