Commentary
Bilas Index: Hoosiers continue climb
Indiana leads the nation in 3-point percentage and sits just outside the Index's top 5
Originally Published:
January 8, 2012
By
Jay Bilas
| ESPN Insider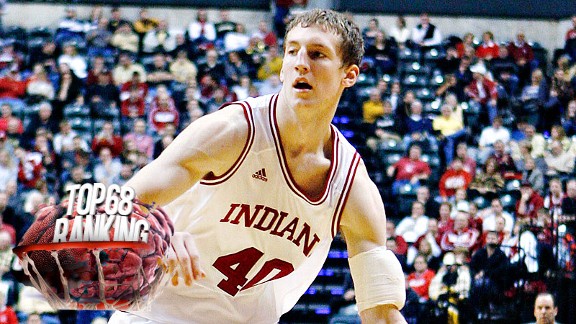 Brian Spurlock/US PresswireFreshman Cody Zeller has been at the forefront of Indiana's rise in the Bilas Index.
Week 4 of the Bilas Index reacts to a week of upsets, road losses and head-scratching performances otherwise known as "conference play." Teams with middling résumés were able to win games against big shots that could very well cement spots in the at-large pool, absent incredible collapses moving forward.
To review, the Bilas Index is not a poll, and it is not your weekly snapshot (whatever that means). The Bilas Index is my ranking of the best teams in college basketball, No. 1 through No. 68, using valued metrics and about 1,300 grams of high-quality gray matter inside my skull. There are no snapshots or tugs at heartstrings. The Index uses part statistical analysis from Kenpom.com (which rates teams in a variety of areas using tempo-free statistics), the Sagarin Ratings (a more reliable and measured version of the dreaded RPI), and my lying eyes and good judgment (which is by far the most reliable measure on the planet; as the urban philosopher Young Jeezy notes, "Real recognize real").
Fear not, as the Bilas Index is improving, even in Week 4. Shortly I will be using the most reliable and useful metrics in the game, feverishly being finalized by my team of "mathletes." Ultimately, this metric will serve as a job killer, making obsolete any and all other measures and rendering the selection committee even more useless than ever. Think of all the time and money that will save the NCAA, which, of course, will be used for "student-athlete welfare" instead. You see, the Bilas Index is not just people helping people; it is mathletes helping athletes. You're welcome.
Everybody is going to lose games and leave us scratching our heads. Our job is to find the most consistent and best teams, not the teams that are never subject to getting beat.
Out: Texas A&M Aggies and Oklahoma Sooners
In: Dayton Flyers and Miami Hurricanes
To see the rest of Jay Bilas' rankings and get access to all of ESPN Insider's college basketball coverage, sign up today.
Insider
Insider College Basketball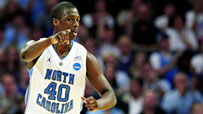 New on Insider
Lunardi: Pac-12 locked into 2 bids?
Player Rankings: Davis over Robinson for POY
Lunardi: Where UW, Northwestern fall
Hume: Bid thieves are few
Bilas: Sizing up the Big East
Gasaway: Pac-12 stronger than it seems
Hume: Best bets among bubble teams
Lunardi: VCU may be first bid thief
Ford: Time running out for 5 NBA prospects
Lunardi: How UConn, Texas, others earn bids
Lunardi: Latest look at the bubble
Fraschilla: Previewing Big 12 tournament
Bilas Index: UNC remains at No. 3
Pomeroy: Trends predict UNC-Duke clash
Lunardi: No No. 1 seed for Big Ten?
Player Rankings: Purdue's pivotal players
Ford: Will MKG, Cody Zeller stay in school?
Gasaway: Rebounding won't crush Orange
Telep: UCLA's top recruits remain committed
Bilas: How Michigan State can still improve
Bilas: Keys to the Hoyas' continued success
Lunardi: Watch out for NCAA bid thieves
Lunardi Rundown: Kentucky is No. 1 overall
Bilas Index: Kansas returns to the top five

Giant Killers
Make smart bracket picks by spotting Cinderella early.
And don't forget these Insider mainstays:
Doug Gottlieb, Fran Fraschilla, Joe Lunardi and Jay Williams offer their opinions.
Insights from the mind of the College Gameday analyst.
The national recruiting analyst weighs in on news and rumors surrounding the top high school prospects.
Stay on top of all the latest recruiting buzz.
Every D-1 player's efficiency rating.
MORE MEN'S COLLEGE BASKETBALL HEADLINES
Nike Men's Arizona Wildcats Navy Disruption Knit Elite Basketball Performance Shorts Shop »

MOST SENT STORIES ON ESPN.COM