Commentary
The best behind the arc
Ranking the top 3-point shooters of all time and predicting the best in 2011-12
Updated:
November 3, 2011, 12:03 PM ET
By
Jay Bilas
| ESPN Insider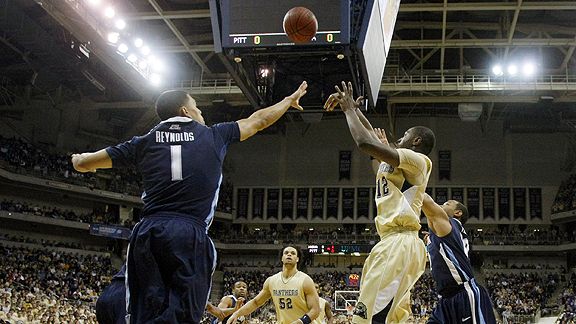 AP Photo/Keith SrakocicAshton Gibbs (12) is one of the best from behind the arc in college hoops.
The college 3-point shot is now 25 years old, and in the past quarter century, the arc has changed and impacted almost every aspect of the college game. Initially resisted by many, the line has had an enormous influence on the game and the way it's played.
The 3-pointer is an asymmetrical threat, and it opened up the game much like the forward pass opened up football. Because of the asymmetrical threat, defenses have to extend, which opens up driving lanes and leaves the post unprotected. It has made the end of games more exciting and leads much harder to hold. And it has provided David with a real weapon against Goliath, instead of that little slingshot that is one in a million.
There have been some great shooters in college basketball during that time period, including Michigan's Glen Rice, Creighton's Kyle Korver, Arizona's Salim Stoudamire, UCLA's Reggie Miller, Marshall's Keith Veney, Tennessee's Allan Houston, UConn's Ray Allen, Davidson's Stephen Curry, Virginia's Curtis Staples, NC State's Rodney Monroe, Wisconsin Green Bay's Tony Bennett (current coach at Virginia) and UCLA's Jason Kapono.
The hardest call was to leave Rice out of the top three, but from my seat, here are the top three shooters since the 3-point line was painted on the floor in 1987:
To read about the best 3-point shooters in college basketball history, as well as the best today, sign up for ESPN Insider.
Insider
Insider College Basketball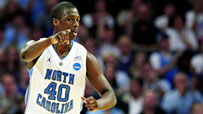 New on Insider
Lunardi: Pac-12 locked into 2 bids?
Player Rankings: Davis over Robinson for POY
Lunardi: Where UW, Northwestern fall
Hume: Bid thieves are few
Bilas: Sizing up the Big East
Gasaway: Pac-12 stronger than it seems
Hume: Best bets among bubble teams
Lunardi: VCU may be first bid thief
Ford: Time running out for 5 NBA prospects
Lunardi: How UConn, Texas, others earn bids
Lunardi: Latest look at the bubble
Fraschilla: Previewing Big 12 tournament
Bilas Index: UNC remains at No. 3
Pomeroy: Trends predict UNC-Duke clash
Lunardi: No No. 1 seed for Big Ten?
Player Rankings: Purdue's pivotal players
Ford: Will MKG, Cody Zeller stay in school?
Gasaway: Rebounding won't crush Orange
Telep: UCLA's top recruits remain committed
Bilas: How Michigan State can still improve
Bilas: Keys to the Hoyas' continued success
Lunardi: Watch out for NCAA bid thieves
Lunardi Rundown: Kentucky is No. 1 overall
Bilas Index: Kansas returns to the top five

Giant Killers
Make smart bracket picks by spotting Cinderella early.
And don't forget these Insider mainstays:
Doug Gottlieb, Fran Fraschilla, Joe Lunardi and Jay Williams offer their opinions.
Insights from the mind of the College Gameday analyst.
The national recruiting analyst weighs in on news and rumors surrounding the top high school prospects.
Stay on top of all the latest recruiting buzz.
Every D-1 player's efficiency rating.
MORE MEN'S COLLEGE BASKETBALL HEADLINES


MOST SENT STORIES ON ESPN.COM