Commentary
CBB Summer Buzz: Baylor Bears
Behind a rising star and a pair of stud recruits, Baylor is poised for a rebound
Updated:
August 18, 2011, 10:29 AM ET
By
LaRue Cook
| ESPN Insider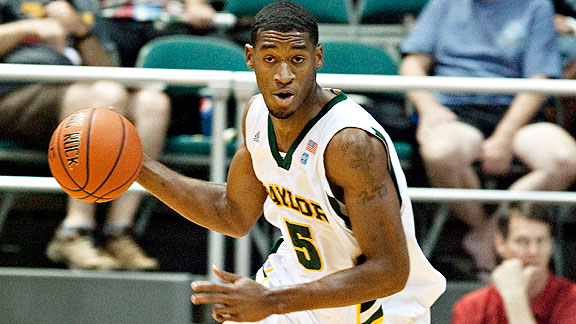 AP Photo/Eugene TannerPerry Jones passed up a shot at NBA riches to return for his sophomore season at Baylor.

Insider knows you're hot for hoops during the summer, so we're bringing you a closer look at a few of the big-profile schools before most freshmen have even moved into their dorms. We continue with Baylor.
2010-11: 18-13, no postseason
Perry Jones arrived at Baylor as the No. 7-ranked recruit in the country, and the hype followed him: Kevin Garnett comparisons, chants of one-and-done and talk of a Big 12 title. But after the Bears lost five of their final six games and found themselves sitting at home during the 2011 NCAA tournament, a different type of hype followed him into the offseason: soft, passive and just not dominant.
"That's what the media wants me to live up to," said Jones, who had just two field goals in each of his last two games. "They say I wasn't dominant every game, so I've been working on that this summer. Trust me, I'll be dominant every time I step on the floor this season."
Scott Drew could sense trouble starting when not a single bench player scored in an ugly, 72-57 loss on Jan. 15 to an Iowa State team that finished .500. "We were one of the younger teams in the nation," said the ninth-year Baylor coach, whose lone senior was leading scorer LaceDarius Dunn. "We had a ton of talent, but people tend to forget experience still matters in college basketball."
This was evident in the play of A.J. Walton, who was thrust into the starting point guard role as a sophomore. His minutes per game jumped from 17.6 to 33.0, and Baylor turned the ball over at a higher rate (23.4 percent) than any major Division I squad other than South Florida. (Don't be too hard on Walton. His backup, true freshman Stargell Love, had a worse turnover rate in his 12 minutes per game and quickly transferred.)
But this talented group is now a year older, and none of them are more intent on getting redemption than Jones, who turned down the NBA to headline arguably the best frontcourt in the conference, if not all of college basketball. Quincy Acy and the Joneses (Anthony and Perry) were involved in 44.3 percent of Baylor's offense last season, according to Synergy Sports, and each scored on nearly 50 percent of their respective plays.
"No one liked the taste we had left in our mouths," Perry Jones says. "We're not messing around this summer."
To read the complete Summer Buzz preview on the Baylor Bears, which includes a look at the team's top incoming freshmen, you must be an ESPN Insider.
Insider
COLLEGE BASKETBALL SUMMER BUZZ
Insider knows you're hot for hoops during the summer, so we're bringing you a closer look at 25 of the most intriguing college programs before school's even in session.
INSIDER PREVIEWS
All in one place
A collection of all the Buzz to date.
UConn Huskies
The post-Kemba era begins
Pittsburgh Panthers
Is this the year Pitt breaks through?
Syracuse Orange
Jardine, Joseph look to lead 'Cuse
St. John's Red Storm
Massive turnover defines Lavin's crew
Louisville Cardinals
Cards have talent to fill holes
North Carolina Tar Heels
Tar Heels prep for title run
Duke Blue Devils
Blue Devils face point-ed questions
Michigan State Spartans
Another tough schedule awaits Tom Izzo's crew
Ohio State Buckeyes
Sullinger rekindles title hopes in Columbus
Indiana Hoosiers
Postseason hopes reborn in Bloomington
Kentucky Wildcats
Freshmen, vets form potent combo
Vanderbilt Commodores
'Dores seek NCAA tourney breakthrough
Arkansas Razorbacks
The Mike Anderson Era begins
Tennessee Volunteers
Vols face long, tough rebuilding path
Mississippi State Bulldogs
Bulldogs need Sidney to stay on the court
UCLA Bruins
Frontcourt will have to carry load for Bruins
Arizona Wildcats
Talented Wildcats need a new star to emerge
Kansas Jayhawks
How does Kansas replace the Morris twins?
Baylor Bears
Perry Jones should blossom for Baylor
Texas Longhorns
Freshmen must lead Longhorns
Butler Bulldogs
Can Butler do it again?
UNLV Rebels
Rice, MWC movement will aid Rebels
Xavier Musketeers
Tu Holloway's moment is here
George Mason Patriots
Pearson should flourish under Hewitt
VCU Rams
Can Rams run deep again?
MORE MEN'S COLLEGE BASKETBALL HEADLINES


MOST SENT STORIES ON ESPN.COM