Commentary
Cuse's defensive prowess is legit
Boeheim's 2-3 zone gets a lot of hype, and numbers show that its rep is well-earned
Originally Published:
July 27, 2011
By
John Gasaway
| ESPN Insider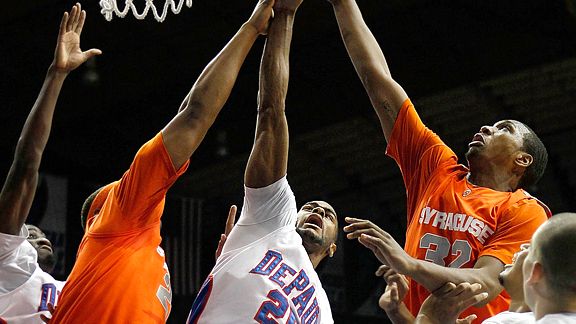 Jonathan Daniel/Getty ImagesLed by long athletes like Kris Joseph, Syracuse's defense has been dominant.
There is no college basketball coach more closely identified with a particular defensive scheme than Syracuse Orange head coach Jim Boeheim is with his "patented" 2-3 zone. For years, the Orange have played zone defense virtually (though not entirely) to the exclusion of any other scheme. Meanwhile, most other teams either mix zone with man-to-man or, more commonly, play man defense about as often as Boeheim plays zone. As the team that's been playing so much zone defense for so long, Syracuse stands alone.
Now, I can already hear the coaches in the audience grumbling, so let me make one point at the top. Teams don't just alternate between playing man and zone, they often blend elements of the two defenses on a regular basis. Boeheim, or just about any coach employing a zone, will talk at length about how important it is to pressure the ball with man-to-man intensity.
At the same time, even the most ardent man-to-man devotee will point out that, away from the ball, on the weak side of the court, defenders are commonly tasked with covering areas, tracking their man and watching the ball, rather than simply following their assigned player wherever he goes. Zone and man aren't polar opposites. They are more like differing areas of emphasis.
To test how successful Syracuse's emphasis on zone defense has been, I'll be calling upon the per-possession data that I've been tracking for the past few years. Does the zone work? Does playing a zone really force opponents to shoot more 3s than they otherwise would? And is it true that playing a zone hurts a team's performance on the defensive glass? Thanks to Boeheim's unwavering commitment to the 2-3 zone (and five years' worth of data), we can offer some educated guesses for all of the above. Let's go to the numbers.
To read John Gasaway's full take on the effectiveness of Syracuse's 2-3 zone, you must be an ESPN Insider. Sign up today!
Insider
ESPN Insider
ESPN Insider college basketball contributor
First began covering college hoops in 2004
Has written for Basketball Prospectus and the Wall Street Journal
Insider College Basketball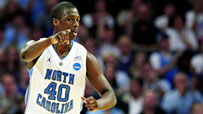 New on Insider
Lunardi: Pac-12 locked into 2 bids?
Player Rankings: Davis over Robinson for POY
Lunardi: Where UW, Northwestern fall
Hume: Bid thieves are few
Bilas: Sizing up the Big East
Gasaway: Pac-12 stronger than it seems
Hume: Best bets among bubble teams
Lunardi: VCU may be first bid thief
Ford: Time running out for 5 NBA prospects
Lunardi: How UConn, Texas, others earn bids
Lunardi: Latest look at the bubble
Fraschilla: Previewing Big 12 tournament
Bilas Index: UNC remains at No. 3
Pomeroy: Trends predict UNC-Duke clash
Lunardi: No No. 1 seed for Big Ten?
Player Rankings: Purdue's pivotal players
Ford: Will MKG, Cody Zeller stay in school?
Gasaway: Rebounding won't crush Orange
Telep: UCLA's top recruits remain committed
Bilas: How Michigan State can still improve
Bilas: Keys to the Hoyas' continued success
Lunardi: Watch out for NCAA bid thieves
Lunardi Rundown: Kentucky is No. 1 overall
Bilas Index: Kansas returns to the top five

Giant Killers
Make smart bracket picks by spotting Cinderella early.
And don't forget these Insider mainstays:
Doug Gottlieb, Fran Fraschilla, Joe Lunardi and Jay Williams offer their opinions.
Insights from the mind of the College Gameday analyst.
The national recruiting analyst weighs in on news and rumors surrounding the top high school prospects.
Stay on top of all the latest recruiting buzz.
Every D-1 player's efficiency rating.
MORE MEN'S COLLEGE BASKETBALL HEADLINES


MOST SENT STORIES ON ESPN.COM