Bilas Index: Top 68 rankings
Duke, North Carolina both on the rise ahead of first meeting
Updated:
February 18, 2014, 9:01 AM ET
By
Jay Bilas
| ESPN Insider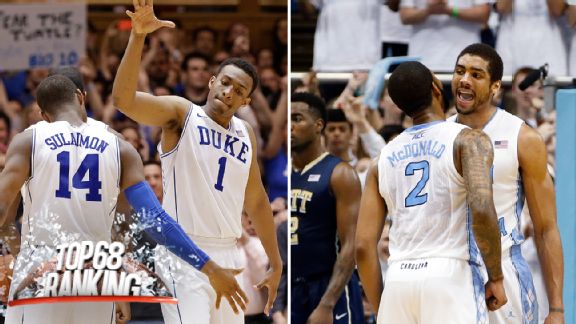 AP PhotoBoth Duke and UNC are entering Thursday's game with some positive momentum.
The selection committee just did its annual Mock Selection, an exercise that impresses the attending media with just how much data, paper and computer screens the committee uses to utterly confuse themselves into making questionable decisions annually. But let's cut to the chase and simplify this over-complicated process.
First, all wins outside of the Sagarin Top 100 can be dismissed and need not be considered. No team on the NCAA tournament bubble would ever play a team ranked outside the top 50, let alone the top 100 in the NCAA tournament itself. Next, comparing schedules is not valid, nor should time be wasted considering it. The only thing to be considered is wins. If one team plays 12 Top 25 teams and beats only one, and another team plays only two Top 25 teams but beats them both, the latter team should get in first. A tough schedule means nothing if you can't beat any tournament-worthy teams. Entry into the field is about beating good teams, and the teams that beat the most good teams should get in first. Period.
And there is little need for discussion. If you know the game and have done your homework, you should have a list. When voting, you can go off of your list. It is pretty easy, really. There's no need for "digging deeper" and "analyzing data." The only data worth analyzing is winning. If you didn't beat anybody and another team did, they get in first.
The Committee has computers and data out the wazoo but really needs only The Bilas Index to solve the riddles of the game of roundball. As you know by now, The Bilas Index is the best indicator of hoops accomplishment the world has ever known. The Bilas Index accurately measures a team's achievement and is based upon the best analytics in the game -- and the best mind in the game -- that of The Bilastrator himself. The gray matter of The Bilastrator can sift through the play of each team and determine its place in the game by properly using the best metrics in the game, such as KenPom.com, Sagarin, the UPS Team Performance Index, ESPN's Basketball Power Index and Synergy Sports Technology.
As always, you're welcome.
Note: All statistics are through Sunday, Feb. 16 unless otherwise noted.
Moving in: Nebraska, Marquette
Moving out: Ole Miss, Toledo

1. Syracuse Orange (Previous ranking: 1)
The Bilastrator told you a few weeks ago that the Orange have something special and unique about them when the game is on the line. Conclusive proof has been provided. Whether against Duke, Pittsburgh or NC State, Syracuse has executed at an obscene level of efficiency, while opponents have fallen short or fallen apart. If Tyler Ennis' late-game efficiency was taken over 40 minutes, he would be averaging 28 points, 8.5 assists, and 0.4 turnovers. Syracuse scores off of its defense but does not allow opponents to score off of Orange miscues. Syracuse allows only 8.7 points per game off turnovers, fewest for any major conference team (AAC, ACC, Big 12, Big East, Big Ten, Pac-12, SEC).
To read Jay Bilas' full ranking and analysis of the top 68 teams in college basketball, you must be an ESPN Insider.
Insider
Insider on ESPN.com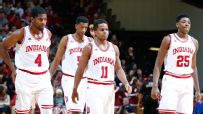 As power conference teams are eliminated from the NCAA tournament, ESPN's team of recruiting experts will look at who's coming back, and who's coming in.
EDITORS' PICKS
Kentucky needed free throws by Andrew Harrison to fight off Notre Dame's upset bid.
Brennan »

Frank Kaminsky and Sam Dekker carried Wisconsin.
Medcalf »

Michigan State and Louisville are knocking on the door of the Final Four.
O'Neil »
MORE MEN'S COLLEGE BASKETBALL HEADLINES


MOST SENT STORIES ON ESPN.COM