#TopFBMixtapes: Class of 2014
Which 2014 stars have the best highlight reels? Our fans have the answer
Updated:
July 31, 2013, 3:01 PM ET
By
RecruitingNation
| ESPN.com
Admit it, you're a highlight film junkie. You have no problem spending countless hours scouring YouTube for the latest mixtape of your favorite recruit or your squad's biggest targets, taking in every juke, every perfectly thrown bomb and every bonecrushing hit like it was football Saturday.
We're just like you in our affinity for the best football mixtapes. That's why we reached out to our more than 20,000 Twitter followers to see which 2014 recruits they think had the best mixtapes. We had a number of suggestions trickle in, but we trimmed the list to 11 and had our staff rank them, then channel their inner Ron Jaworski to break down the film.
Hit us with your #TopFBMixtape
You can offer us your take on the list, the individual videos or hit us with your favorite video using Twitter hashtag: #TopFBMixtape. We'll add the best tweets to the page.
---

Gardena (Calif.) Serra | ATH | 5-11/183 | ESPN 150: No. 5

Highlight Video: RecruitingNation staff pick

Cameras love him because: Jackson is undoubtedly the area's most electrifying athlete since De'Anthony Thomas and also in the discussion for the nation's most explosive recruit. Don't blink when he has the ball in his hands or you might miss something special.

Best part of the highlight: The opening sequence is downright filthy. Jackson takes a swing pass 30 yards from the end zone and proceeds to make nine -- yes, nine -- defenders miss before doing a front flip across the goal line. And if that wasn't enough, the jaw-dropping touchdown came under the bright lights of a state bowl game. -- Blair Angulo


---

Hebron (Ky.) Conner | QB | 6-4/205 | ESPN 150: No. 141

Highlight Video: Submitted by @RealTerryRowe

Cameras love him because: His versatility. In this day when quarterbacks had better be able to move, Barker shows he can run, throw and throw on the run. That should make him a great fit for the en vogue spread offenses that are so common today. Barker is truly a dual-threat quarterback who has benefitted from playing in Kentucky, where spread attacks have been common for more than a decade.

Best part of the highlight: The first highlight is tough to top. With pressure in his face, Barker slings the ball 50 yards -- off of his back foot. Later, at the 30-second mark, Barker shows his ability to maneuver outside the pocket, firing a low-profile strike downfield. Just before that there's a stiff arm that shows Barker's toughness and tenacity. -- Dave Hooker

---

Washington (Pa.) High School | RB | 5-11/210 | ESPN 150: Unranked

Highlight Video: Submitted by @Kzovko

Cameras love him because: There are 18 plays on McKenzie's highlight tape -- he scores on all of them. He's a bigger back but still has some shiftiness to his game, which produces this exciting highlight reel.

Best part of the highlight: At the 1:30 mark, a linebacker shoots a gap untouched and looks like he has McKenzie wrapped up. Somehow, McKenzie pulls a Barry Sanders-type spin move and alludes eight defenders en route to the end zone. HELLO! --Tom VanHaaren

---

Mountlake Terrace (Wash.) HS | Ath. | 6-2/240 | ESPN 150: Unranked

Highlight Video: Submitted by @DevanteDowns

Cameras love him because: Well, they can't avoid him. Downs is constantly making plays on both sides of the ball. As a running back, he hits the hole so quickly and with so much force, he practically serves as his own lead blocker. On defense, he is constantly attacking off the edge and in the backfield, either shedding blocks and bringing down ball carriers, or delivering big hits on the quarterback.

Best part of the highlight: At the 42-second mark, Downs shows his strength and nose for the end zone as a runner. Had that pylon not given Downs a target to dive at, he might have dragged those defenders all the way into his senior season. -- Erik McKinney

---

Tyrone (Ga.) Sandy Creek | WR | 6-0/196 | ESPN 150: No. 99

Highlight Video: Submitted by @rhin08

Cameras love him because: Who doesn't like high-flying, acrobatic catches and open field spin moves that leave defenders embarrassed and grasping empty air? Kitt torches defenses repeatedly and is almost never tackled unless he's surrounded by half of the team.

Best part of the highlight: Do yourself a favor and fast-forward to the 38-second mark. Kitt confuses the cornerback, catches a long pass over his shoulder, sees he is about to be caught by the safety and slams on the brakes. He then spins to avoid the safety and dives into the endzone with another defender on his back. -- Radi Nabulsi

---

Hinesville (Ga.) Liberty County | ILB | 6-2/249 | ESPN 150: No. 15

Highlight Video: Submitted by @rhin08

Cameras love him because: Call McMillan the Mater of the gridiron. Mater, the rundown tow truck in the Pixar animated film "Cars," claims to be the world's best backwards driver, and likewise McMillan most often makes his mark driving opposing ball carriers backwards and into the ground.

Best part of the highlight: As if the players on offense were not afraid enough of the heat-seeking missile that is McMillan, the 6-foot-2, 249-pound prospect is shown on the last 1:30 doing his best LenDale White impersonation while moonlighting as a pulverizing north-south running back. The poor defender at 5:34 received a one-way, slow-motion trip to the end zone aboard the McMillan express. -- Kipp Adams

---

Davidson (N.C.) Davidson Day | QB | 6-2/180 | ESPN 150: No. 45

Highlight Video: Submitted by @tshoemaker2423

Cameras love him because: Grier can make just about every throw imaginable. The talented signal-caller threw for a gazillion yards (no seriously, he threw for 837 yards and 10 touchdowns in a single game) his junior season, and it's easy to see why. His athleticism, combined with his strong and accurate arm, make it seem almost unfair for opponents.

Best part of the highlight: The throw at the 1:02 mark is just ridiculous. Grier avoids the rush, then -- while jumping and throwing against his body -- launches a perfect 40-yard touchdown strike. Reminiscent of the old No. 4 for the Green Bay Packers anyone?
--Derek Tyson

---

Knoxville Webb School | S | 6-1/190 |ESPN 150: No. 61

Highlight Video: Submitted by @UTLegendClass

Cameras love him because: His hips and speed, which allow Kelly to change direction almost instantly without losing a step. Those skills are most noticeable when he has the ball in his hands, but they're equally as important when he's in pass coverage at safety, where he'll likely play in college. Kelly will be asked to cover smaller slot receivers, and he should handle that fine.

Best part of the highlight: Kelly doesn't just hit ball carriers; he hits anyone in his way. Fullbacks and tight ends catch the wrath in the opening scenes of this highlight reel. At the 30-second mark, Kelly shows his ball skills when he skies above a receiver to intercept a pass. Just after the 1:00 mark, there's a pair of hard hits that underscore Kelly's aggressiveness. -- Dave Hooker

---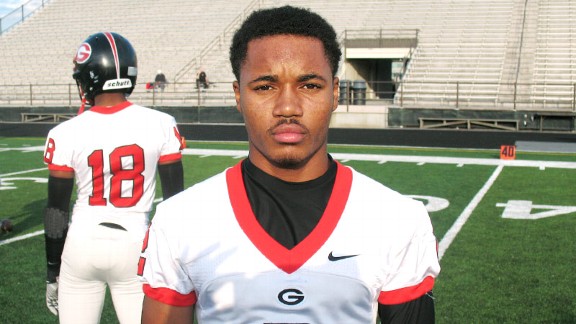 Cleveland Glenville | Ath. | 6-0/178 | ESPN 150: No. 51

Highlight Video: Submitted by @Kzovko

Cameras love him because: They like a challenge. With Lattimore's shiftiness, ability to cut on a razor-thin dime and speed, it's hard to keep the 6-foot, 178-pound phenom in frame. He's a highlight reel waiting to happen virtually every time he touches the ball.

Best part of the highlight: Think you can catch Lattimore? Think again. Watch the second highlight on the tape. He takes a handoff and makes someone miss immediately. Four others had a chance to tackle him on the play and all grabbed nothing but air.
-- Brad Bournival

---

Miami Central | RB | 5-11/187 | ESPN 150: No. 20

Highlight Video: Submitted by @xXGatorChompXx

Cameras love him because: You better not blink during this six-minute highlight reel, or you could miss an electrifying touchdown run. Cook is a threat to take it the distance every time he touches the ball. His downhill running style, combined with his unmatched speed, leaves some helpless defenders grasping for a piece of his shoelaces.

Best part of the highlight: The very first highlight, in which Cook weaves his way all over the field at Sunlife Stadium, home of the Miami Dolphins, is almost video game'esque. With more highlight-reel runs like that at the collegiate level, Cook could very well find himself playing on that field several more times. --Derek Tyson

---

Paramus (N.J.) Paramus Catholic | CB | 6-1/205 | ESPN 150: No. 2

Highlight Video: Submitted by @PCFB_LIVE

Cameras love him because: Peppers is always going for paydirt. Whether he lines up at receiver, running back or even Wildcat quarterback, Peppers finds a way to get into the end zone. In this highlight video, you won't find an offensive play on which he was tackled short of the goal line until almost four minutes in.

Best part of the highlight: The Jets could have used Peppers on offense this season, as arguably the most exciting play in MetLife Stadium this fall was when Peppers rushed for a 50-plus-yard touchdown on Paramus Catholic's first offensive play of the state finals. Three players thought they had an angle -- they didn't -- and to get the full effect of just how slick Peppers' cut was, the film editor changed camera angle from sideline to end zone mid-play. -- Jared Shanker

---
Keep the videos coming
Use #TopFBMixtape to check out the other hot highlight videos submitted by our followers or to share your favorite football mixtape.
SPONSORED HEADLINES
MORE COLLEGE FOOTBALL HEADLINES
MOST SENT STORIES ON ESPN.COM
ESPN 150 RELEASE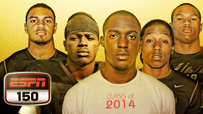 The initial ESPN 150 for the 2014 class is stacked with prospects who offer immediate help to college teams.
ESPN 150 »
ALL THINGS 150
STARTING FROM THE TOP
DEFENSIVE BACKS
QUARTERBACKS
WIDE RECEIVERS
OFFENSIVE LINEMEN
CONFERENCE CHECK-UPS
SOCIAL