Stars must improve defense
Detroit's Manny Legace finished with 23 saves in his first career NHL playoff start against Nashville.
Updated:
April 9, 2004, 5:25 PM ET
By
By Jim Wilkie
| NHL Insider
Here are some news and notes from some first-round playoff series:
Legace's finish should mean another start
Detroit goalie Manny Legace's first career NHL playoff start didn't begin well as he allowed Adam Hall's goal 16 seconds into Game 1 on Wednesday night.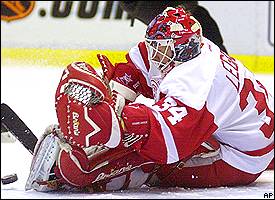 APManny Legace settled down after a rough start and led the Wing to victory.
But the career backup did everything right afterward in the Red Wings' 3-1 victory over Nashville that he is expected to start Saturday in Game 2 of their Western Conference quarterfinal series.
With regular No. 1 Curtis Joseph's ankle healed sufficiently, who will start will be a regular question before every postseason game. Red Wings head coach Dave Lewis will announce his Game 2 starter Friday.
"Getting scored on early put even more pressure on Manny," Lewis told The Detroit News. "But he handled it well."
Legace finished with 23 saves, but his biggest play was forcing Predators forward Steve Sullivan to shoot wide on a penalty shot a little more than a minute after Hall's goal to prevent the Predators from taking a 2-0 lead.
"There's nothing more stressful to be down a goal and facing a penalty shot," Lewis told The Detroit News. "He responded to everything that was thrown at him. He was solid."
Predators bruised
The Predators are being even more mysterious about a key injury that could have a big impact on their ability to come back in the series.
Defenseman Marek Zidlicky's injury that knocked him out of Game 1 is still being called an "upper-body injury." The NHL's fourth-leading scoring defenseman (53 points) was knocked into the boards by Red Wings forward Kirk Maltby in the first period and didn't return.
Nashville head coach Barry Trotz said he was hopeful to have Zidlicky, who wasn't made available to the media, back Saturday.
"If the news isn't good, then everyone else will just have to step up like we always have," Trotz told The Nashville Tennessean. "He's got great passing skills, can really create things and he makes our power play tough to handle."
Looking for the 'D' in Dallas
Dallas gave up the fewest goals (175) in the Western Conference this past season, yet their commitment to team defense was mostly absent in the Stars' 3-1 Game 1 loss to the Colorado Avalanche on Wednesday night.
"We have to play better team defense in all three zones," Stars defenseman Don Sweeney told The Dallas Morning News. "Good teams exploit mistakes, and they're a creative team that can make things happen. We have to stay disciplined and get to our spots."
The Avalanche were too successful in gaining speed through the neutral zone against the Stars and when they couldn't skate the puck in, they did a good job of keeping it away from Marty Turco so the good puck-handling goalie couldn't set up his defensemen for a quicker breakout.
"The way we generate offense is by playing good defense," Stars winger Bill Guerin told The Morning News. "We have to create transition chances and force turnovers. That happens when we play defense."
Of course, one goal probably won't be enough to beat the Avalanche in Game 2 Friday night in Denver, so the Stars need to play better at the other end of the rink as well. At some point the Stars will need to put everything together for at least one road victory if they are going to win the series.
Dallas' 15-19-5-2 road record was the worst of all eight playoff teams in the West and it averaged just 1.85 goals per game away from American Airlines Arena.
Meanwhile, the Avalanche are trying to create a road atmosphere while they are in Denver. After their Game 1 victory, the Avalanche players checked in to a local hotel.
"What's a little different here is they have kind of like a suite, where guys can go in and watch every hockey game on a different TV, maybe play some cards and just hang out," Avalanche winger Matthew Barnaby told the Denver Post. "I think it's great. I think it's very important to have great camaraderie and really be with each other a lot."
This time of year, at least during a series, team building takes on greater importance than family time. The playoff buzzword "sacrifice" has a different meaning for the players' wives and children in the postseason.
"My wife's focus is always the kids, and when summer comes we're both there for three months, two months, whatever it may be. Right now, if someone gets sick, my wife doesn't even call. She takes care of it, and she's not going to bother me with the family problems."

Blues counting on Tkachuk
With scoring looking to be low in the Sharks-Blues series, St. Louis is counting even more on power forward Keih Tkachuk to deliver with some goals.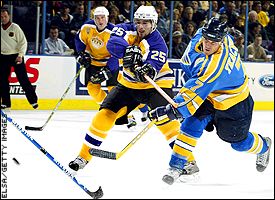 The Blues will need a strong postseason performance from Keith Tkachuk.

Unlike last year when Tkachuk had a bum wrist that limited him to one goal and three assists in the Blues' seven-game first-round loss to Vancouver, the 32-year-old doesn't have injuries as an excuse.

"Couldn't shoot. That's hard to be a so-called scorer if you can't shoot," Tkachuk told the St. Louis Post-Dispatch.

Nobody on St. Louis could beat San Jose goalie Evgeni Nabokov in the 1-0 overtime loss Thursday night, but Blues head coach Mike Kitchen gave Tkachuk every opportunity to deliver by double-shifting him with different line combinations.

"I'll take it. You love to get out on the ice as much as you can. The more time you get the better you are," Tkachuk, who might even get some time at center, told the Post-Dispatch.

Tkachuk's 24 minutes and 1 second of ice time were the third highest among Blues forwards, behind centers Mike Sillinger (25:51) and Doug Weight (24:21).

"We want to watch our matchups to see what they're trying to do, who they're trying to get against (Tkachuk)," Kitchen told the Post-Dispatch. "We have a lot of different options with him."

Tkachuk led St. Louis with 33 goals and 71 points during the regular season. After Game 1, he has 27 goals, 51 points and is a minus-16 in 77 career playoff games for the Blues, and Phoenix Coyotes/Winnipeg Jets. Tkachuk was minus-1 Thursday night.
EDITORS' PICKS
Boston dealt a blow to Florida, while other Eastern playoff contenders looked to keep pace.
Inside the NHL

While it's too late for this season, the Blue Jackets are getting healthy and showing how tough they will be moving forward.
LeBrun »

Marc-Andre Fleruy has to prove he can dominate in the playoffs before anyone will expect the Penguins to make noise this spring.
Inside the NHL
MOST SENT STORIES ON ESPN.COM