Oakland looking to boost offense
From the looks of the A's outfield in 2003, one might be shocked to discover they were actually a playoff team.
Updated:
February 10, 2004, 9:58 AM ET
By
Jim Baker
| MLB Insider
From the looks of the Oakland A's outfield in 2003, one might be shocked to discover they were actually a playoff team. Outfields are, by nature, a font of offensive production. Such was not the case in Oakland last year, where manager Ken Macha had a very simple system: if you played well, you played. Unfortunately, only one player actually responded to that call and he eventually found his true level. Glenn Dickey of the San Francisco Chronicle writes that Eric Byrnes won enhanced playing time with an incredible surge at the beginning of the year that had him playing like the team's best player. Inevitably, perhaps, he came crashing down, enduring a 9 for 91 run at one point to levelize his season, if I may use a word of my own creation.
What the A's were left with was a sad situation. Dickey reminds us that Terrence Long spent most of the season complaining about his lack of playing time and produced a season of bad memories and could hardly be given away at the season's end. Prior to 2003, the A's surprised one and all by getting Chris Singleton, a player whose game runs counter to that of the A's philosophy of walks and power. Singleton surprised nobody by doing just about nothing. Speaking of levelizing, mid-season pickup Jose Guillen played much closer to his with the A's than he did previously with the Reds. The main problem was Jermaine Dye, however, hobbled by injuries and reduced to inactivity and a shell of his former self.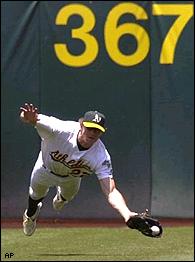 The Royals are interested in acquiring Eric Byrnes.
A's outfield Win Shares in 2003:
Eric Byrne:
16
Terrence Long:
11
Chris Singleton:
6
Billy McMillon:
5
Jose Guillen:
3
Jermaine Dye:
2
Adam Piatt:
1
To continue reading this article you must be an Insider
Insider
SPONSORED HEADLINES
MORE MLB HEADLINES
MOST SENT STORIES ON ESPN.COM
EDITORS' PICKS
David Price led the Rays to their eighth straight win.
Recap

Yasiel Puig punished the Giants as he had three triples.
Saxon »

ESPN honors the six new Hall of Fame inductees.
Majestic Youth Oakland Athletics Authentic Collection Quarter-Zip Green Fleece Hoodie Shop »