Detroit a good choice for Pudge?
Ivan Rodriguez has found himself getting the same kind of treatment he did last year.
Updated:
January 5, 2004, 8:39 AM ET
By
Jim Baker
| MLB Insider
There's an old adage about getting married that you may or may not have heard before. It goes something like this: "the first time for love, the second time for money." If we can equate marriage with baseball free agency, this is
Ivan Rodriguez
's second time around. In his first go, he came home with the big ring. Since it is the dream of most players to win a World Series, he has gotten that chore taken care of in his lone season with the Marlins.
With that out of the way, now he can go for the gold, right? What better place to get some of that in Detroit, where the team has openly admitted it is willing to overpay free agents in order to lure them to a team that has not been faring well of late. OK, that's an understatement -- they have been rotting on the vine for a decade and fell to the vineyard floor in 2003.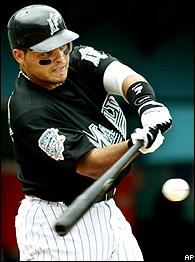 Pudge Rodriguez could help any team reach the playoffs.
Last year at this time I wrote that Rodriguez was being unrealistic expecting a team to throw a big-money, long-term contract at him after three consecutive injury-filled seasons. My advice -- which he took, by the way (although I can be persuaded that he came to the same conclusion independently) -- was to sign a one-year deal, prove to the world he was healthy and then reap the benefits in the following free agent feeding frenzy. The first part of the plan went brilliantly. Pudge signed with the Marlins for one season, was one of the main reasons they won the Wildcard, had an outstanding postseason and then ...has found himself getting the same kind of treatment he did last year. (Oddly enough, two of the teams that were interested in 2003 are back in the mix in 2004: the Cubs and Orioles. Along with the Tigers, the fourth team that continues to show interest is the Dodgers.)
To continue reading this article you must be an Insider
Insider
SPONSORED HEADLINES
MORE MLB HEADLINES
MOST SENT STORIES ON ESPN.COM
EDITORS' PICKS
The Dodgers and Giants play the opener of a crucial series.
Saxon »

David Price led the Rays to their eighth straight win.
Recap

ESPN honors the six new Hall of Fame inductees.
Majestic Triple Peak Men's Baltimore Orioles Nelson Cruz Black T-Shirt Shop »