October, 3, 2012
10/03/12
11:17
AM ET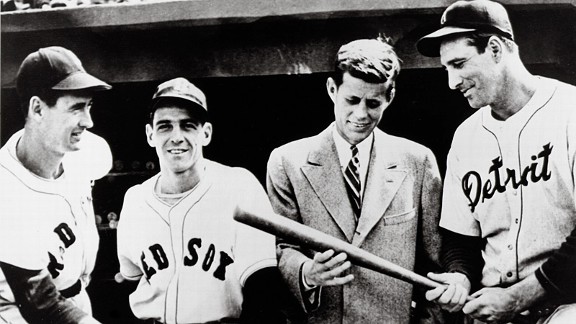 AP Photo/Courtesy of John F. Kennedy Presidential Library)John F. Kennedy looks at a bat with baseball greats, from left, Ted Williams, Eddie Pellagrini and Hank Greenberg in this photo dated April 1946.
At the first of the three presidential debates, Barack Obama and his Republican challenger, Mitt Romney, on Wednesday will be proving something that John F. Kennedy learned more than a half century ago: Presidential politics is a contact sport.
Last month, Kennedy's presidential library released a trove of his tapes to commemorate the release of a two-CD book called "Listening In: The Secret White House Recordings of John F. Kennedy." And one of them, recorded on Jan. 5, 1960, showed Kennedy recognizing how equally brutal sports and politics can be.
The tape was made at a dinner party Kennedy hosted with his wife, Jackie, at their Georgetown mansion three days after the U.S. senator from Massachusetts announced his run for the Democratic Party nomination.

Among the guests was legendary newspaper editor Ben Bradlee. When Bradlee mentioned that running for president was as high-octane as politics got, Kennedy, a Harvard graduate, strained for a comparison until he hit on the Harvard-Yale rivalry. "It's stimulating because & life is a struggle and you're struggling in a tremendous sort of arena," he said. "It's like playing Yale every Saturday, in a sense."
"The president was competitive by nature," says Thomas Putnam, the library's director. "These tapes show that."
The 30-minute tape, which can be heard here, was made on a reel-to-reel recorder by the late Newsweek correspondent James Cannon and discovered in 2008 in the library of Brown University, to which Cannon's family had bequeathed it. Besides showing Kennedy's respect for Yale football, it shows how much of an uphill climb he still thought he had to reach the White House.
Asked by Cannon why he seemed to have so much drive, Kennedy confided that "I'm having the same struggle" as other ambitious Americans, just "in a different sphere." Then he compared himself to the quarterback for the Baltimore Colts.
"Johnny Unitas, he might find it interesting to play in a sandlot team, in front of four people, but he's playing for the world championship," Kennedy said. "I mean, I must say, he must find that very absorbing. I'm not comparing the presidency with that, but I'm just saying that, how could it be more fascinating than to run for president under the obstacles and the hurdles that are before me."
Putnam says the passage shows Kennedy's impatience with the slow pace of politics. "People have observed that he didn't like waiting for his turn," he says. "At that point, he'd already been the youngest person elected to Congress and in the Senate for seven years. Another Senate debate for him would have been a yawn. He wanted to debate for the top job."
Indeed, after his history-making debates with Richard Nixon that fall, the 43-year-old became the youngest man ever elected president.
"

Christ, who are we sending over there? Girls?

"

-- President John F. Kennedy on the U.S. hockey team
There are a few instances of Kennedy following football as president, although not with nearly the famous passion Nixon had for the game. In 1961, Kennedy took a call on his private line from Vince Lombardi wanting to know whether he could grant Paul Hornung a leave from the Army so the Packer could play in the NFL championship game. Kennedy agreed, and Green Bay beat the Giants 37-0. Then the president called Lombardi to congratulate him on the Packers' 1962 title and begged him to coach Army.
Three years later, however, the tapes show a change in Kennedy's view of sports. According to Putnam, he began to view it through the prism of the Cold War as he was straining to beat the Soviet Union in the space race, fighting a proxy war in Vietnam and guarding against Fidel Castro in Cuba. In that environment, something as minor as a loss by the U.S men's hockey team to Sweden was an intolerable embarrassment.
In this March 1963 conversation, he called a close friend who'd been selected to the 1952 Olympic squad, David L. Hackett, to see what could be done.
"Dave, I noticed in the paper this morning where the Swedish team beat the American hockey team, 17 to 2," he said.
The rest of the conversation went like this:
Hackett: Yeah, I saw that.
JFK: Christ, who are we sending over there? Girls?
Hackett: They haven't won a game.
JFK: I know it. I mean, who got them up?
Hackett: I don't know. I can check into it.
JFK: God, we've got some pretty good hockey players, haven't we?
Hackett: Yeah. Well, I think. Yeah.
JFK: I suppose they are all playing on their college teams, are they, or something? I'd like to find out whether it was done ... under what ... who sort of sponsors it and what kind of players they've got, and I think it's a disgrace to have a team that's 17 to 2. That's about as bad as I've ever heard, isn't it?
Hackett: And they have been beaten by everybody by a score almost equal to that.
JFK: So obviously, we shouldn't send a team unless we send a good one. Will you find out about it and let me know?
Hackett: I'll find out about it and let you know.
To see more from the John F. Kennedy Presidential Library's online archives, click here
September, 28, 2012
09/28/12
7:01
PM ET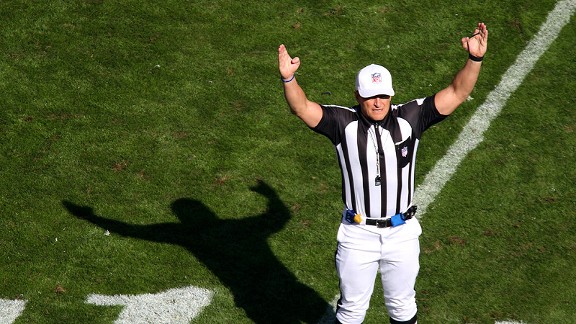 David Drapkin/Getty ImagesReferee Ed Hochuli tried to keep his colleagues in the know during the NFL lockout.
When the NFL's official referees take the field Sunday, they'll be out of practice, but they won't be rusty. And for that, you can thank Ed Hochuli, the 61-year-old Phoenix lawyer and veteran referee who will be helming the Bengals-Jaguars game. During the lockout, No. 85 kept his fellow zebras sharp with weekly tests designed to get them ready to replace the replacements.
In an emailed agenda for a conference call among refs that was held on Sept. 11, Hochuli asked his colleagues for a moment of silence for "those innocent souls and the heroes who lost their lives 11 years ago."

Then Eddie Muscles got right down to business.
"We are not going to point out mistakes," No. 85 wrote. "We only have an hour -- but as always, there are things to learn from this week's games."
He went on to list: "Game clock," "Quarter change," and "2 minute warning."
One ref who calls the tests "incredibly time-consuming" adds: "Eddie's just that kind of person. He's a successful lawyer and a perfectionist. He hates it when things aren't done right."
The File obtained a test Hochuli sent out July 2, not long after the lockout began, and although the format is familiar to anyone who has ever applied for a job in stripes, it features plenty of NFL-style scenarios.
Take the very first question, which nearly sent us running for the exits: Team B blocks Team A's punt, but commits a foul at the 3-yard line as a Team B blocker picks up the ball and runs it to the 50-yard line, at which point he fumbles into the hands of an A blocker. (By the way, that's a simplified version.)
Quick, what's the call?
It's B-1-10-B1 ½, Exception 3.
Translation: The ball gets moved to the point of the infraction, which in this case is the 3-yard line, and Team B is penalized half the distance to the goal for its foul. As such, it becomes Team B's ball at first-and-10 on the 1 ½-yard line. "Exception Three" deals with change of possession with a foul.
The rest of the test can be found here and in the box inset in this story. See if you can get any of the other 49 questions right -- let alone on a field with 80,000 fans screaming at you and a worldwide TV audience of millions tearing their hair out because you single-handedly moved the line.
The answers are here and in the box to the right.
September, 18, 2012
09/18/12
4:17
PM ET
The San Diego Chargers held a moving ceremony on Sunday to honor Junior Seau at Qualcomm Stadium. As the Hall of Famer's family watched a tribute to his life on the JumboTron, Chargers who were wearing his No. 55 on their helmets choked back tears. But San Diego fans almost didn't get to see the service on TV. Just hours before a Friday deadline, roughly two thousand seats to the game still hadn't been sold, leaving San Diego in technical violation of the NFL's blackout rule.
The rule requires teams to sell all but their most expensive seats 72 hours prior to kickoff for games to appear on TV in a team's market. But even with a last-minute waiver that let the Chargers sell tickets up to 1 p.m. on Friday, things looked bleak. Only a last-minute PR blitz put them over the top.

That allowed the NFL to avoid the unseemly spectacle of having to explain why, in the midst of a class action suit over its concussion policy, it was preventing TV viewers from watching a tribute to a man who may have suffered as many as 1,500 head injuries on the way to the Hall of Fame.
But it hasn't stopped a growing chorus of critics from complaining that the blackout rule -- enacted before the Internet and even (gasp!) ESPN -- is an anachronism that's hammering consumers.
The NFL insists that the rule "is essential to promoting live attendance and thus improve the stadium experience." But in February, five U.S. senators wrote this letter to Federal Communications Commission Secretary Marlene Dortch, calling the rule a "relic of a different time." They also pointed out that in this economy, rising ticket prices "have made attending a football game an unaffordable luxury for many fans."
And recently, FCC commissioner Robert McDowell issued a statement saying: "We live in a world with not only local broadcast stations, but also cable, satellite, the Internet and wireless, and where television and mercheadizing revenues exceed ticket sales. It is appropriate for us to re-examine the rule in light of marketplace changes."
In a concession for this season, NFL commissioner Roger Goodell tweaked the league's policy to allow teams to reduce their sales threshold to as low as 85 percent -- provided they kicked more money back to their opponent.
But things are as chaotic as ever. Tampa Bay dropped its blackout threshold to 85 percent of Raymond James Stadium's capacity and still couldn't sell enough tickets by Sept. 9 to stop a local TV embargo of its opening day game against division rival Carolina. It was the third straight season that occurred in Tampa, and the 14th time in the Bucs' past 16 home games. Things will get worse around the league when the weather gets colder and losses start mounting.
On Capitol Hill, an organization called the Sports Fans Coalition is lobbying the FCC to revoke the rule, which was adopted in 1973 as an amendment to the Sports Broadcasting Act. (Blackouts date back to the 1950s, when the NFL successfully defended itself in an antitrust lawsuit by arguing that they were needed to keep stadiums filled at game time.)
Last week, the group's executive director, Brian Frederick, brought a report from nine economists to the agency in the hopes of swaying the agency's voting commissioners. The economists argue that blackouts "have little or no effect on ticket sales" and "harm consumers without producing a significant financial benefit to teams."
But the most important testimonials aren't from economists or politicians. They're from the hundreds of fans who took the FCC up on its offer to post public comments.
[+] Enlarge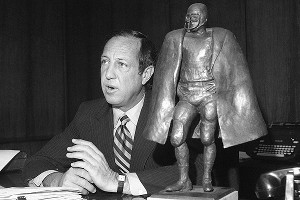 AP Photo/Anthony CameranoNational Football League Commissioner Pete Rozelle speaks in his office in December 1972 after saying no to President Richard Nixon's request to waive the NFL blackout rule on home-game telecasts.
Here is what you had to say, America, about why the rule is unfair:
Disabilities: Some of the most poignant letters came from fans who complain that they are being penalized for growing old with their teams. Bills fan Jane O'Bayle of West Seneca, N.Y., handwrote this letter in which she says, "My husband and I are in our 80s and almost all the enjoyment we get out of life is to watch sports on TV … I hope you can help people like us." Echoing the comment, Jane Beaudet of Buffalo writes: "There are many people who are shut-ins and elderly who would be very grateful to be able to see all of the games." Adds military veteran Kenneth Agabayani: "As a disabled Marine living off a limited medical disability income, there is no way I can afford the tickets nor the physical exhaustion to weave through thousands of other spectators in order to reach assigned seating."
Blackmail: Plenty of fans resent the fact they're being pressured to pack stadiums that were built with public financing. Dennis Brickner of Tiffin, Ohio, says, "As a taxpayer, I am incensed that -- while the NFL has benefited time and again from the public largesse in the form of sin and other types of taxes for the construction of stadiums -- they somehow think they can then deny some of those who helped to finance their corporate welfare."
"San Diego residents, like the rest of the country, have economic issues to deal with that do not allow all of us to fork out over $600 to take our family to a game," Troy Wallace complains. "We are also at the mercy of owners that are using the team as leverage against the citizens in order to have a stadium built for them at our expense."
Putting an even finer point on it, this fan adds: "It's about time that the gun is pulled from fans heads telling them if you don't sell out you don't get to watch your team."
Loyalty: More than one writer suggests that the NFL is alienating a new generation of fans. "My father took me to Charger games in the 70's as a season ticket holder," writes Scott Albert of San Diego. "My son and I cannot watch the Chargers on TV when the games are blacked out. I have earned the right to not be blacked out after 35 years of family support to the Chargers organization. My son is losing interest and we may lose a string of dedicated family fans."
DIRECTV: "Sunday Ticket" buyers point out that they're getting doubly penalized, since they're paying extra for the privilege of getting blacked out. "My east coast team came to the west coast to play and I live 60 miles from the nearest nfl stadium which unfortunately is inside the 75 mile radius for blackouts," writes Michael E. Olin. "So I pay extra to watch a game that gets blacked out even on direct tv." Chargers season-ticket holder Matt Day suggests a solution: "If they have a blackout, then sell the game on PPV for those that still would wish to order it … Both teams will have an added revenue stream to split, and that is what its all about correct?"
Prices: The economy is also weighing on people's minds. "If my local game is threatened by a blackout, it doesn't make the money magically appear in my wallet so that I can buy tickets," Kenny Tarlov writes. Adds this cost-conscious consumer: "It is not acceptable to discriminate against people who don't have the money to pay $30 for parking, $12 for a beer, and $80 for a nosebleed section seat and to try out the $8 HOT DOGS … This is a joke … what is the point? Let only the rich see the games while the poor have no say in any enjoyment of their (almost guaranteed) tax-subsidized stadium? That's like me paying for a road and not being able to see it/use it."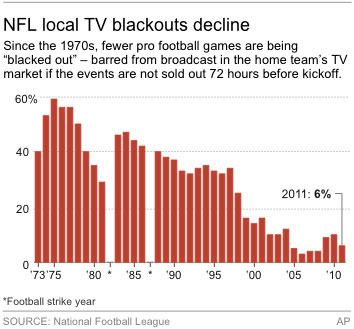 AP Photo
"This isn't 1975," notes NFL fan Tracy W. Reed. "… Most cable subscribers pay upwards of $50 a month for tv … Compare ticket prices of 2012 with prices in 1975 and the number of teams. The policy is crazy."
Size matters: U.S. Rep. Brian Higgins (D-N.Y) of Buffalo has been a leading voice against the blackout rule because he represents one of the NFL's smallest markets and a constituency that's fighting mad about the team's efforts to extract $200 million in public improvements to extend its lease at Ralph Wilson Stadium, which has 6,000 more seats than the average NFL arena.
This fan wryly notes, "When the Chicago Bears sell 61,500 tickets, the game is declared a sellout. When the Buffalo Bills sell 75,000+ tickets, the game is declared a blackout." And this one pointed out that the NFL put Bills fans in a tough spot by making them buy tickets to three home games in December.
This fan suggests only blacking out games that are at 90 percent of capacity. But that wouldn't help the Bills: The team opted out of the NFL's voluntary 85 percent rule because Ralph Wilson Stadium couldn't even meet that threshold in five of its past six blacked-out games. The Bills had the last three games of 2011 blacked out, including a game on Christmas Eve. They've had 17 games blacked out since 2000.
Maybe the best argument for giving the product away is made by this young dad, who writes: "Eventually, my kids will be old enough and I will take them to a game. It would be nice if they knew about the team from watching them, or picked up on my interest in the Bills."
Politics: Why is the FCC even involved in this in the first place? The answer, of course, is that it has control over the nation's airwaves. But as Robert Leibforth of Tampa notes: "I am unaware of any political constituency in the country (aside from the NFL owners, perhaps …) that espouses FCC rules on what professional sports events will be shown on local television … as a legitimate and important government concern … If the NFL owners want to black out local fans as punishment for not filling the stadium seats, then let them do that, don't let them blame our government. It's not a government issue."
September, 7, 2012
09/07/12
10:04
AM ET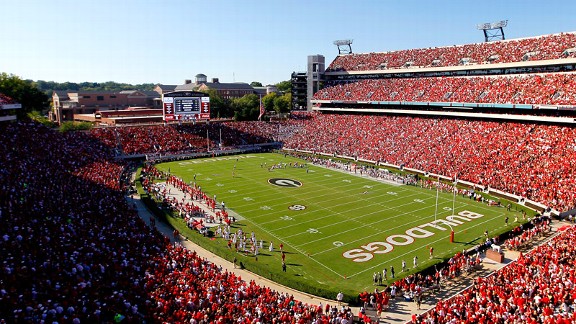 Kevin C. Cox/Getty ImagesSanford Stadium at the University of Georgia.
One day -- more than 50 years ago now -- Frank Lumpkin Jr. walked in downtown Columbus, Ga., with his infant son and crossed paths with a guy from Auburn, Ala. Lumpkin, a Georgia bulldog through and through, argued with the Auburn fan, and the two came to blows, Lumpkin holding his son's bassinet with his left hand and swinging with his right.
Despite his lifelong passion for Georgia athletics and his somewhat bombastic personality, it's likely he'd be disappointed in a different football-driven fight that has ensued over his legacy, said Loran Smith, a friend and athletic historian who knew Lumpkin before he passed away in 2000. The dispute is between Lumpkin's son, Frank Lumpkin III, and daughter, Julia Lumpkin, over their parents' estate, of which one major sticking point is who gets the family's coveted season football tickets.
They've been feuding for more than 10 years, and last summer their dispute became public when Frank Lumpkin sued his sister in Muscogee County Superior Court. Attorneys for both parties have declined recent requests for interviews, although the case could be nearing an end. On Aug. 15, a Muscogee County judge removed Julia Lumpkin as co-executor of the estate, giving her brother an edge in the dispute.
Although the tickets aren't specifically mentioned in the lawsuit, attorneys in prior media accounts have confirmed they're a major issue. The deceased Lumpkins did not provide any direction about who gets in the tickets in their will, although they did leave $1 million to the University of Georgia Foundation.
The attorney for Frank Lumpkin III, Frank K. Martin, who recently died, told the Ledger-Enquirer in Columbus, Ga., last year that the football tickets were "at the heart of the standoff." He said Julie Lumpkin refused to close the estates until her brother transferred the tickets to her name, according to the article.

"She's holding the estates hostage over these football tickets," Martin said. "It's not an argument of 'Do you or don't you get the tickets.' She wants them in her name, but they don't have anything to do with the resolution of the estate of Mr. and Mrs. Lumpkin."
Smith, the elder Lumpkin's friend who recalled the story about the fistfight with the Auburn fan, said he's not surprised that football tickets would generate so much interest, even though there isn't a waiting list for season tickets at Georgia, according to the university's website. Apparently, the Lumpkins' 18 seats are all quite good and near the 50-yard line.
The Lumpkins certainly aren't the first, and won't be the last, heirs to battle over season tickets, which is why many colleges and pro teams have specific rules and regulations in place to deal with what happens to the season tickets in the event of the ticket holder's death.
Sara Andrew, an attorney who practices estate planning and probate law in Fond Du Lac, Wis., said she's dealt with at least a half-dozen families who have season tickets to the Green Bay Packers -- an asset worth more than gold to many die-hard cheeseheads. The Packers' season ticket waiting list is more than 100,000 names long, and over the past decade only 50 to 130 names have come off the list each year, after a 35-year wait. (Andrew said her husband has already put their 5-week-old son's name on the list.) After Andrew wrote an article about incorporating season tickets into estate planning for the Wisconsin Bar Association last year, she said she received upwards of 30 calls or emails from people, including many other attorneys, who said the heirs to season tickets have been an issue in their own families or among clients.
"Most of the issues have been resolved by talking to the season ticket office with the Packers. They're really taking an active approach to help people figure out these situations," she said, adding that a representative from the ticket office told her that they actually facilitate family mediations as a way to keep the dispute from landing in court. A spokesman for the Packers said it happens "very infrequently."
Another wrinkle in the Packers' policy is a somewhat paternalistic rule familiar to any parent who has ever shouted from the front seat, "If you two can't get along, we're turning this car around and going home." If the parents have not laid out who gets the tickets in the will, the siblings have to agree as to who gets the tickets -- otherwise nobody gets them, and they are released to someone else on the waiting list. The savvy child of parents who have Packers season tickets can bring this season ticket transfer form to Thanksgiving dinner this year and gently walk Mom and Dad through filling it out in his or her name. Just make sure any brothers, sisters and cousins are out of earshot.
Several other teams have similar transfer forms that can be filled out ahead of time. But some teams will allow transfer only to a surviving spouse, and most require documentation such as a birth certificate and death certificate. A few claim that fans don't really "own" their season tickets -- equating holding tickets to a lease or simply a right to purchase year after year -- and therefore don't allow tickets to be transferred in a will. The Chicago Cubs, whose waiting list exceeds 115,000 people, don't allow transfers, so when someone dies, his or her season tickets go to the next person on the waiting list. Andrew said one benefit to that sort of policy is that it ensures that new fans on the waiting get a shot at tickets, instead of simply allowing them to churn through the same families for decades, which is something for which the Packers have been criticized.
When tickets are to be handed down, Andrew said it rarely causes a rift in the family because one sibling usually stands out. One heir might be the only one who can afford the tickets or maybe is just obviously the biggest fan and is willing to suffer subzero temperatures at Lambeau Field while the other siblings are content to watch from their couches. The Lumpkins, however, were not so fortunate, as their Georgia tickets are still in legal limbo.
"Their daddy has got to be spinning his grave. He loved those two kids as much as a parent could love a child & I think the three things he loved most in life were the Bulldogs and Frank and Julie," says Smith, who has worked for the University of Georgia athletics office for about 50 years. "I think it's damn unfortunate because I liked them both, and they both have the Georgia passion, and they couldn't have been Frank Lumpkin's children and not had Frank's passion. I hope they can resolve this."
---
Other Files
Opening the books: In the wake of the Jerry Sandusky scandal, Penn State has been making more of its internal documents available. Even though it's a public university, Penn State -- as well as a handful of other public colleges in Pennsylvania -- enjoys a unique exemption to the state's public records law. Penn State's"Progress" website includes a variety of documents including Coach Bill O'Brien's employment contract and a detailed financial report of the athletic department's finances, two types of documents readily available from other public universities. Something else to consider is whether this move toward more transparency is a genuine effort by the university to be more open or if it is a way to stave off legislative efforts to strip Penn State entirely of its exemption. This bill would do just that and is pending in the Pennsylvania Legislature, which reconvenes Sept. 24.
August, 24, 2012
08/24/12
8:16
AM ET
Every two years at the Olympics, a dance goes on in which the best chemists gather with the best athletes to face the best drug testers. In the weeks before the just-completed Games in London, those testers buzzed about a brand-new test they'd developed to track down athletes who take human growth hormone.
David Howman, the director general of the World Anti-Doping Agency, hailed the test as "a very significant step and a very helpful one." This isn't the first time we've heard talk like that, of course. Another test for HGH was unveiled before the 2004 Olympics in Athens and caught precisely no one. Those Olympics were so rife with the drug, in fact, that they've been dubbed the "HGH Games."

But over the past eight years, scientists have figured out how to widen the detection window for the magical performance-enhancing drug from a few hours to a few weeks, which makes this new version a potential game-changer. It also explains why DeMaurice Smith, executive director of the NFL Players Association, was in London, talking with athletes and drug testers to suss out what he could about it.
NFL commissioner Roger Goodell has been pushing Smith to embrace the test, which works by scanning the blood for two key "biomarkers" that show up when the body is flooded with synthetic growth hormone. One is insulin growth factor. The other is a protein given off by developing bones. But Smith has fought back, insisting he "won't be bullied" into backing the procedure until WADA gives his union more information.
Smith is particularly concerned about the levels that WADA intends on setting for the biomarkers. As he told Pro Football Weekly: "With all due respect to the folks at WADA, who have told us that the standard against which our players will be measured is really none of our business and shouldn't concern us, how can it not be our business?"
That makes what's going on now in Olympic circles so crucial to the future of NFL drug testing. Anti-doping officials didn't report a single HGH positive in London. But they still are pouring over samples, which they can keep for eight years, in an attempt to show all the hype wasn't misplaced.
"The people at WADA want to find a positive," says Don Catlin, the former head of the Olympic testing lab in Los Angeles and head of the Catlin Consortium, who was in London for the International Olympic Committee supervising collections. "They want to brag."
The difficulty, Catlin says, is that it's hard to set the biomarker's margins.
"It's a hazardous business because this is new, and you don't know where you're at," he adds, pointing out that testers have to go on guessing games if they don't know for sure whether a tested athlete took the drug. "They don't know what cutoffs to use."
[+] Enlarge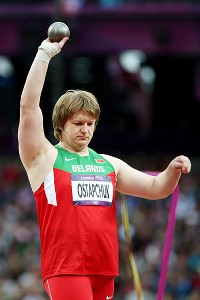 Icon SMIThe IOC says Belarus shot putter Nadzeya Ostapchuk tested positive for the steroid metenolone.
In a sign of how far the NFL is from growth hormone testing, the NFLPA was busy fighting the old test that WADA was using before the Olympics began. During last year's collective bargaining sessions, it agreed in principle to allow its players to be blood tested but also asked for a "population study" to be done on the old test. That study was already mired in politics over who should run it. Now it seems to be dead.
In a not-too-subtle shot at the union, WADA published an editorial in the January issue of its Play True Magazine by its former chief accusing the union of using delay tactics. "The NFLPA have turned to their ubiquitous lawyers to throw as much sand as money can buy into the gears of an effective testing program," Dick Pound wrote in his opinion piece.
Both sides have a point. WADA is being hyper-secretive about its test. And the union deserves to be consulted more than it has been by the imperious anti-doping agency. But hovering over the whole debate is the larger question of what exactly we learned from these London Games.
While 6,000 blood and urine samples were collected in London, only one athlete was nabbed for using a PED in competition -- a female shot-putter from Belarus named Nadzeya Ostapchuk who was right out of central casting.
The only other in-competition positive came from American judo fighter Nick Delpopolo, who went down in Olympic history by claiming that his marijuana positive was the result of eating baked goods laced with pot at a party.
Jacques Rogge, the IOC's executive director, said that nabbing the two was "a sign that the system works." But Victor Conte of Bay Area Laboratory Co-Operative infamy showed up to the Olympic Village and told reporters that he thought 60 percent of the athletes were doping. And John Leonard, the executive director of the American Swimming Coaches Association, created an international furor when he called the gold-medal performance of Chinese swimming phenom Ye Shiwen "suspicious." Bringing up the dark memory of the 1970s Eastern Germany doping machine, he said Shiwen brought back "a lot of awful memories."
WADA, meanwhile, has been uncharacteristically low key about its Olympic effort. Terence O'Rorke, a spokesman, declined to answer questions about the biomarker test, saying, "It is WADA's policy not to release details about new detection methods until they have proven successful in the sanctioning of an athlete for an anti-doping rules violation."
In other words, no news isn't good news.
---
Other Files
U.S. vs. Jamaica: A war of words that began when Carl Lewis questioned whether the Jamaican sprinters have stringent enough drug testing has begun to boomerang on the nine-time Olympic gold medalist. As this blog post from London's Independent newspaper points out, Lewis failed three drug tests in 1988 but the results were never made public. "Between 1988 and 2000, the U.S. Olympic Committee covered up a total of 114 tests," the paper's website notes. "… Yet Lewis still feels entitled to question the bona fides of Usain Bolt and his teammates."
And now for something completely different: In the most bizarre start to the U.S. Open ever, New York cops took a 70-year-old referee into custody Tuesday when she showed up to work at the tournament because she's accused of killing her husband. As this arrest warrant charges, Lois Ann Goodman allegedly used "a deadly and dangerous weapon, to wit [a] COFFEE CUP," to kill her 80-year-old husband, Alan.
August, 1, 2012
08/01/12
3:27
PM ET
In New Hampshire last fall, Ross McLeod, a local prosecutor in the town of Windham, didn't think there was much wrong with running his fantasy league from his office between court appearances. After all, he was playing with guys he knew for 20 years -- guys who worked at a Pizza Hut together as kids.

The trouble was that McLeod was also running for the job of town selectman, and that made him fair game.
Americans for Prosperity, a conservative political advocacy group, filed a public records request for his emails and found that the 51-year-old was sending information about trades and payouts to league members on office time. As fast as you can say "trade Tebow," the town of Windham had a scandal on its hands, and McLeod was forced to resign his job under fire.
The story might have ended there -- a cautionary tale for public officials in these partisan times during which McLeod was still able to win the election despite the claims. But on July 18, the fantasy football furor in Windham took an even more bizarre turn.
The state's attorney general went to court for a warrant to search McLeod's home and included in the application a nine-page affidavit revealing that the prosecutor encouraged his friends to stonewall investigators.
"I can't say too much while the AG's Office has an open investigation," he wrote on Feb. 28. "Suffice it to say that I greatly appreciate what all of you have emailed in response to this purely political exercise. … I don't know if anyone will try to contact you via your email addresses. If anyone does, please let me know ASAP and do not respond to them."
According to the affidavit, that warning might be enough for prosecutors to charge him with witness tampering.
If all of this sounds incredible -- a respected politician losing his job over a league in which the buy-in was 40 bucks and one member referred to his friends as "a bunch of buddies playing a game we love" -- that's the age of politics we live in. McLeod's attorney, Roger Chadwick, has called the investigation "local town politics at its worst," and said, "I am very much concerned with Ross' reputation. … It's a sham that this continues to go on."
But it's also a reminder that some people still consider fantasy football wagering a no-no at work.
In one of the most over-the-top incidents, four managers at a Fidelity office in Fort Worth, Texas, got the ax when they were accused of violating the company's policy on gambling. One of the fired workers, Eric Pettigrew, told reporters that it all started when a Fidelity manager found two IMs on his phone.
"One of my buddies sent me something about how bad Trent Edwards was playing or something like that," Pettigrew told The Fort Worth Star Telegram. "So they called me in and talked to me for about 90 minutes on everything I ever knew about fantasy football. They interrogated me like I was some sort of international gambling kingpin."
Just to be clear, the U.S. Criminal Code explicitly exempts fantasy sports in its legal definition of gambling. But using work computers to play ball is another matter, especially when the boss isn't playing along.
Perhaps some advice: Do your trades at Starbucks. That is, unless you're working there.
File Under:
Fantasy Fraud: Here at The File, we don't have $30,000 to spend on a car, let alone wagering on the Green Bay Packers defense. But there are plenty of high rollers who play in big-stake fantasy contests. The problem is the contests are virtually unregulated, as Cary Katz learned when he was recruited by The World Championship of Fantasy Football to play in a "platinum high roller league." The league's September 2010 draft was a lavish affair in Las Vegas with former NFL players and film crews, and the professional poker player put down $30,000 to play.
When Katz finished the season in second place and came knocking for his $95,000 in winnings, however, he learned that his money had been used to pay prior winners and nothing was left. In other words, the company with 100 leagues and 1,200 teams was one big pyramid scheme.
The Missouri Attorney General's Office is suing bankrupt parent company Gridiron Fantasy Sports on behalf of 32 others who say they never received promised prizes, ranging from a trip to Super Bowl XLV with $300,000 in spending money to $5,000 for the team with the most fantasy points.
"Fantasy football is great, but contests like these aren't regulated by any governmental agency," says Doug Ommen, chief counsel of the Missouri AG's office. "They're not hard to set up and easy to shut down."
He recommends simple precautions, like asking whether the contest's sponsor has enough in escrow account to cover payouts. He's also not optimistic that he'll be able to recover much money in this case. "At this point, we're more interested in making sure these people don't do business in Missouri again," he says.
It's all fun and games until someone gets hurt: Finally, we present this 2008 police report from Charlotte County (Fla.) as the ultimate cautionary tale for sore losers. It describes how a man named Chester Ward was so distraught about losing points in his fantasy league that he took a razor knife to a book his roommate was reading, sliced out its pages and then moved the knife up to the roommate's neck. Court records show that Ward was found guilty of aggravated assault with a deadly weapon and battery on a police officer. An absence of incidents since then suggests that he's either stopped playing fantasy football or started winning.
July, 10, 2012
07/10/12
10:34
AM ET
Curt Schilling tried to get Rhode Island economic development officials to give him $5 million in tax credits so he could resell them in an 11th-hour bid to save his video game company from collapse and avoid defaulting on a $75 million state loan, emails obtained by The File and court testimony show.
The emails from the Rhode Island Economic Development Corporation reveal that with no cash left in the bank, the former Red Sox pitcher played a high stakes game of chicken to get the desperately-needed tax credits.
"This ceases to become a viable company at 5pm, when the employees are notified that they will not be receiving their paychecks," he wrote on May 15.
[+] Enlarge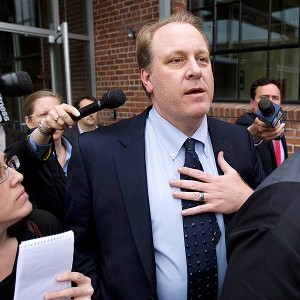 AP Photo/Steven SenneCurt Schilling said he lost more than $50 million but is "not asking for sympathy."
The vice chairman of the company, Tom Zaccagnino, added his own urgency, emailing the same officials to say, "Management is doing its best to hold down the fort and avoid having 300 employees walk out the door," but that without an immediate cash infusion it would fold. The File obtained the emails under a public information request.
A failed rescue meeting between Schilling and Rhode Island Gov. Lincoln Chafee the next day led Schilling to lay off his entire staff of 300 employees as a prelude to declaring bankruptcy.
A hearing on the firm's Chapter 7 petition, which seeks protection from more than a thousand creditors who are owed upward of $150 million, was held Tuesday in Wilmington, Del. At the hearing, the chief executive of 38 Studios, William Thomas, told a U.S. Bankruptcy Court trustee that $5 million in credits from the state could have lured at least three times that in investment capital. "There were several local investors, very high-net-worth people who had parameters around the deal," he testified.
Rhode Island, the biggest creditor, is seeking $115.9 million in principal and interest from the secured loan.
Schilling, who is on leave from a baseball analyst's role at ESPN, moved his 38 Studios from Massachusetts to Rhode Island in 2010, when then-Gov. Donald Carcieri supported giving him a controversial $75 million loan guarantee. Chafee, who unseated Carcieri, made opposing the loan a major campaign issue.
In February, the firm released its first major product, a role-playing action game called Kingdoms of Amalur: Reckoning.

Despite getting generally good reviews on the game, 38 Studios was so strapped for cash that it was privately trying to sell future film tax credits while withholding payments from vendors.
"It was so hard to get information from them," Chafee said in an interview with The Associated Press last week. "Nothing was forthcoming. There were so many mixed messages. Everything kept changing."
But Schilling blames Rhode Island officials for the debacle, saying on his Facebook page that the deal "wasn't about 'DAYS', this was about 'HOURS' and 'MINUTES.' We backed up every ounce of data and email exchanged between the EDC and 38 to INSURE when this BS started to come out, people seriously interested in the truth, will know it. We didn't stonewall anyone, the EDC was trying to bully us and intimidate us on multiple fronts."
Rhode Island officials apparently got their first inkling that trouble was brewing in mid-April. In the emails that were provided, an EDC attorney named David Gilden recounted to Zaccagnino about how "we started the discussion of your financial situation on April 12." The company's problems exploded two weeks later, when it missed its $1.125 million loan payment. Ten days after that, Gilden sent Schilling an email warning him that he had 30 days to make good on the payment.
Pointing out that Schilling "knew [the payment] was due for over a year and a half," Gilden warned: "The EDC is not willing to waive this default." He also demanded that the company allow auditors into its offices the following Monday, May 14.
But at 1:20 a.m. on May 14, Zaccagnino wrote back to say that the company was on life support and would have to shut down if it didn't get certain guarantees by noon.
"We had hoped to have worked through a solution with you this weekend," he messaged. "However, that has not happen. [sic]. As a result, we expect that employees will question the status of their pay. ... Also, we expect that media will likely be outside the company's offices on Monday AM ... " A private equity expert, Zaccagnino pressed for an agreement that he said could "bring in capitol [sic] by the 3 PM wire cut off so that the funds clear in the AM and operations continue." Details of the sought-after agreement were redacted from the emails sent to The File.
As the day wore on, the emails show, state officials were growing increasingly wary about dealing with 38 Studios any further. At 6:25 p.m., Gilden wrote to Zaccagnino to say that they would have "no further information to give you" until meeting with Gov. Chafee the next day.
Little more than hour later, Zaccagnino replied in an email that was copied to Schilling, "The fact [we] will not be working on this collaboratively all night is alarming given the current situation."
But in a key move, he declined the state's request for information about his potential investor. "As previously stated, we are being advised by counsel that we simply cannot provide that information given the overall situation," he wrote.
The investor was never identified, and no deal was ever struck. Keith Stokes, the EDC's executive director, resigned on May 16 and the case has become a political lightening rod, with the Rhode Island State Police, FBI and the United States Attorney's Office all investigating.
It is not clear what, if anything, Stokes, the EDC's executive director, knew about the company's troubles at that point. But the emails, which also were released to The Associated Press, show that he was having enthusiastic exchanges with 38 Studios employees about its game as recently as late January.
On Jan. 26, Stokes wrote 38 Studios CEO Jennifer MacLean, saying, "My son and I downloaded Kingdoms of Amalur: Reckoning demo this weekend and we had a great experience. We were most impressed with graphics, backstory and combat action. We have already preordered in the Stokes household. Congratulations."
Schilling wrote back: "Would NOT be here without you, Keith. Glad you liked it, and we're getting excited. I am heading out to LA today to shoot Jimmy Kimmel for our launch day! Should be fun."
A hearing before a federal judge in the case is scheduled for July 25.
June, 25, 2012
06/25/12
4:36
PM ET
In the summer of 2008, Drug Enforcement Administration agents began hearing troubling stories about U.S. servicemen who were showing up in emergency rooms, complaining about heart palpitations and suicidal thoughts. When the agents looked into the incidents, they found the servicemen had taken a new supplement being sold legally under the names K-2 and Spice. When agents had samples tested, they found it was a synthetic form of marijuana that was 10 times more powerful than the natural version, and 10 times as dangerous.
Over the next few years, the supplements migrated into the sports world as athletes discovered that conventional drug tests could not detect them. As one NFL veteran told Yahoo! Sports last year: "I go straight weed in the off-season. Then, in-season, when they test, I go to [K-2]."
There have been high-profile college cases, too: Former Auburn running back Michael Dyer testified in court that he consistently smoked synthetic marijuana during his career. And LSU's Tyrann Mathieu was one of three Tigers who tested positive for synthetic marijuana and were suspended.
But this week, the party may be over for chemical cannabis. A panel of negotiators for the U.S. House and Senate has agreed to an amendment to a pending bill that will make synthetic marijuana a Schedule 1 drug, alongside the natural version and heroin, for example.
The reason is obvious: The American Association of Poison Control Centers reported receiving 6,959 calls related to synthetic marijuana in 2011, up from 2,906 in 2010. And while synthetic pot may not be considered performance enhancing, DEA officials say it is being made in the same Chinese chemical labs that have flooded the supplement market with steroids over the past decade.
In 2007, ESPN The Magazine went to a pharmaceutical expo in Shanghai to see firsthand how easy it was to buy bulk quantities of steroids and have them shipped to the United States in canisters labeled as "watermelon extract." These days, the same chemists are adding cannabinoid compounds to their product lines, officials say.
The impact was chronicled last year in a report by Yahoo! Sports, which learned about three student-athletes who broke apart cigarettes, mixed in K-2, and then started smoking. One student with no past medical history had a seizure and was found outside his dorm convulsing. When asked why he did it, the student-athlete told campus police, "I didn't think it would be that much of a rush. I had no control over my body in that I could see but could not talk or speak."
The pending legislation, which will be voted on in the next week, targets 15 separate cannabinoid compounds. It also covers nine hallucinogens from a family of drugs known as 2-C. One of those, sold under the street name Europa, was blamed in the death of a Minnesota teen who overdosed during a spring break party in March 2011.
This new effort, however, may prove hard to enforce. As the DEA learned at the height of the steroid era, crafty chemists can tweak their designs by adding a molecule here or there so that their products no longer look like the specific chemicals that Congress entered into the Federal Register.
"As we saw with anabolic steroids, controlled substance laws are very compound specific," says William Llewellyn, author of "Anabolics," a steroid reference guide, and a supplement industry veteran. "The new synthetic narcotic can easily be modified into new compounds."
Adds DEA spokesman Lawrence Payne: "With so many advances in chemistry and science, what used to take years to change now takes months, weeks, or even days." As a result, Payne concedes, "This is not something we can legislate or enforce our way out of."
In other words, the game of cat and mouse between the chemists and the cops continues.
The File is interested in hearing from any athlete who has had an experience with K-2 or any of the other substances described above. Email us.
---
Other Files
For a quick guide to who's who in cycling, it's hard to beat this chart from velorooms.com. … In case anyone is wondering whether Floyd Maywether and Miguel Cotto fought with anything other than heart, the U.S. Anti-Doping Agency has this answer. … The Sydney Morning Herald has a remarkable story about the Indonesian beachside town of Pattaya, which is marketing itself as a vacation haven for steroids. … Is there doping in tennis? The Agence Française de Lutte contre le Dopage, otherwise known as the French Anti-Doping Agency, wants to find out. So it is asking for a greater role in matches played in France. "Regarding the Grand Slams, the [International Tennis Federation] wants to have a monopoly," explains Bruno Genevois, director of the agency. "But we want to advance on other tournaments."
May, 30, 2012
05/30/12
2:05
PM ET
It's never a good sign when the refs outshine the players, but it was particularly thorny Tuesday when, on the cusp of her epic first-round, French Open victory over Serena Williams, French star Virginie Razzano was called twice for hindrance.
Hindrance is one of the most confounding rules in the Women's Tennis Association's manual. Its mildest form, known as involuntary hindrance, results in a let call. The more baleful variety is called deliberate hindrance and costs a player a point.
Problem is, the definition of deliberate -- "any hindrance caused by a player that is ruled deliberate" -- is so vague that it can be used to include just about anything.

Until Tuesday, perhaps the most well-known hindrance call came during the finals of last year's U.S. Open, when Williams yelled "Come on!" after returning a ball that Sam Stosur had yet to hit. The chair ump, Eva Asderaki, declared the outburst deliberate and docked her a point. After Williams went on to lose 6-2, 6-3, the call -- and any legitimate debate over it -- was overshadowed by Serena's unhinged rant against Asderaki, in which she called the ump "a hater" and "very unattractive inside."
Fast forward to Tuesday, when Asderaki was in the chair for Williams' first-round match in Roland Garros. Early in the first set, the ump issued a warning to Razzano for yelling before Williams had a chance to hit a ball back. Then, when Razzano failed to quiet down enough for Asderaki, she was docked twice for hindering.
The second of the two calls came at a pivotal point, with Razzano up 5-3 in the third set and Williams charging back. And it was the most mystifying. With her legs cramping, Razzano let out a barely discernable yelp at 30-30, giving Serena a break point. The hometown favorite was able to get back to deuce, and eventually win the game, but the call raises the question of what exactly Asderaki was trying to achieve.
The appendix of the WTA's rulebook provides guidance for some situations. It states, for example, that a point should be replayed if "a player is hindered … by either an unintentional act of the opponent or something outside the player's own control." It also points out, a little curiously, that if a ball hits a bird that would be a replay.
But it says nothing about grunting, which is one of the most vexing issues in the women's game right now. In the current issue of ESPN the Magazine, I profile the world's No. 1, Victoria Azarenka, whose unfortunate nickname is "Vika the Shrieka."
Her matches with archrival Maria Sharapova are classic battles with scores of highlights. But whenever they play, fans feel as if they have to turn down the volume on their TV sets.
[+] Enlarge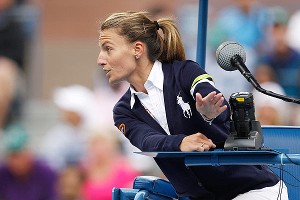 AP Photo/Charles KrupaChair umpire Eva Asderaki, who made the hindrance call against Virginie Razzano.
There is some evidence that the grunting is affecting attendance. Ian Ritchie, chief executive of the All England Lawn and Croquet Club, begged the WTA to get involved last year, saying most of the letters he gets about Wimbledon center on the issue.
But when the WTA's board of directors took up at a meeting in March in Key Biscayne, Fla. -- "We made a determination that the landscape had changed," spokesman Andrew Walker told reporters -- they ended without a plan, just a promise to keep studying the issue.
Azarenka, not unsympathetically, insists that her racket hitting sounds are involuntary. "I'm sorry people don't like it," she says. "I'm not that happy when I sit on a flight and the person next to me is snoring."
The consensus seems to be that the future lies with training the next generation of players. At Nick Bollettieri's IMG-owned tennis academy in Florida, the pros are already teaching breathing exercises to their 10-and-unders. But that doesn't do much for the present, and Bollettieri, for one, thinks it's up to the players, and no one else, to decide whether grunting is a problem.
"If a player believes that it's really a hindrance and it's really bothering their play, they have the right [to complain]," he told ESPN's Kelly Naqi for an upcoming report on "Outside the Lines."
"They may be turned down, but at least they have the right to go up. … Imagine now if you have 10, 20, 30 people starting to go up to umpires. That's where the game is played, is on the field, not in the stands."
For now, though, it's the umps who have the thankless job of regulating something that may defy regulation. It's hard to believe that Asderaki wasn't mindful of that when she issued the first hindrance call to Razzano. She clearly overreacted to the debate when she issued the second.
As a result, she wound up being as much a story as the players. That's never a good thing, and a sign that someone needs to figure out how to rewrite the hindrance rule before it happens again.
May, 4, 2012
05/04/12
7:54
AM ET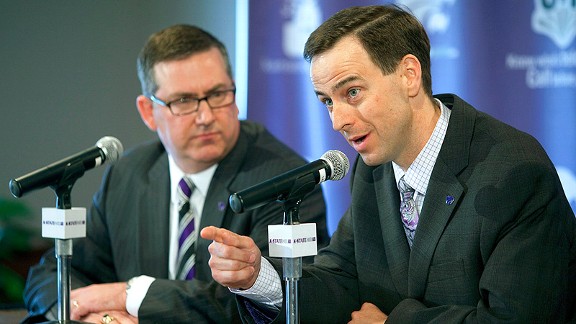 Travis Heying/Wichita Eagle/Getty ImagesKansas State University athletic director John Currie, right, and Kansas State University president Kirk Schultz in speak to the media in March.
Kansas State athletic director John Currie keeps a laminated 3-by-5 index card outlining the department's budget for the current fiscal year in his pocket at all times.
It's not as impressive as an autographed photo of head football coach Bill Snyder, but Currie credits the card -- and what it stands for -- for helping the department generate enough money to cover all its expenses and for its healthy budget surplus.

In fact, out of the 99 public schools in the Division I Football Bowl Subdivision whose records were open to review by The File, Kansas State ended the 2010-11 fiscal year with the most net income -- about $23 million. That's the difference between what the athletic department gets in revenue from ticket sales, donations, TV contracts and so forth, and what it spends on recruiting, equipment, salaries and other expenses.
"We've been successful because we've increased our revenue and managed our expenses," Currie said. His best advice to other athletic departments is to "build relationships and manage priorities." Currie uses the index card to show potential donors exactly where their money will be spent, and he said that transparency has encouraged growth in money pledged to the department.
Out of 120 D-I schools -- public and private -- 100 either broke even or ended the year with a surplus, according to figures reported to the NCAA and to the U.S. Department of Education. But the information covering private schools and those that don't have to release financial records is limited and not always comparable. (A database showing many of the revenue and expense categories for all 120 schools for the past four fiscal years can be found here.)
To come up with the most detailed breakdown and even comparison, "Outside the Lines" and The File submitted open records requests to all public D-I schools (except those in Pennsylvania that are not subject to open records laws) and asked for copies of the audited financial reports that schools submit each January to the NCAA.
Of those 99 schools, 79 either broke even or showed a surplus for the 2010-11 fiscal year, the most recent for which numbers are available. If that sounds different than what you hear from the NCAA, well, it is. The NCAA determines profitability after it subtracts athletic department revenue that comes from student fees, state funds and money from the university. By that measure, only 19 public schools were in the black. "Outside the Lines" aired and published stories nearly a year ago in which that methodology was debated.
At Kansas State, only about $3.3 million of the department's revenue came from student fees and support from the university. Even so, Kansas State tops the profitability list and is followed by Texas, Louisiana State, Alabama, Florida and Michigan. Kansas State's overall operating revenue was about $70 million, an increase of about 31 percent from the prior fiscal year, which was Currie's first at Kansas State. The year before he came, the department was running a $2.8 million deficit, based on the figures submitted to the NCAA.
From fiscal year 2009-10 to 2010-11, contributions and donations went up by 62 percent, for a total of $26.5 million, making it Kansas State's largest revenue source.
Currie said that during his tenure and that of university president Kirk Schulz, the department expanded its grassroots base of donors from 5,400 to 7,500, developed a major gifts program and expanded its fundraising reach nationwide. And there's that card, which emphasizes the department's goal to be transparent about its funding with the hope that people will understand the needs, he said.
"They say, 'Oh, OK, there's no big mystery anymore. I get it,'" Currie said. Although Kansas State might not have the fan base or the lure of bigger programs such as Texas, LSU or Alabama -- which make most of their money from ticket sales -- "our fans and our contributors, they don't look at [donating] as a short-term deal. They look at it as a long-term investment."
Kansas State's rise to profitability didn't come without some pain, as Currie recalls having to cut staff his first year in office to help trim expenses. He points out that Kansas State has the smallest full-time headcount in the Big 12, with 132 athletic department staff members. It has also cut back expenses in other areas, including football recruiting.
In 2010-11, the department still got about $1.5 million in direct support from the university, although that number has been steadily decreasing and is scheduled to be eliminated within the next few years, Currie said.
A little more than a quarter of the top D-I public schools got most of their funding from the university or state in 2010-11. In an era of university budget cuts when more athletic programs are being asked to pay their own way, several departments strive to reach a point where they can sustain themselves financially. Currie said he isn't sure if Kansas State provides a model -- because every university has its own challenges and limitations -- but he said every program should start by defining priorities.
"We don't spend any time worrying about Texas' budget. We're not ever going to have a budget like them," he said. (Texas' $150 million budget is more than twice as large.) "Let's focus on the things we can do well as we go about our business."
The financial records The File collected come from three sources. Financial records for all public D-1 schools, except those in Pennsylvania, come from the forms they submit every January to the NCAA and include detailed breakdowns of revenues and expenses. Pennsylvania schools are not subject to open records laws. Their figures -- and the figures for private schools -- come from mandatory reports made to the U.S. Department of Education. That information is limited to fewer categories. Finally, figures for the U.S. Naval Academy come from a form it has to file each year with the IRS. To see more categories for all schools for the past four fiscal years, check out our online database.