How to bet Alabama-Notre Dame
January, 7, 2013
01/07/13
10:14
AM ET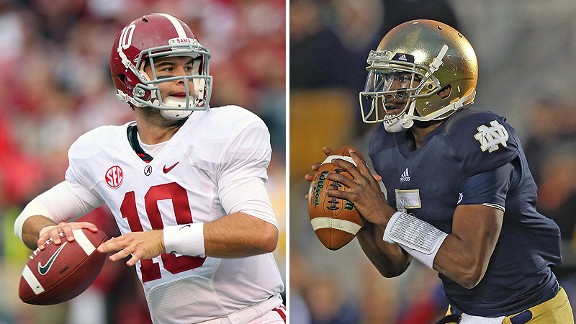 USA TODAY SportsThe BCS title game is finally here. Will AJ McCarron or Everett Golson lead his team a win?
For the past few years, we here at the blog have offered up a list of eight factors handicappers consider when analyzing college football bowl games. Like everything in betting, it's a stew of facts and figures and hunches with a little bit of psychology thrown in. In other words, no different than the analysis that goes into every decision we make, whether it's what to have for breakfast or who to vote for or whether we think Robert Griffin III should have been playing Sunday. So now, having been through nearly three dozen bowl games, we are finally focused on the one that matters: Alabama versus Notre Dame for the BCS title.
The line on this game has been a story all its own. Long before the game was set, bookmakers around the world had an opinion on the point spread. It was unanimous that the Tide, even with their one loss, should be 9- to 10-point favorites over the undefeated Irish. Then a funny thing happened in the SEC championship game: Alabama looked vulnerable against Georgia, especially against the run, as Dawgs back Todd Gurley gained more than 100 yards and averaged more than 5 yards per carry. Suddenly, that nearly 10-point spread looked a little bit too high to some bookmakers.
"If you watched Alabama play all year there was a point where you thought they were a real special team and better than last year's team," Ed Salmons, a sports book manager at the Las Vegas Hotel, told me on my podcast in mid-December. "But they played a bunch of crappy teams that made them look better than they were, and when they did hit better teams, they didn't look as unstoppable. Teams like Alabama, you are quick to give a lot of credit, it's the perception thing and then they went out and won their first few games by big numbers and you are building more perception into this juggernaut that can't be stopped. Then you started to see cracks against LSU. Then they played Georgia, and Georgia ran the ball down Alabama's throat. So now my thinking is that Bama is not the force you can't score against. If Georgia can do it, Notre Dame can do it."
Salmons and the LVH opened the title game at Bama minus-7.5. But if you want to know how the betting public perceived this game, consider which way the number went: up. The line is currently back to being anywhere from Bama minus-9 to Bama minus-10. And while bookmakers will tell you that moving from 7.5 to 9.5 is not all that big of a move, it is an indication that, despite Bama's missteps at the end of the year, the early action still favored the Tide.
Is it right or wrong? Let's break it down, according to the factors that matter to wiseguys.
1. How a team ended the regular season: "Were they on a run to make the bowl, or did they lose a lot?" asks longtime Vegas oddsmaker and handicapper Kenny White.
When you've got a defending champ that has lost just one game playing an undefeated No. 1-ranked team, it's hard to say that one of them struggled at the end of the year. But in a game like this, you have to do your due diligence. And the truth is, after scoring no fewer than 33 points in its first eight games, and winning those by an average of 32 per game, the Crimson Tide were vulnerable in their last five games. True, vulnerable is a relative term when talking about Nick Saban's boys. But they did need a miracle to beat LSU in Baton Rouge, then they lost to Johnny Football in Tuscaloosa. Then, after back-to-back 49-0 wins over Western Carolina and Auburn, they nearly blew it against Georgia. That is what led the Las Vegas Hotel to open the title game at Bama minus-7.5, two points lower than it had been around the world prior to the SEC championship.
Meanwhile, the Golden Domers famously haven't lost any games this season. You can question who they played (and we will when we get to the all-important strength of schedule category), but facts are facts: Notre Dame is undefeated, Alabama is not.
Advantage: Notre Dame
---
2. How much excitement a team will have headed into the bowl: "You're looking for a team that is thrilled to be there and looking forward to the game," White says.
A subset of No. 2 is bowl experience, but not for the reason you think: "I'm more likely to give a team a higher ranking if it hasn't been to a bowl for a while, because that will generate excitement amongst the program and fans," White says.
The other day I was on the "SVP and Russillo Show." Scott Van Pelt asked, "Which fans will be more insufferable if they win: Alabama or Notre Dame?" This was a no-brainer to me. It's Notre Dame. Ryen Russillo disagreed.
Here's my reasoning, though: Alabama has won two of the past three national titles. The team is playing to secure its place in history by winning its third in four years. Saban already has a statue, so he needs this just to live up to the bronze he's been cast in. However, at the end of the day, there is no greater level of insufferability they can attain. We've reached the saturation point. And there is also this: Alabama is, while a popular college football team, a regional university. Outside of the Southeast, the passion for this program dwindles.
Notre Dame, meanwhile, has an influence that extends around the world. The fans see this game as a return to glory following a generation of futility. They see it as their rightful place atop the college football landscape. This isn't just a game, it's a validation of identity. There is no threshold for insufferability when that is at stake.
Advantage: Notre Dame
---
3. How much time off a team has had before the bowl: "When you are not playing, it's hard to simulate game speed. It's like driving on the highway at 30 miles per hour," White says.
No analysis needed for this one. Notre Dame last played on Nov. 24. Alabama on Dec. 1. As I said above, facts are facts.
Edge: Alabama
---
4. The weather on schools' respective campuses: "The SEC, Pac-12, even the ACC tend to do better in the bowls than the Big Ten, Big 12 and Big East," White says. "I think the warm weather has a lot to do with that. Thirty days of practice in warm weather before a bowl game helps you get a lot more done than practicing in a bubble or outside in a cold climate."
Notre Dame has been practicing indoors at one of the nicest facilities in the country for nearly 20 years. In Tuscaloosa, meanwhile, the average temperature in December hovers around 60 degrees. Call me old-fashioned, but for a championship game that is going to be outside, I give the advantage to a team that has actually been able to practice outside.
Edge: Alabama
---
5. Throw away any games against non-bowl competition.
"What you want to do is see how a team stepped up in class," says Vegas vet Bryan Leonard.
Another easy one to break down: Alabama played six bowl teams this year, five in the SEC and one from the Big Ten, which was the season opener against Michigan. The Tide went 5-1 in those games and won by an average of 17 points. Of course, you could also point out that in Alabama's last three games against bowl competition, it went 2-1 and won by an average of only four points (wins over LSU and Georgia and that loss to Texas A&M).
Notre Dame played eight bowl teams: Navy, Michigan State, Michigan, Stanford, BYU, Oklahoma, Pittsburgh and USC. Umm, they went 8-0, winning by an average of nearly 13 points per game. Wake up the echoes, that's just impressive.
Edge: Notre Dame
---
6. Emphasize a team's road performance over its home performance.
Bama played 13 games this year. Know how many of those were on the road? Four. It's true. Maybe everyone knows this. But when I started researching this column and saw that, I was shocked. It did win all four games, but only one of those (at LSU) was against a team with a winning record. And we all know that Bama barely escaped Baton Rouge with a W. In fact, the win may have been its most costly of the year, exposing many fault lines in the Bama D.
Notre Dame played only four road games, too. But only one, at Boston College, came against a subpar team. The others were at Michigan State, at Oklahoma and at USC.
Edge: Notre Dame
---
7. Consider how the conference is doing in bowls.
Well, the independents went 1-1 in their two bowls. The SEC teams, meanwhile, are 5-3.
Edge: Alabama
---
8. Strength of schedule matters.
"Sometimes there is no other way to tell the difference between two teams with identical records," says handicapper Vegas Runner.
Legendary writer and handicapper Phil Steele's preseason strength-of-schedule rankings had Notre Dame at No. 1 and Bama at No. 28. His predictions played out (see point No. 5).
Edge: Notre Dame
So there you have it, when you break it down, Notre Dame gets a slight edge in our wiseguys factors. Can't argue with that. Facts are facts.