Valuing fantasy's intriguing RBs
Steven Jackson poised for a monster year in Atlanta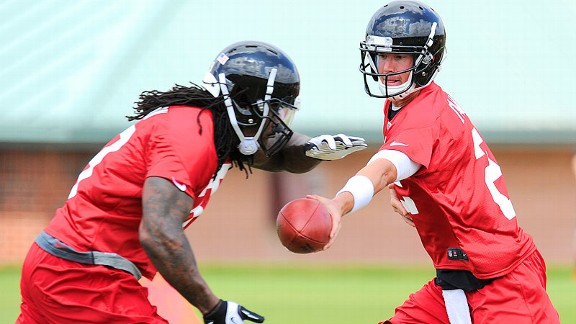 Dale Zanine/USA TODAY SportsSteven Jackson could produce serious fantasy points in Atlanta.
As I got ready to throw my first go route at the 2001 NFL scouting combine, I looked to my left and saw an unfamiliar wideout dressed in long yellow spandex pants, lined up ready to take off. Playing on the East Coast for Boston College, there were a number of players at the combine with whom I wasn't familiar, and this guy was one of them. I'd never met him, had never seen him play before and didn't know how fast he would be. About five seconds later, he was slowing his sprint down to a jog in response to my underthrown pass.
That wideout? Chad Johnson (or Ochocinco, as he was once known). While I should have known by the way he was dressed that he was probably going to be faster than anyone with whom I had played in college, it was the unknown that doomed me (and probably had some scouts thinking I didn't have much of an arm).
It's a similar feeling of the unknown that I get in preparation for my fantasy drafts later this month when taking a look at some of the top running backs. Some are joining a new team, entering a new role or facing new competition. Here are my takes on these guys, after the lessons I learned from underthrowing Chad Johnson.
In the 2012 season, Jackson and departed Falcons RB Michael Turner put up similar fantasy point totals (150 for Jackson, 146 for Turner), and consider that Jackson did this in a much less advantageous situation. Due to the supporting cast, the Rams were in scoring position less (as evidenced by Turner's 10 touchdowns to Jackson's four). Jackson had only four carries last season from the 3-yard-line or closer, compared to 17 such opportunities for Turner; in fact, from 2009 through 2012, Turner led the NFL in carries from that range (61). The Falcons like to get the running backs involved near the goal line, and now it'll be Jackson enjoying all of those goal-line touches with Matt Ryan & Co.
But Jackson is also a great pass-catcher. In the 2006 season, he had 90 catches. 90! Meanwhile, Turner has never had more than 19 in a season. Atlanta will move Jackson around to get the best matchups for him, and that won't be hard considering some of its other offensive firepower. Put it all together and it's not crazy to think that he can put up 1,000 yards rushing, 40 receptions and double-digits in touchdowns (a feat he hasn't achieved since that 2006 campaign).
There has been a lot of love for Jackson in ESPN drafts thus far. On average, he has been going late in the second round as the 11th RB off the board, about half a round later than LeSean McCoy. That may be too rich for some people, but not for me.
To see the rest of Tim Hasselbeck's analysis on fantasy RBs, sign up for Insider today.
Insider
Former NFL quarterback Tim Hasselbeck joined ESPN in August 2008 as a NFL studio analyst. He appears on NFL Live, SportsCenter, Fantasy Football Now and ESPN Radio.
FANTASY FOOTBALL DRAFT KIT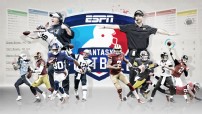 The 2013 fantasy football season is almost here. Start preparing for your draft with our rankings, projections, profiles and more! Draft Kit »
MORE DRAFT KIT CONTENT
EDITORS' PICKS
Matthew Berry breaks down the players whose fantasy value has been helped the most by NFL free agency.

Our trio of analysts offer their early rankings for the 2015 fantasy football season.

Matt Williamson identifies the players whose dynasty stock rose or fell the most after NFL free agency.
Read
MOST SENT STORIES ON ESPN.COM