Top 100 players for dynasty leagues
Ranking the fantasy players with the most long-term potential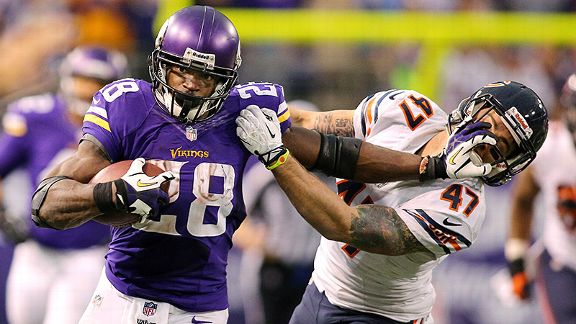 Adam Bettcher/Getty ImagesWho's no. 1? Not Adrian Peterson, who falls lower down the dynasty rankings then you might think.
Ahead of the launch of ESPN.com's fantasy football draft kit, Matt Williamson has provided his position-by-position rankings of the best players for dynasty leagues. Included below is his complete top 100 ranking, which incorporates the write-ups from each position group, along with his defense/special teams rankings and kicker rankings. For more info on how dynasty leagues work and the strategy for selecting players in them, click here.
Top 100
1. LeSean McCoy, Philadelphia Eagles
McCoy is the fuel for Chip Kelly's high-octane offense, a perfect fit in a system that emphasizes speed in space. McCoy is one of the league's best in the open field. He's also a fantastic receiver who can handle a significant workload out of the backfield in addition to his normal duties between the tackles. Working in his favor: The Eagles' offensive line is among the best in the league. Darren Sproles, who at this point of his career is far more of a receiver than a runner, could take a small bite out of McCoy's targets. However, in an offense that runs a tremendous amount of plays, there should be more than enough looks to go around.
2. Calvin Johnson, Detroit Lions
Johnson remains the king. But for how much longer? The health of his knees is concerning. But Johnson is in an excellent situation. The additions of Golden Tate and Eric Ebron should shift some attention away from Megatron's side of the field. Johnson is still in the prime of a career that will soon be compared to that of the all-time greats. Even when he does lose a step, most cornerbacks still won't be able to keep up.
Bryant represents everything you want in a dynasty wideout. Although his name appears on the injury list more often than any owner would like, he is the featured player in a pass-heavy offense with a quality quarterback and a defense that looks to allow a ton of points this year -- and perhaps for years down the road. Despite the many questions about his health, there are few about his toughness: Bryant plays through his injuries and hasn't missed time since 2011. Maybe no coordinator in the league likes to throw the ball more than new Dallas offensive coordinator Scott Linehan, who helped generate a ton of production from Johnson in Detroit. Bryant is a touchdown machine and great after the catch. And he's only getting better.
4. A.J. Green, Cincinnati Bengals
Green is an elite talent with a long frame, uncanny ball skills and big-play ability. Although he had some down games last year and has a very average quarterback, Green has posted remarkably impressive stat lines each of the past two seasons. There is talk that the Bengals will throw less frequently going forward, but I would be shocked if Marvin Lewis allows Green's targets to decrease. The argument could be made that Green should top this list.
To see all of Matt Williamson's dynasty fantasy football rankings, subscribe to Insider.
Insider
ESPN.com
Joined ESPN in 2005
Was an NFL and college scout for the Cleveland Browns
SPONSORED HEADLINES
FANTASY TOP HEADLINES
MOST SENT STORIES ON ESPN.COM