NBA fantasy draft cheat sheet
All you need to know to win your league from Insider's experts
Updated:
October 17, 2013, 5:49 PM ET
By
ESPN Insider staff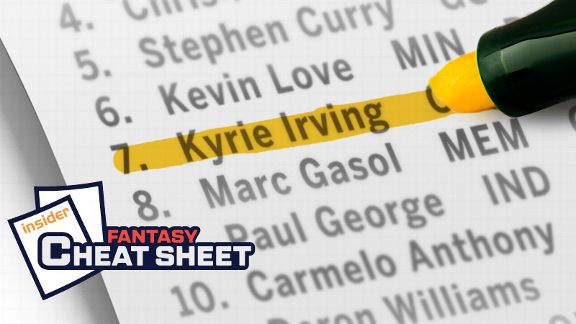 ESPN IllustrationDominate your league like LeBron with ESPN's fantasy cheat sheet.
This file was updated Thursday, Oct. 17.
Do you feel unprepared for your NBA fantasy draft? You're not alone -- it's not easy keeping up with all the player movement, injuries and new faces around the NBA. That's why we're here to help you get up to speed faster than LeBron James on the break. Learn all you need to know to dominate your league and do so in only a matter of minutes with our quick-and-easy Cheat Sheet filled with only the most critical lists you'll need. We've tapped into the minds of Insider's top NBA experts to comb through the details and provide you with all the insight you'll need to out-draft everyone in your league.
Included in ESPN's Fantasy Basketball Cheat Sheet, you'll find:
• 15 of the most undervalued and overvalued players based on their Average Draft Position
• Three under-the-radar sleepers at each position who can be had for a bargain
• Joe Kaiser's complete rookie rundown -- the impact players, the sleepers and the ones to avoid at all costs -- as well as top second-year breakout candidates
• Bradford Doolittle's 10 players primed for a huge increase in playing time
• 10 players whose numbers will benefit (or suffer) most from changing teams, by Amin Elhassan
• Top specialists who can single-handedly help you win a category (STL, BLK, 3PT, REB)
• Bradford Doolittle's top 10 breakout players by projected WARP
• The 10 players most likely to be traded, according to Kevin Pelton
All of it is at your fingertips below. We did all the work for you, and that's an alley-oop if there ever was one!
---
To see the rest of Insider's NBA fantasy cheat sheet, the ultimate tool to prepare for your draft, you must be an ESPN Insider.
Insider
FANTASY BASKETBALL 2013-14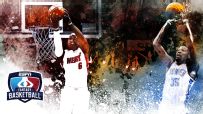 Sign up and play for free! Use a our live draft lobbies, join a league or create one with your own custom settings. Play for Free »
EDITORS' PICKS
Joe Kaiser evaluates the 2015-16 fantasy potential of college hoops standouts competing in the Sweet 16.
MOST SENT STORIES ON ESPN.COM