Top 10 shortstop prospects
Which shortstops have the most long-term value for fantasy owners?
Originally Published:
August 14, 2014
By
Christopher Crawford
| ESPN Insider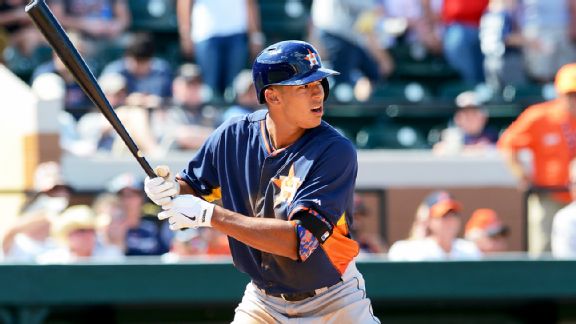 Mark Cunningham/MLB Photos/Getty ImagesThe first pick of the 2012 draft, Carlos Correa's feel for hitting improves each season.
Shortstop is still -- and always will be -- a position where defense will be the priority, but longtime fantasy players know that the position has seen a bit of a shift, as it's no longer a place where you can't get quality fantasy value, and in rare cases superstars.
"The glove has to come first there," an NL East scout said. "You have to have a guy with range, athleticism, and a strong arm at that position. You can maybe sacrifice a little in the short-term, but if you don't have a quality defender there you're fighting a losing battle.
"With that being said, we're finding more and more athletic guys that can not only [play defense], but can also really swing the bat and steal some bases, too. It used to be that those guys only ended up in center field, but now you see that these guys can stick in the middle infield and help you in a lot of different ways."
And while there's plenty of talented shortstops at the big league level, the talent in the minor leagues right now is as good as it's been in a very long time. Seven of Keith Law's top 50 midseason prospects are at shortstop, though four of the top seven will likely make their living between third and second (Javier Baez also is listed there but will almost assuredly be playing a position other than shortstop as long as he's with the Cubs).
Here's a look at the top 10 shortstop prospects in fantasy baseball right now.
To see the rest of the list of the top 10 shortstop prospects, you must be an ESPN Insider.
Insider
TOP 10 PROSPECTS BY POSITION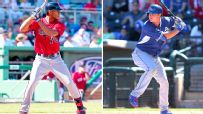 For fantasy baseball owners looking toward the future, Christopher Crawford highlights the top 10 prospects at each position.
MOST SENT STORIES ON ESPN.COM