Top power-hitting prospects
Javier Baez among top sluggers for '14, Joey Gallo among top five for beyond
Updated:
April 16, 2014, 9:49 PM ET
By
Christopher Crawford
| ESPN Insider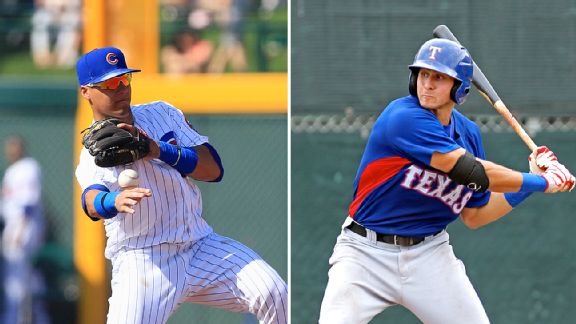 Getty ImagesCubs prospect Javier Baez (left) and Rangers prospect Joey Gallo hit a combined 77 homers in 2013.
Whether you've realized it or not, and diehard fantasy owners likely have, power numbers have been dropping in Major League Baseball over the past few seasons. For the second time in three years, the overall major league slugging percentage was below .400 in 2013, and the days of seeing several players hit 50-plus homers in a season is likely over for now.
"People want to blame the [absence of] steroids and other PEDs for the lack of homers, but I think it has more to do with the quality of pitching than the lack of quality in the bats," one AL West scout said. "People say velocity isn't everything, and they're right. But there are so many guys hitting 95-97 mph on our gun, and it's not coming in straight, plus command has improved so much lately.
"I don't know how long it'll last, but this is sort of a new 'Golden Age' of pitching. With all due respect to Barry Bonds and [Mark] McGwire and those guys, I have my doubts that anyone would be hitting 60-70 homers if they were facing stuff like this, performance-enhancing drugs or not."
There's good news for those who dig the long ball, however, as there appears to be some serious offensive firepower on the way. Here's a look at five hitters with big power potential who could give you plenty of extra-base hits in 2014, and five that you should keep an eye on for the future
To see the top power-hitting prospects in the minors, sign up for ESPN Insider today.
Insider
MOST SENT STORIES ON ESPN.COM