Commentary
Notes from the Giants' clubhouse
Reasons to think Cain's hot start -- and Jonathan Sanchez's poor start -- will continue
Updated:
June 15, 2009, 12:26 PM ET
By
Jason Grey
| ESPN.com
From one of my chats a month ago:
DB (Oakland): Matt Cain -- buying or selling?
Jason Grey:
Buying. I realize that's against the grain, as some of the same statistical indicators I use to talk about pitchers who can turn it around are not in Cain's favor to keep up the performance. This one's just a gut call, nothing more. So far, so good, for the "gut call," as Cain's complete-game, nine-strikeout effort Sunday against the A's brought his record to 9-1 on the season, lowering his ERA to 2.39 and his WHIP to 1.26. Is this a new and improved Cain, and what can we expect from here?
When I alluded to those "statistical indicators" in that chat a month ago, Cain had a batting average on balls in play in the .250 range and almost 90 percent of his baserunners had been left stranded, numbers that indicated Cain had pitched with quite a bit of luck, and numbers that could correct sharply in the wrong direction and take his ERA and WHIP with them. But I also remember writing about Cain in spring training, noting how fit he was, some apparent improvement in his secondary stuff, and that he could be poised for potentially his best season yet. For what it's worth, Cain thinks his excellent first third of the season is because of "a little bit of everything." "I don't know if you can credit it to one thing," Cain added. "I think it's been trying to put everything together the last couple of years, and really having a better idea of what I want to do out there." Thus, I'm torn. The scouting side tells me Cain might legitimately be an improved pitcher this season, yet the statistical side is still throwing up warning signs. How do I reconcile the two? Well, in the past month, Cain has cut his walk rate slightly, so he has been able to keep his WHIP in check despite his batting average on balls in play rising 20 points. He's still leaving almost 90 percent of his runners on, so that hasn't changed much. Cain's strikeout rate finally inched over the seven-batters-per-nine-innings mark in his last start, but he's still issuing better than three and a half walks per nine. Those numbers are reasonably in line with his marks the past two seasons. Cain has always been the kind of pitcher who is "effectively wild." Cain was never known as a workout warrior around the clubhouse, but he reported to camp this spring in the best shape of his career, having dropped at least 10 pounds, with noticeably fitter legs and a stronger lower half, and at the time I thought it boded well for his '09 performance. "I definitely think [the legs are stronger]," Cain said. "I did lose weight, and it's definitely a lot easier to carry 10 to 15 pounds less. It's definitely better for me, so I think that's helped a lot." Cain's velocity isn't quite what it was when he broke in, but he still dials it up to the mid-90s when he needs to, and still manages to work off his fastball fairly well, especially since he's not afraid to elevate it and change the batter's eye level. His slider is not as sharp as it was a couple of seasons ago, but he has compensated for it by improving both his curve and change and throwing both of those pitches more, and he's no longer just the fastball/slider pitcher he was when he broke in. The 12-to-6 break on his curve is a bit more consistent, and he's better able to throw it for strikes. Meanwhile, his change has shown a marked improvement this season, with better fade. "The biggest thing has always been getting ahead with the fastball," Cain said. "But I think my change definitely feels a whole lot better, I think it's being more confident, and going ahead and throwing it with that confidence at any point." Even though it hasn't necessarily shown up in his strikeout rate, Cain does have two improved secondary pitches this year, although that also is helping to compensate for the decline in use and effectiveness of his slider, and maybe a touch slower velocity. But it's conceivable he could have a slightly improved strikeout rate going forward. I was asked this weekend what I thought of trading for Cain at this juncture, and I said it seemed to me as if you'd be trading for him at his peak, given what some of his peripheral numbers are, which is never really an optimal play. Sure, some pitchers can defy the expected luck corrections for a full season (Armando Galarraga last year immediately comes to mind), but it's certainly not something you want to bet on when you trade for someone. It's not that I don't like Cain going forward, it's that it's probably too high an acquisition cost to grab him right now, given the expected return over the balance of the season. If you currently own him, I do like what I've seen in my hands-on scouting, so I don't have a problem if you want to hang on to him and not "sell high." Even though some regression is coming, he should still be useful to own. • One of Cain's rotation mates, 26-year-old Jonathan Sanchez, was a popular sleeper this preseason after a year in which he struck out a batter per inning. He posted an ERA under 4.00 before the All-Star break in '08, and his second-half struggles were often chalked up to "wearing down" in his first season as a full-time member of the rotation. The thinking was that he would be ready to potentially break out this year. That hasn't happened.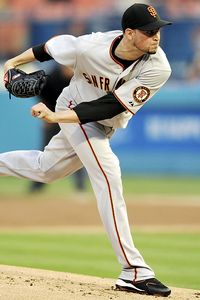 Steve Mitchell/US PresswireJonathan Sanchez won't find consistent success until he finds a consistent delivery.

Instead, Sanchez has completely gone off the rails despite maintaining that strong strikeout rate (he's once again fanning a batter per inning). His walk rate has jumped more than two batters per nine innings, and he's walking more than six and half batters per nine. Forty-three walks in 57 2/3 innings just won't cut it. Perhaps that workload and his past arm trouble has had some residual effects this season. "Right now, I'm just trying to get to where I was last year," Sanchez said. "It's hard to get to that spot, but I just keep working hard at it, and on my stuff, and I know I am going to get there pretty soon." The southpaw is still hitting his usual 91-93 mph with his fastball, and he gets strikeouts because opposing hitters don't pick up the ball well out of his hand, making it look faster. His slider has nice break, but he struggles to throw strikes with it, and his changeup hasn't developed much, and is a below-average pitch at the moment. He's a two-pitch starter with control issues, and that's a highly flammable combination. His average on balls in play is a reasonable .312, so we can't even say there's some inflation in his 1.66 WHIP caused by some poor luck. He just walks too many batters, and keeps his ERA from entering the stratosphere by fanning enough hitters to bail him out of some jams. "I'm just working on trying to throw [fewer] pitches per inning," Sanchez said. "Thirty pitches in the first inning -- that's not going to work. I need to be in the zone more and get some more quick outs, and be more aggressive. It's not my mechanics, just a lot of pitches per inning, foul balls, and getting behind in the count. It's just killing my [pitch count]. Right now, I think I have command of my fastball, but I have to work on my other pitches." I would disagree with Sanchez as far as his mechanical issues, because he hasn't been repeating his delivery, and his release point is all over the place, which is leading to the increased wildness. I want to find some good stuff here, but other than the deceptive fastball and the fact he can still get some swings and misses, there's not much outside of an overhaul in his mechanics that will help him be more consistent. With prospects Tim Alderson and Madison Bumgarner both tearing it up at Double-A, other options such as Kevin Pucetas waiting at Triple-A and the Giants propelling themselves back into the thick of the wild-card race, Sanchez better find some answers quickly. Right now there are no signs that he will, and we'll soon be getting to the point where NL-only players will need to look for another option. We like the strikeouts, but the rest of the package negates the value of the whiffs.

To continue reading this article you must be an Insider
Insider
MOST SENT STORIES ON ESPN.COM