Commentary
Clipboard: Plenty to like
Rookies Tommy Hanson and Gordon Beckham have looked good despite struggling
Updated:
June 8, 2009, 2:30 PM ET
By
Jason Grey
| ESPN.com
So Tommy Hanson finally made his much-anticipated debut, and the Brewers' bats proved he is indeed mortal. What can we take from it? Well, even though he allowed seven runs (six earned) in six innings of work, in some respects Hanson's outing was more impressive than the debuts of
Vin Mazzaro
(six shutout innings) and
Antonio Bastardo
(six innings, one earned run) last week. Sometimes the stats don't tell the whole story. Hanson earned a no-decision while giving up six hits, walking one and striking out five batters. He was given a lead twice but couldn't hold it, as three homers did him in. Still, there were some things to get excited about. Hanson threw more than two-thirds of his pitches for strikes, and didn't issue a walk over his first five innings, while liberally mixing in his secondary stuff. He fanned the side on just 12 pitches in the second inning as his fastball hit 96 mph with some arm-side run, and he showed the poise and aggressiveness that should take him far.
Sure, Hanson was victimized by the long ball, but the Brewers can do that to a lot of pitchers, and Hanson is not the first to be beaten by Ryan Braun, who took him deep twice. All three of the two-run homers came on poorly located fastballs, a problem that can and should be corrected, and the other run came on a fluke hit by pitcher Manny Parra to the opposite field when he was just trying to get his bat on the ball. Six earned runs are six earned runs, no question, but you could see the seed of something very good, even in defeat. "I think my command kind of got away from me a little bit," Hanson told the team Web site after the game. "The first three innings I felt good with everything. It was more [about] the fastball command the last three innings. I was leaving pitches up." And that really was the only issue, as Hanson discovered the hard way that he needs to go upstairs with his fastball a little less liberally at this level. Working up in the zone with a high fastball will do just fine against minor league hitters who can't catch up to it, but big league hitters are a different story. Hanson has four potential plus pitches, as he pairs that mid-90s fastball with a mid-70s curve that grades out as a 70 on the 20-80 scouting scale, and a good slider he was firing at 83-87 mph. That's the pitch that was put back in his arsenal last year and allowed him to take his game to another level. "When I signed as a pro, they took away my slider to develop other things," Hanson said. "But halfway through last season they let me throw it again. That was a pitch I threw [consistently till that point]." One thing I didn't see as much in this outing that I think will be incorporated more in future starts is his changeup. After messing around with a bunch of different grips in the past, he settled on a circle change that is definitely improved this season, and will give hitters yet another thing to think about as it's used sparingly. What I think separates Hanson from other prospects is his ability to show consistent command right out of the gate, especially with his secondary stuff. Though he left some fastballs up, the command of his slider and curve was solid in his debut. He got hurt when he rushed his delivery a little bit, with his arm trying to play catch-up. Hanson told me last winter that sometimes he'll "run through [my delivery] and not hit my balance point, and my arm will drag and I'll leave my pitches up," so he's familiar with when it happens and knows how to correct it. I've compared him to John Lackey in the past. Others have likened him to John Smoltz, or say the way he uses his lower half reminds them of Josh Beckett. Hanson owners would take any of those comparisons. "He's the best young pitcher I've ever caught," catcher Dave Ross told the team's broadcasters before the game. Ross is a veteran of eight big league seasons, and four more in the minors. "He's an impressive guy," manager Bobby Cox told the team Web site. "Ask any scout [who] has seen him pitch. He's the real deal." The bottom line is I'll take Hanson in any format. Cox speaks the truth. I've seen him pitch, and he's the real deal.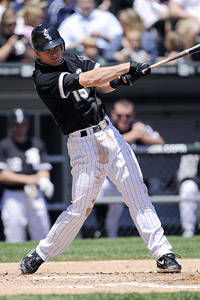 Ron Vesely/Getty ImagesHe's off to a slow start, but Sox rookie Gordon Beckham is smart enough to make adjustments.

• Another player getting his first taste of the major leagues, in what turned out to be a big week for prospects coming to the bigs, was the White Sox's Gordon Beckham. I wrote a fantasy spin on Beckham last week, but I wanted to expand on it a little bit here. Although he has started his pro career 0-for-11, Beckham has hit the ball hard, been robbed of a couple of hits thanks to great defense, and has struck out just twice. The White Sox have brought Beckham up to play, not watch, and if they are patient with him -- even if he has a rough time again this week -- that patience will pay off. As I mentioned in my spin, one thing that was apparent to me during Beckham's play in the Arizona Fall League last year was his ability to make adjustments and to make them fairly quickly, not just from game to game but from at-bat to at-bat. Initially, he struggled adjusting to wood bats as he began his pro career (as many college hitters do), but he figured out things fairly quickly. "I had to adjust and tighten up my swing a lot," Beckham said. "It was tough, but I think I made the adjustments pretty well. I've got a lot of movement in my swing, but we tried to incorporate the movement into being a good load (which helps generate power), and that's a good thing. My whole body was moving back and forth like a pendulum, but I'm doing a better job of staying still, and my load is now my hands and my foot, and not a whole body load." Beckham has a very good understanding of his own swing and his swing mechanics, which is a rarer trait than you might think among professional hitters, and I think that's going to be a key factor for his potential production this season. It's that understanding of his swing that can help him figure out big league pitchers quickly after being pushed aggressively to the big leagues. For example, during spring training, he talked about one of the adjustments, saying he "pulled my elbow in to free up my hands. When I let my hands work, I can do some good things, but I was kind of blocking up my hands by having my elbow out. It's always small adjustments for me. You try not to make it too difficult." Talking about making adjustments and being able to actually do them consistently in game situations are two different things, but Beckham's capability to do that could pay immediate dividends. The thing that is going to help him stay in the lineup is his versatility, as he's able to play at shortstop, second base and third base. "I played shortstop my whole life," Beckham said, "so I'm the most comfortable [there], but I think it's easier to start at short and then move elsewhere than the other way around. Moving to shortstop from other positions is a whole different game, but it doesn't matter where they put me." Even though his power is still in development, I'm a fan of how the ball jumps up off his bat, and how he stays square, centered and balanced. Those minor league doubles can start turning into homers quickly, especially given the hitting environment at The Cell. As I replaced Asdrubal Cabrera in multiple AL-only and mixed leagues for this week, I didn't hesitate to throw Beckham into the fire.

To continue reading this article you must be an Insider
Insider
MOST SENT STORIES ON ESPN.COM