Commentary
Should you or shouldn't you?
Guys like Dustin Ackley and Matt Wieters could make or break your fantasy squad
Updated:
March 14, 2012, 3:59 PM ET
By
Dan Szymborski
| Baseball Think Factory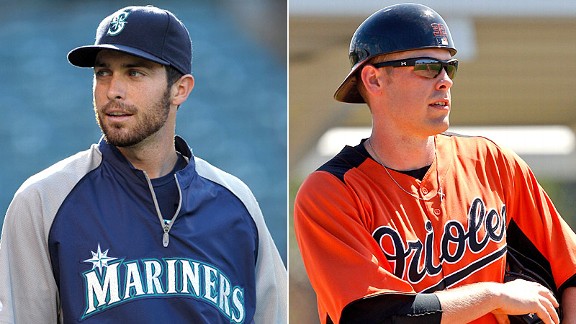 US PresswireDustin Ackley and Matt Wieters are talented, but that doesn't mean they'll help your roto team.
It's generally hard to lose your fantasy league in the first few rounds. While there's always room for error, most of those errors will still be All-Stars during the season and provide a lot of value for your team. Choosing between, say, Albert Pujols, Miguel Cabrera, and Troy Tulowitzki is like a multiple choice exam in which all the options are correct.
Once you start getting into the middle rounds and beyond and are faced with the nitty-gritty task of filling out your starters who won't be contending for major awards and finding the marginal players with upside, that's where you risk fumbling away the trophy to team owners who make better decisions. At that point, your plans aren't as neatly laid out as they were back in the first round and the jury will still be out on the exact value of the players remaining.
With that in mind, here's a look at nine tantalizing players sure to be available in the later rounds who can make or break your season. Some of them are worth their draft spot, while others should be left to your competitors.
---
Dustin Ackley, 2B, Seattle Mariners
Average draft position: 172.0
Ackley had a tremendous midseason debut for the Mariners, hitting .273 with six homers and 36 RBIs after being called up in June from Triple-A Tacoma. He's a terrific young player and one of the few dependable offensive assets the Mariners possess. And that's exactly what makes him a dangerous pick -- Ackley's a better real-life player than fantasy player, with Safeco Field a poor place for fantasy hitters to grab value. Not helping matters is that Seattle intends to begin the year with a lineup that puts Chone Figgins (.241 OBP in 2011) directly ahead of Ackley in the lineup and Ichiro (.335 SLG in 2011) directly behind. Even if Figgins and Ichiro have better 2012 seasons, it's still likely poison for Ackley's run and RBI totals.
Verdict: Should If he's available where he's been going in ESPN leagues, he's worth it. However, don't be tempted to take him before the 15th round, because his teammates and park severely limit his fantasy potential.
---
Jordan Zimmermann, RHP, Washington Nationals
ADP: 124.0
To continue reading this article you must be an Insider
Insider
Creator of ZiPS projection system
Founder of Baseball Think Factory
2012 Fantasy Baseball Draft Kit
ESPN.com's experts have all the information you need to succeed in your fantasy draft.
Draft Kit home
Play for free
2012 Projections and Profiles
• All players | Sortable statistics
• More: C | 1B | 2B | 3B | SS | OF | SP | RP
2012 Rankings
• Top 300 | AL-only | NL-only
• Points Leagues | Cheat sheets
• Custom roto dollar value generator


• Fantasy Draft Engine


• Catcher: Rankings | Preview
• First Base: Rankings | Preview
• Second Base: Rankings | Preview
• Third Base: Rankings | Preview
• Shortstop: Rankings | Preview
• Outfield: Rankings | Preview
• Designated Hitter: Rankings
• Starting Pitcher: Rankings | Preview
• Relief Pitcher: Rankings | Preview
• Tristan H. Cockcroft's Top 250 keepers
Talented Mr. Roto
• Bold predictions for the season
• Berry's Guys I Love, Guys I Hate
• Matthew Berry's Top 250 Rankings
• Matthew Berry's Draft-Day Manifesto
• Berry's "100 Facts to know" for 2012
• Mock Draft with 11 Average Joes

Mock Drafts
• Mock 4.0: 5x5 roto leagues
• Berry versus 11 Average Joes
• Head-to-head points leagues
• 5x5 Rotisserie leagues
• Mock Draft Lobby
• Live Draft Results
Analysis
• Position battle winners, losers
• ADP reveals drafting trends
• Staff sleeper and bust picks
• Tristan's Twenty: Cockcroft's 2012 targets
• Bleagh! The guys Tristan doesn't like for 2012
• Cockcroft's 'perfect' draft
• The components of ERA
• Understanding the BABIP statistic
• Cockcroft's "Kings of Command"
• Which teams got worse defensively?
• Spring watch list
• 2013 free agents to be, by position
• 'Mulligan' ERAs: The impact of awful starts
• Dissecting wins for pitchers
• Why negative BA can be overrated
• Notable offseason moves | All moves
• 30 Questions archive
Strategy
• Taking advantage of position flexibility
• Points leagues primers: Pitchers | Hitters
• Fantasy 101: Intro to fantasy baseball
Stephania Bell
• Injury updates: Hitters | Pitchers
• Injuries: C | 1B | 2B | SS | 3B | OF | SP | RP
• Who's recovering from Tommy John surgery?
Insider
• Goldstein: Top 50 prospects

| 51-100


• Eric Karabell: Top 100

| Five prospects


• Karabell: My 2012 "Do Not Draft" list


• Karabell: Bold stat predictions


• Karabell: Steals sleepers


• Karabell: Bounce-back sleepers for 2012


• Keith Law: Top 100 prospects for 2012


• Dan Szymborski: MLB's best sophomores


• Szymborski: Nine make-or-break players


• Szymborski: Breakout hitters | Pitchers


• Dave Cameron: Spring stats that matter


• Todd Zola: Players with new home parks


• Todd Zola: 10 surprising park factors


• Todd Zola: Advanced auction strategy

• Todd Zola: Head-to-head points strategy

Rankings Roundtable
• Matt Wieters could be the No. 1 catcher


• Dee Gordon's steals upside


• Is Alex Rodriguez "washed up?"


• When should you draft your first closer?


• Is Derek Jeter still a top-10 shortstop?


• Can you trust Brian Wilson?


• What to expect from Dan Uggla in 2012


• Just how good is Desmond Jennings?


• Will Jason Motte be a reliable closer?


• What is Starlin Castro's upside?

MOST SENT STORIES ON ESPN.COM