Commentary
Next Level
Some MMA truths can only be revealed by stats. Got a problem with that?
TRADITION-MINDED FANS often complain that statistics destroy the romance of competition. But saying analytics is bad for sports is like saying physics is bad for the solar system. Sure, advanced metrics can be boring or confusing when deployed ineptly. But they often reveal patterns we wouldn't see without their help. This is true even in the last sport I thought would ever submit to the sabermetric revolution: MMA.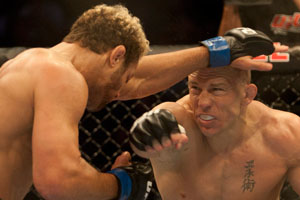 Ryan Remiorz/The Canadian Press/AP ImagesMMA is a violent sport, but that doesn't mean there aren't plenty of stats to keep.
"There are incredible stories in MMA," says Rami Genauer, founder of FightMetric, a data-crunching outfit that has been analyzing fights since 2007 and is now the UFC's official provider of stats. "But to tell these stories, we'd fall back on the same vague generalizations. It was a great comeback? How great? Historically great? There was no excuse for meaningful numbers not to exist."
To read more about why MMA might be the next sport to join the sabermetric revolution, you must be an ESPN Insider.
Insider
Peter Keating is a senior writer at ESPN The Magazine, where he covers investigative and statistical subjects. He started writing "The Biz," a column looking at sports business from the fan's point of view, in 1999. He also coordinates the Magazine's annual "Ultimate Standings" project, which ranks all pro franchises according to how much they give back to fans. His work on concussions in football has earned awards from the Deadline Club, the New York Press Club and the Center for the Study of Sport in Society.
ESPN The Magazine: May 2, 2011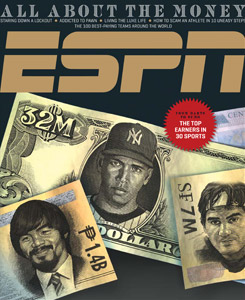 Check out what's in ESPN The Magazine's "All About the Money" issue!
Features
Columns & Go/Play
MOST SENT STORIES ON ESPN.COM