Discussion
MMA10: Top all-time middleweights
UFC champion Anderson Silva is in a class by himself
Originally Published:
January 17, 2013
By
T.R. Foley
| ESPN Insider
Editor's note: Insider presents MMA10, a weekly top-10 poll of MMA fighters, trainers and coaches on a variety of topics. This week: top 10 all-time middleweights.
Anderson Silva is the top middleweight in MMA history. Not surprisingly, the Brazilian front-kicked his way to our poll's first unanimous selection, but while his dominance is historic, it's also troublesome when sussing out which remaining middleweights should be listed. Unlike the heavyweight division ...

Read full story
MMA Insider: Must reads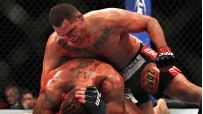 In case you missed them, here are some must reads articles from MMA Insider.
Who's Better?
Foley: Jose Aldo vs Ben Henderson Read
Foley: Jon Jones vs Cain Velasquez Read
Foley: Georges St-Pierre vs Anderson Silva Read
Top 10s
Bold MMA predictions Read
Fights that must happen Read
Challengers for Jon Jones Read
All-time champs Read
Fighters on UFC bubble Read
Pro athletes in MMA Read
Non-UFC fighters Read
Ex-Strikeforce fighters Read
MMA10
MMA10: All-Time Middleweights Read
MMA10: All-Time Light Heavyweights Read
MMA10: Overrated/Underrated fighters Read overrated or underrated
MMA10: All-Time Heavyweights Read
MMA10: Finishers Read
MMA10: Comeback fighters Read
MMA10: Top strikers Read
MMA10: Top wrestlers Read
Good reads
NFL? NBA? MMA?: Which non-MMA athletes might make good fighters? Read
Building the perfect fighter: T.R. Foley creates the ultimate 'Frankenfighter' who could beat Jon Jones. Read