Mata's central role with Man United
January 24, 2014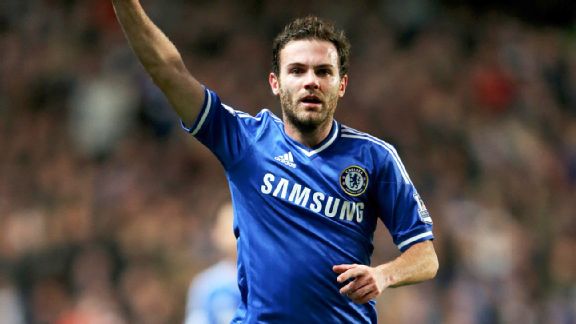 Ian Walton/Getty ImagesManchester United is hoping that Spanish midfielder Juan Mata will provide the offensive spark it needs.
The Juan Mata saga has finally ended with a move to Manchester United (though he's still required to pass a team physical), and at first glance this looks like a fair deal from all sides.
Chelsea manager Jose Mourinho avoids a potential locker room headache by offloading (for 37 million pounds) a talented auxiliary player in his system, while Manchester United manager David Moyes adds a dynamic passer to his attack, and in the process rejuvenates any optimism that United fans have of reclaiming a spot near the top of the Premier League table. As for Mata, he will likely get four months to prove that he was a victim of Mourinho's misjudgment, while also auditioning for a role on Spain's 2014 World Cup team.
However, how Mata is utilized and where he is deployed within United's attack will ultimately determine his impact. The problem for Mata is that he's been playing out of position, and unless United moves him back to the central attacking midfield role where he thrived prior to Mourinho's arrival at Chelsea, it will be difficult for him to be a difference-maker with the Red Devils and replicate the form that he had in his breakout 2012-13 season.
Here's a look at Mata's position-related success in the Premier League, where he fits best with United and what the Red Devils need to do to leverage his skills.
To read the rest of the article on why this is a defining week for Manchester City and how the team compares to last season, you must be an ESPN Insider.